Locals looking to experience an adventure in their own backyard now have an app that acts as a virtual tour guide.
Driftscape is a new, free app for people looking to learn more about their city or places across Canada as well as some cities across the United States. The company's core principle is "local discovery" and it uses local experts to bring places of interest to life.
Currently, over 60 organizations use the app to share their stories and points of interest, events, and tours across Canada. Users can use the app to explore their surroundings on their own from the point of view of local experts.
Some of the features included in the app are 360 images and tours, quests, augmented reality, trip itineraries, location-aware notifications, tour autoplay mode, offline mode, and offers.
"Driftscape is an ad-free mobile app designed to help you uncover Canada's hidden gems in ways that make tourism more exciting for all age groups," Dan Pronovost, Driftscape COO and Co-founder, told Vancouver Is Awesome.
"Check out one of our many self-guided tours in BC, such as our Driftscape Gem tour of Queen Elizabeth Park or the Stanley Park Seawall. Start the audio for the tour, and simply explore your own way with our autoplay features."
If you keep your location settings on, when you first open the app it will show you the locations of interesting local history nearby. For example, if you happen to be in Vancouver's Fairview neighbourhood when you open it, you'll likely see a story pop up called the "Murder in Shaughnessy Heights Mansion" that takes you to a description of a gruesome "jazz age" 1924 murder that "rocked the Vancouver establishment to its foundations."
From here, you can give the app camera access to enable the augmented reality function and see where the events took place in relation to you.
You can also use the app to get some background information about various points of interest in the city that you would like to explore. For instance, the image below shows a Queen Elizabeth Walking Tour that describes various locations throughout the park.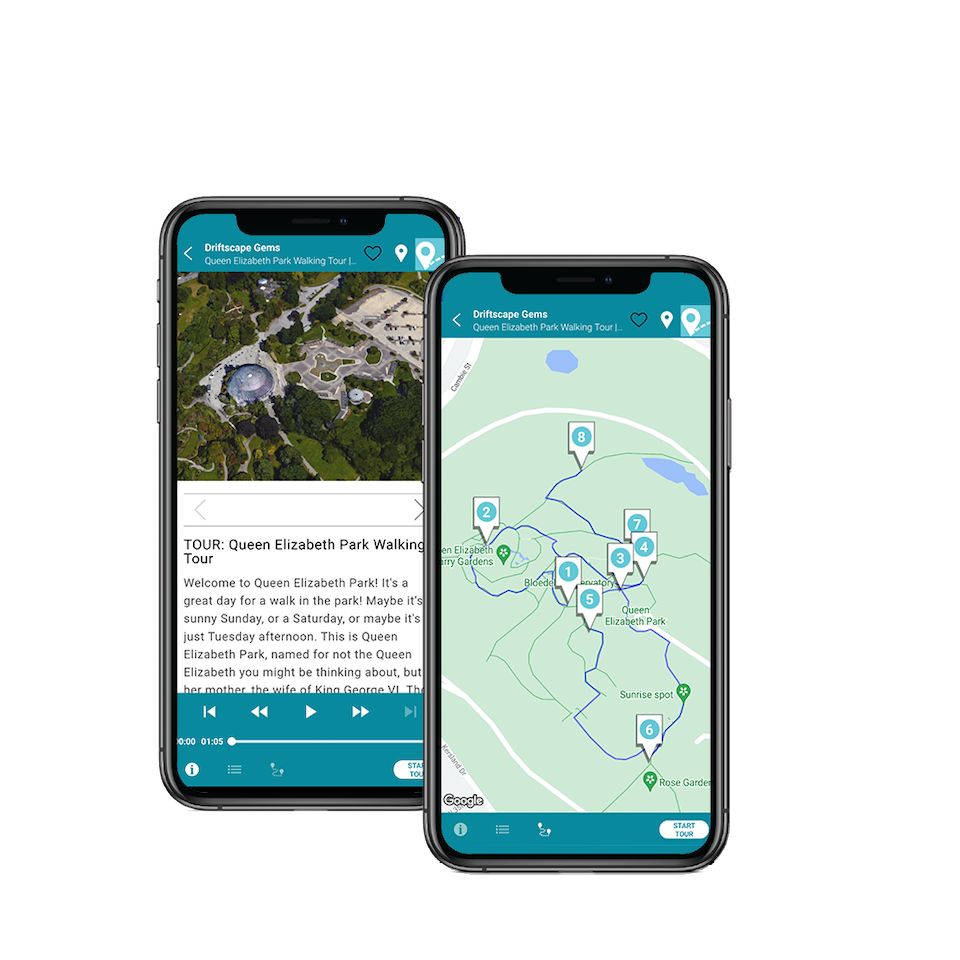 In total, Driftscape says it has over 7000 points of interest in its app, which include places, events, tours, quests and more.