Dreaming of visiting New York?
Vancouverites looking to take a bite out of the Big Apple on the cheap will have another travel option next year.
JetBlue Airways, a low-cost, New York-based airline, has officially launched a non-stop, daily service between Vancouver and New York.
Vancouver is one of more than half a dozen new cities recently added to JetBlue's route map; the carrier continues to expand its reach outside of the United States, now servicing over 30 international destinations in more than two dozen countries.
"We're delighted that JetBlue has selected Vancouver as its first Canadian destination with service from YVR to New York City and Boston," said Tamara Vrooman, President & CEO, Vancouver Airport Authority.
JetBlue operates flights between Vancouver (YVR) and New York City (JFK) daily; the flight departing from Vancouver is a red-eye option while the New York departure is in the evening.
JFK to YVR: 6:59 p.m. – 10:26 p.m.
YVR to JFK: 11:30 p.m. – 07:48 a.m. (+1 day)
The airline will have to compete with Canadian airlines, including Air Canada and WestJet Airlines on the route to John F. Kennedy International Airport (JFK). That said, a couple of other carriers have stopped offering the nonstop route, including Cathay Pacific and Philippine Airlines.
Cathay Pacific stopped flying to JFK from YVR in March 2020. The Hong Kong-based carrier has flown out of its home base to Vancouver since 1983, and it added flights between Vancouver and New York in 1996. At the time, the route carried the airline's only flights to the Big Apple.
For a limited time, travellers can take advantage of special $119 (USD) one-way fares for flights between the two airports.
JetBlue Fares
JetBlue has five different fare classes, as well as two memberships. For members, the rules for each fare class will change, allowing for more flexibility and inclusions than other guests.
The fare classes are Blue Basic, Blue, Blue Plus, Blue Extra, and Mint. For non-members, the lowest fare class, Blue Basic, won't allow for a great deal of flexibility or perks. For example, changes or cancellations come with a $100 USD or $200 USD price tag and don't include a carry-on bag (except for the new London route). Checked bags also cost extra, too.
So far, the airline hasn't outlined whether the Vancouver routes will include any exceptions or extra perks — but travellers should ensure they read the fine print before booking into a fare class that doesn't allow for flexibility.
Many of the airline's domestic flights are competitively priced, with fares starting as low as $99 USD.
Learn more about JetBlue fares.
The JetBlue Experience
JetBlue is a certified three-star airline by SkyTrax — the International air transport rating organization. SkyTrax notes that a three-star rating is applied where "staff service standards or product standards are fair or average."
In Canada, WestJet and WestJet's discount carrier, Swoop, received three-star ratings from the organization. Flair Airlines, another Canadian budget airline, was also rated a three-star carrier.
Air Canada has a four-star rating but Air Canada Rouge is rated three-star, too.
The Vancouver service will operate using Airbus A320 aircraft. All JetBlue aircraft offer the airline's award-winning service featuring the most legroom in coach (a); free and fast Fly-Fi broadband internet (b); complimentary and unlimited name-brand snacks and soft drinks; and free, live DIRECTV® programming at every seat.
Unfortunately, the aircraft used on the Vancouver to New York route will offer the mint suites.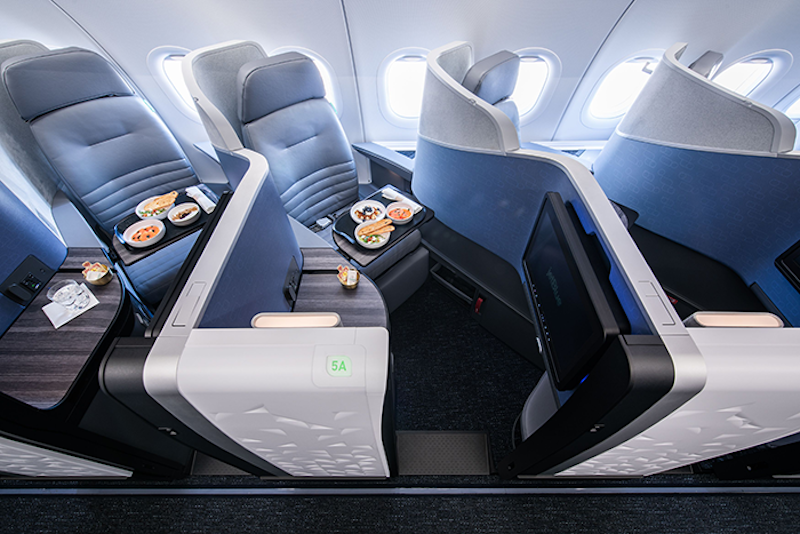 The full offerings in Mint:
The Pantry, JetBlue's free inflight snack bar
The most legroom in coach¹
144 seats, including 42 Even More® Space seats
14 fully enclosed Mint suites with all-aisle-access and a door for added privacy
2 Mint Studio suites, featuring the largest bed and TV (22") on a U.S. airline, a mirrored vanity, and an extra seat and table—to work, lounge and entertain.
Free high-speed wi-fi with easy-to-reach USB-C power (in addition to AC and USB-A)
10.1" HD seatback touchscreen TV
Free on-demand shows, movies and 3D flight map
Free DirecTV®
Perfectly organized seatback pockets with 3 mesh compartments
Spacious, re-designed restrooms with larger sinks, modern touches and a fresh new look
Extra-large overhead bins
20% less fuel burn
Up to 50% less engine noise for our customers, airports and neighbors
Regardless of what aircraft JetBlue uses on a route, however, travellers may enjoy free Wifi as well as free, brand-name snacks and drinks, including freshly brewed Dunkin' coffee. There's also a TV on the back of every chair and 32 to 33 inches of legroom in Economy Class.
JetBlue was also rated the best airline for Passenger Comfort in North America and the best Low Cost Airline in North America in 2020 by TripAdvisor travellers.
Have a look at a video of the JetBlue A321NEO.
This article was first published in August 2021 and has been updated.
With files from the Canadian Press and Glen Korstrom.