If you aren't a fan of flying right now, you are far from alone.
Travellers face unprecedented chaos at airports around the world due to the drastic uptick in air travel in 2022 following an easing of pandemic-related restrictions.
In Canada, the federal government has implemented several measures to reduce congestion at major airports — including moving its COVID-19 testing program off-site to pharmacies and virtual self-testing appointments — but air passengers continue to face substantial flight delays.
And once they make it on the plane, travellers must also contend with other passengers.
Insurance company Compare the Market surveyed Canadians to find out what they think the general rules and considerations are when flying to their next destination.
How important is flight etiquette?
The data revealed that nearly half (47.6%) of Canadian travellers won't recline their own seats and over a quarter of them (27.6%) have a problem with the person in front of them reclining their seat.
A fair share of respondents enjoys leaning back and don't have an issue reclining their seats, however. The study found 32. 1 per cent of travellers are comfortable with reclining on a plane.
In fact, Canadians were more likely to recline their own seats than their American and Australian counterparts. They expressed the least concern for the person leaning back, however.
The study notes that "females were more likely to avoid reclining than males in all three countries. The same goes for young adults (18 to 24-year-olds), of which 60 [per cent] in Australia claimed to keep their seats upright."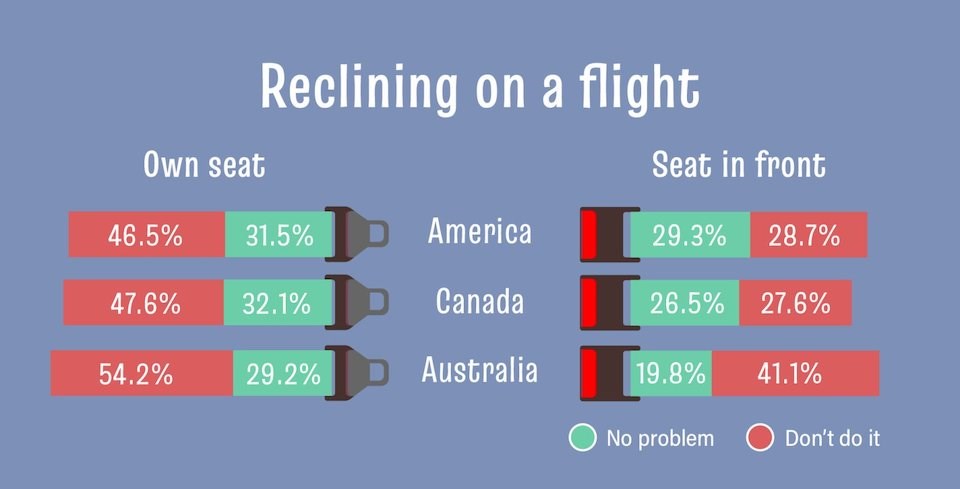 Do you avoid going to the bathroom on a flight?
The study found that 7.31 per cent of Canadian travellers would hold off going to the bathroom during the flight. Some air passengers said they would try to avoid asking other people to stand for them, with 28.65 of respondents reporting that they would squeeze past them.
Of all three counties, Australians are the most likely to stay seated if they had to use the bathroom, with 13.36 per cent of Aussie travellers holding off on flights.
"For the six to twelve per cent of adults that feel uncomfortable asking others to stand so they can access the bathroom, it could be a great option to select an aisle seat, for example," said Stephen Zeller, Compare the Market's insurance expert.
The company noted that "Canadians are the friendliest among the three countries surveyed, with 32.7 per cent saying they would give the middle passenger two armrests."
Well over half of the travellers (62.1%) said passengers in the middle seat should get one armrest.