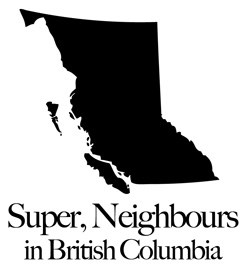 In Super, Neighbours we take you to some of the best locations in the province, encouraging you to take quick trips to neighbouring communities. Seeing as August is officially "Staycation Month" in British Columbia I decided to break the mould for the series and do more of a local staycation with my family. I reached out to our friends at the Four Seasons Vancouver and they hosted us for a super fun family experience that we won't soon forget. We had actually intended to hang out and putter around downtown during our stay but ended up not even leaving the property for about 24 hours.
If I wanted to sum up the luxury experience at the Four Seasons in one photo I'd share this shot of the door of our room on the 21st floor along with one word: DOORBELL!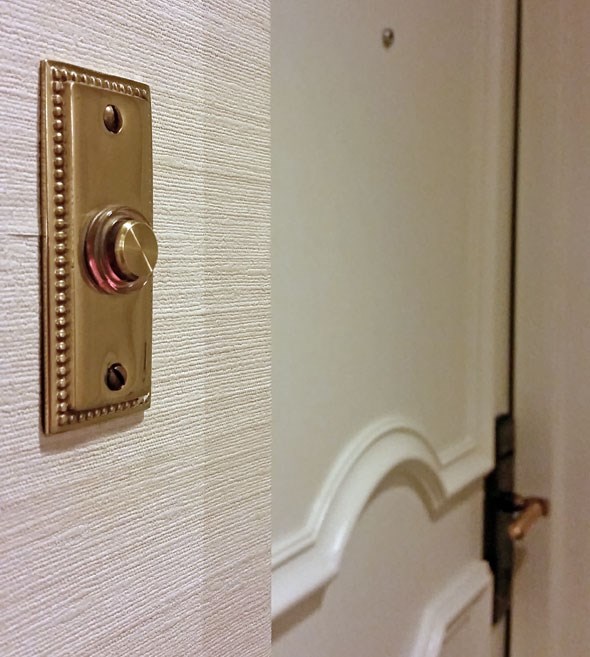 Behind the doorbell were these three smiling faces. Okay, the two smiling faces of my wife and son and one concerned face of our dog, Frankie, who will only let you take a photo of his face if you're holding something he wants (in this instance I was holding a sock; he loves socks).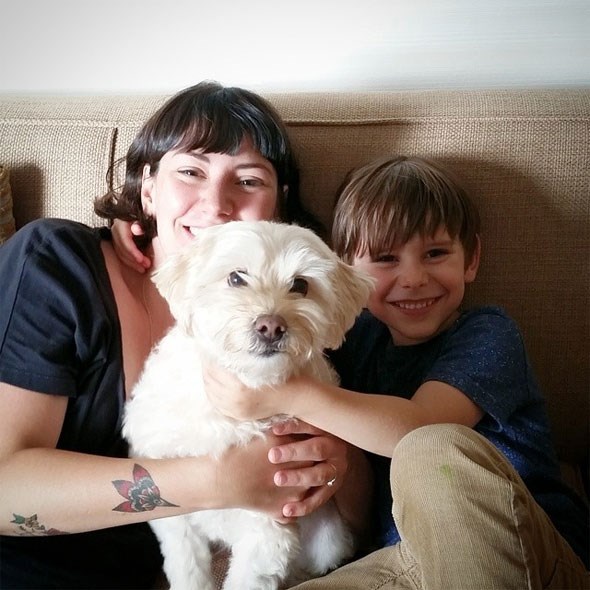 The room was as comfortable as I had expected it to be and quite a bit larger than I had anticipated. There was plenty of room for cartwheels for my son (and sock chewing for the dog) in the living room.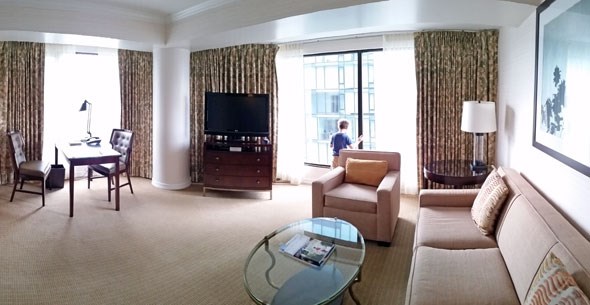 And the view! We had a corner suite that looked South and West, and it was really interesting to peer down on Douglas Coupland's Gum Head at the Vancouver Art Gallery and see just how many people take photos of it and with it. Hundreds every hour, and at all times of the day and night. If we had actually left the premises the Art Gallery would've been a safe bet for good times. The hotel also has a car service that'll take you to the Vancouver Aquarium if you feel so inclined.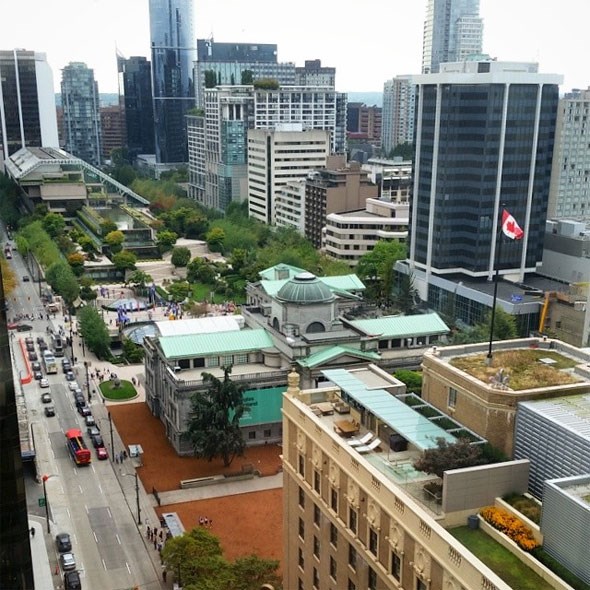 Generally when I'm writing about YEW seafood + bar inside the hotel it's for my 500 Coffees series where I introduce you to interesting people in your city, but today I get to write more about the food and the experience of eating here! Here's what's up in the photo below (l to r, top to bottom):
- Upon entering we were greeted by a life-sized cutout of executive chef Ned Bell who's not here right now because he's cycling across the country spreading the awesome Chefs for Oceans message of sustainability (which V.I.A. is a sponsor of!).
- They recently launched some wonderful new summer cocktails, of which my wife Katie drank and gave the thumbs up to.
- Their new kids menu has a challenge where if kids can name 5 of the sea creatures on it they get a free scoop of ice cream. Of course Arlo reaped the rewards!
- We started with pork belly and shrimp, asparagus and prosciutto.
- On the new kids menu (just launched last week) is a sandwich called "Bob's Tuna Melt" which I'm told is named for a certain local businessman/art collector who lunches here every day
- If there's halibut on the menu, I'll always get that halibut. It's always a great choice and on this night I was so, so happy with it.
- Katie got the paella, which was spicy and delicious.
- For dessert, salmon shaped chocolate treats and Ned's famous power cookies!
- And on the way out, I snapped a shot of the lobsters which appear to be climbing on the halibut on display.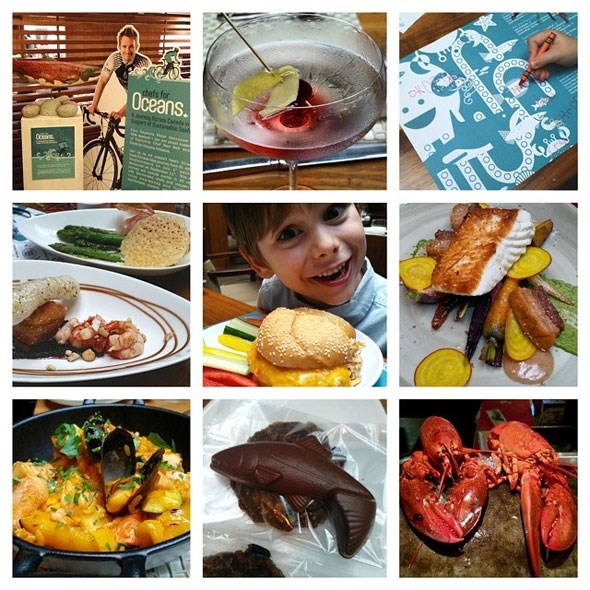 After dinner we headed for the pool on the 4th floor. Whenever we stay at a place with a pool Katie and Arlo dedicate a large portion of their time to swimming in it. They're like fish.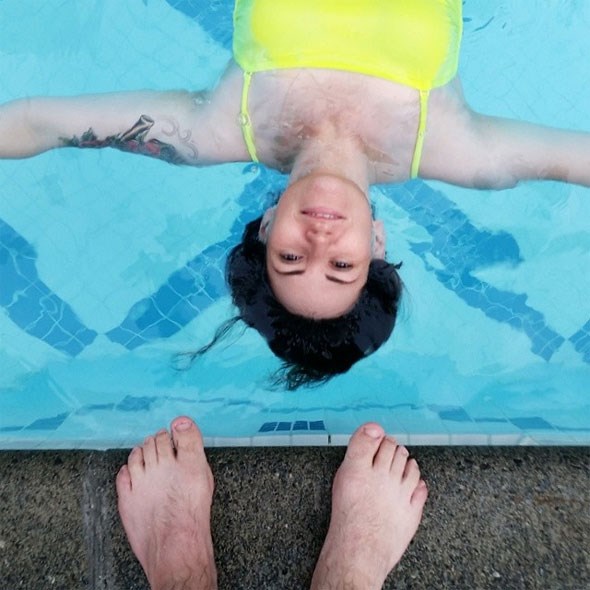 After we dried off, our attention turned to movie night which was held on the same floor as the pool but in the garden. The flick they played on a large projection screen was Despicable Me 2 and going with the theme they gave all of the kids (and the kids at heart!) drinks and cupcakes with the movie's characters on them. As you can see the treats went faster than the drink, and Arlo was still working on it when we got back to our room.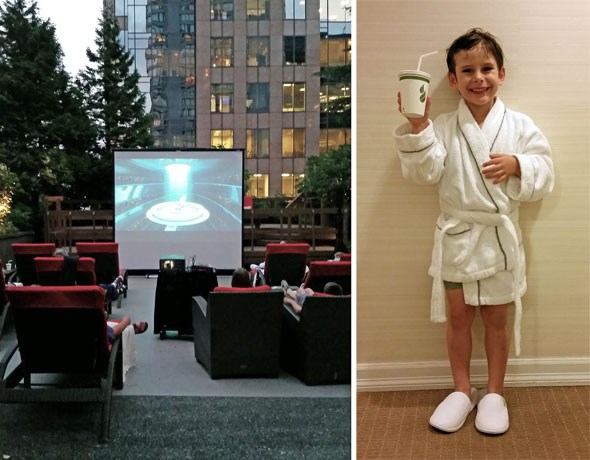 Instead of rushing out the next morning we took our time and enjoyed breakfast at Yew. Katie had the smoked salmon benny, I had the classic eggs (as a creature of habit I always choose this option regardless of where we eat; I can't remember ever - EVER - ordering a different breakfast), and Arlo had pancakes. You can't really tell that they're pancakes because he had them all diced up and was halfway through eating them before I could snap a quick photo! Suffice it to say we enjoyed breakfast. And one of the things that I love is that they leave a full pot of coffee on your table when you order a cup.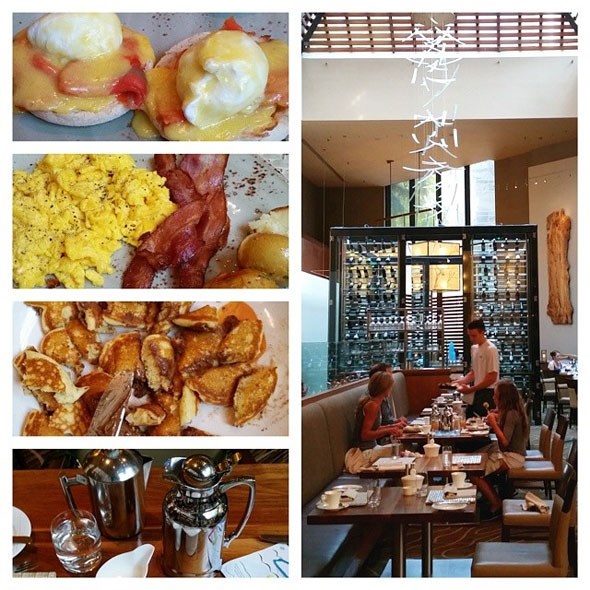 In case it wasn't obvious, we had a wonderful staycation and would certainly recommend it. Learn all about the Four Seasons' Kids in the City packages HERE.