Welcome to the eleventh instalment of our "On the Road to..." series! The deal is simple: manufacturers loan us vehicles, we drive them to sweet locations, shoot photos along the way and then share that experience with you.
In the TENTH INSTALMENT I drove the all new Acura ILX Hybrid to Whistler, breaking a streak of 9 SUV outings prior to it. The car had an automatic transmission and was an entirely new driving experience to me as I'd never driven a hybrid and had a few moments of "So THAT's how it saves gas!" (one specific moment was the first time the engine completely turned off to conserve gas at a stoplight, like a fake stall, then started up all by itself after I let off the brake). If the ILX was a bit unfamiliar then driving this TSX was like getting into my favourite sweater after a long summer; familiar and comfy. With a manual transmission (also a first in this series), driving it wasn't simply comfortable but was actually a fun experience. The joy of shifting may be a small one, but it's one I miss as the car I currently own is an automatic.
So let's get into this trip, shall we? Here's a shot of the car a little over halfway to our destination on Galiano Island (hint: we've taken you THERE before).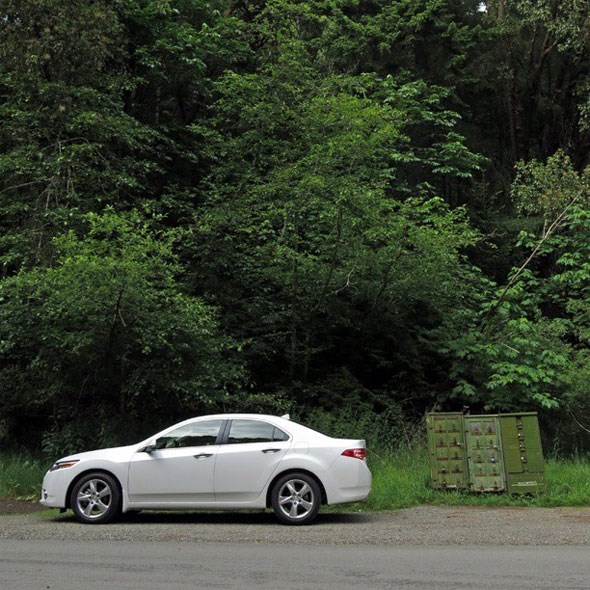 This journey to Galiano was actually a father-and-son adventure with my 4 year old and I, and we decided to start a new tradition at the Tsawwassen ferry terminal: throwing rocks! If you've been there you know that the long, thin strip of road right before you hit the terminal is tempting to stop at (especially if you've made reservations and don't need to worry about rushing). On the East side people can be seen picnicking and launching their boats, and it's a bit of a hotbed of activity on any given afternoon. On the West side is way more calm; tons of herons can usually be seen looking out onto some sort of port where trains are either dropping off or picking up something that I assume is coal. This is where we decided to throw rocks before boarding the ferry and invoking our old tradition, which is the one that sees Arlo eating a yogurt and me eating a traditional breakfast before checking the gift shop to make sure that Grant Lawrence's book, Adventures In Solitude, is still front and centre. I'm happy to report that this award-winning book is actually now sitting beside another acclaimed title that I love, John Vaillant's The Golden Spruce. If riding a ferry to the Gulf Islands is an experience I recommend as truly experiencing BC culture as well as nature (and it is), then so is picking up one of these books while on board.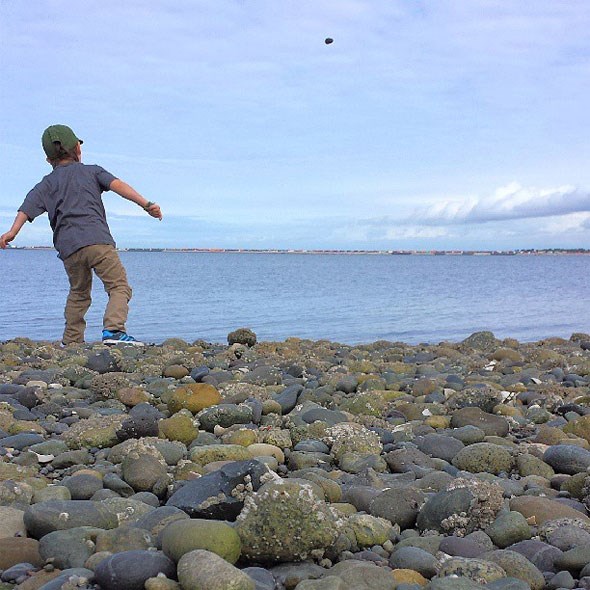 Once you get onto the island, less than an hour later, it's a different world. This is a plant and egg stand we came across. See the little black box under the shelter on the left? That's where you leave the money for the free range, organic eggs or plant that you take. Total honour system, a dozen eggs cost $5 and the most expensive plant of the bunch is that bush on the left at $15. I've seen similar stands like this on Salt Spring Island with $300 wool blankets made out of wool sheared from sheep who are grazing nearby, as well as a lot of "Pixie Pie" stands where there'll be a stack of pies and you leave money for the one you take, based on the honour system. Some have coffee cans as collection devices, this one on Galiano was a little more advanced with a lock and key box. Same spirit though.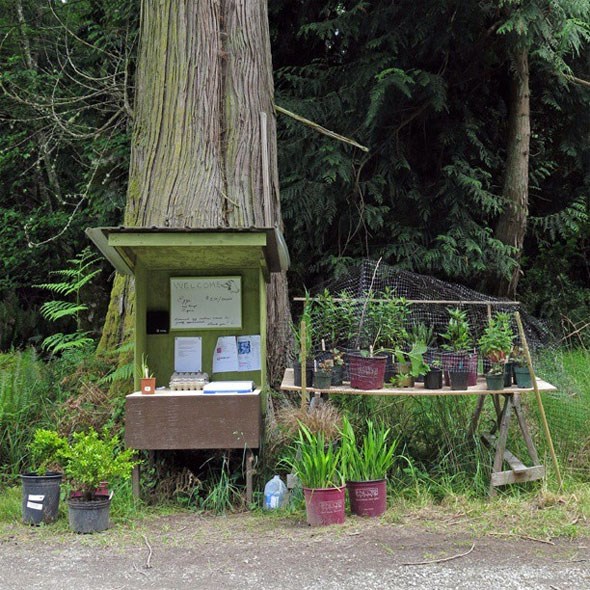 There's always plenty of wildlife along the route up the island. If you don't see a deer you will certainly see sheep. There are often people walking their dogs along this main route as well (and they almost always wave and smile).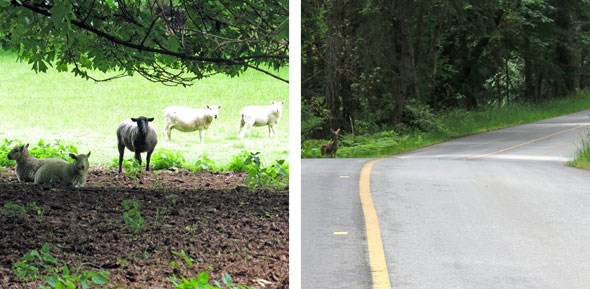 And if fishing or beachcombing is your thing then you surely won't be disappointed. There are plenty of access points to the ocean (this government wharf shown below is a great spot), and at the resort we're heading to there's actually trout in the pond (which you already know about if you've been following along for a while [COUGH]).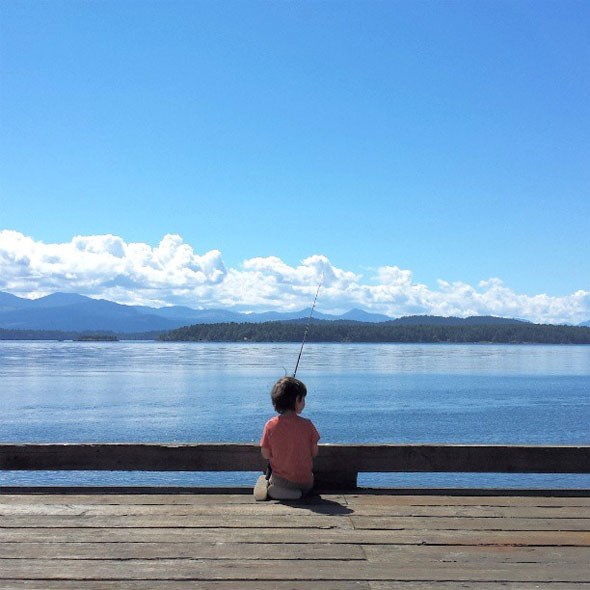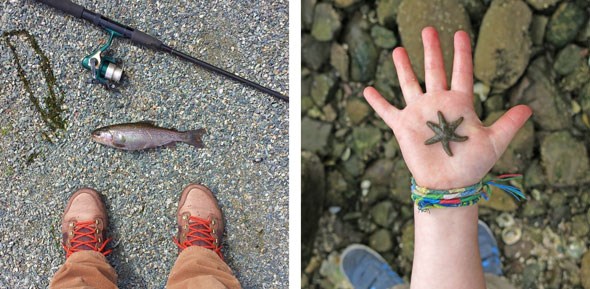 And finally, our destination: one of the 7 cabins Bodega Ridge Resort!
As I mentioned in the beginning, we've taken you to Bodega Ridge more than once in the past (click HERE for the archive of posts we've made about it). Our friends there are actually spearheading our soon-to-launch new property, GalianoIsAwesome.com, and while my son was napping (and sleeping - he goes to bed early) I managed to sporadically get some of the final coding in place on the Wordpress blog. G.I.A. is coming soon, and we'll let you know the moment it gets revving!