Welcome to the eighth instalment of our "On the Road to..." series! The deal is simple: manufacturers loan us vehicles, we drive them to sweet locations, shoot photos along the way and then share that experience with you.
Last week Chevrolet Canada loaned me the 2013 Trax, a compact SUV that they tout as "city-sized". I imagine it'd do okay in the woods but instead of taking it down a dirt road like I've been doing with most of these borrowed vehicles, I stayed on the pavement and drove over to the North Shore on a Friday morning. I decided to embark on an experiment I'm now calling Freewheelin' Fridays.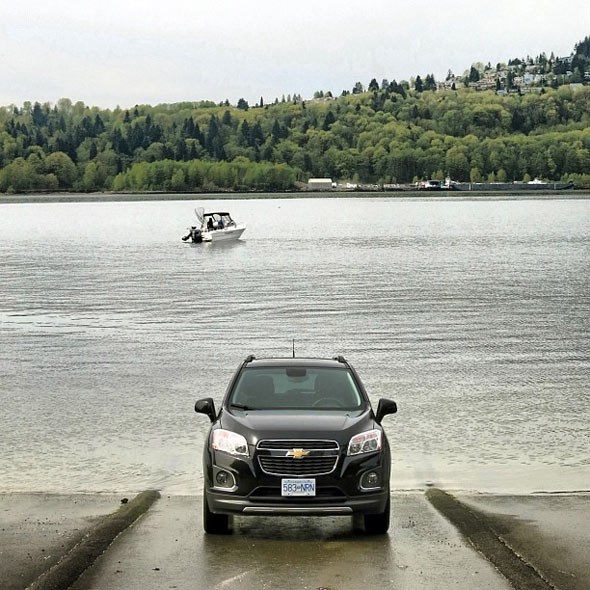 The idea is to take at least one Friday of every month and move our office from Thurlow and Melville out into the wide world. To drive to some public space in the morning, then work remotely for the entire day by tethering internet from my BlackBerry Q10 with Telus LTE to my laptop. Fun, right?
I do a Friday morning feature on The Peak 102.7 so for this inaugural trip I drove from their studio near Granville and Broadway out to Cates Park in the district of North Vancouver, just before Deep Cove. I sat myself down at this picnic table below and managed to get a surprising amount of work done, while also sending out the odd Freewheelin' Fridays progress update from our @VIAwesome Twitter account (like THIS ONE, where I posted a photo thanking the city of North Van for sending someone to clean my "office"). The photos you see in this blog post were all posted to my personal Instagram account @BobKronbauer, so in a way I was bringing all of our followers on social media with me.
It was crazy how people took to the idea. My Instagram followers loved it, as did the folks who follow us on Twitter (whom I imagine are mostly working on Fridays). After tweeting that PHOTO out of the guy "cleaning my office", someone actually tweeted me back saying that they recognized him! His name is apparently Steve Joyce. So thank you, Steve, for doing a bang up job of keeping Cates Park awesome!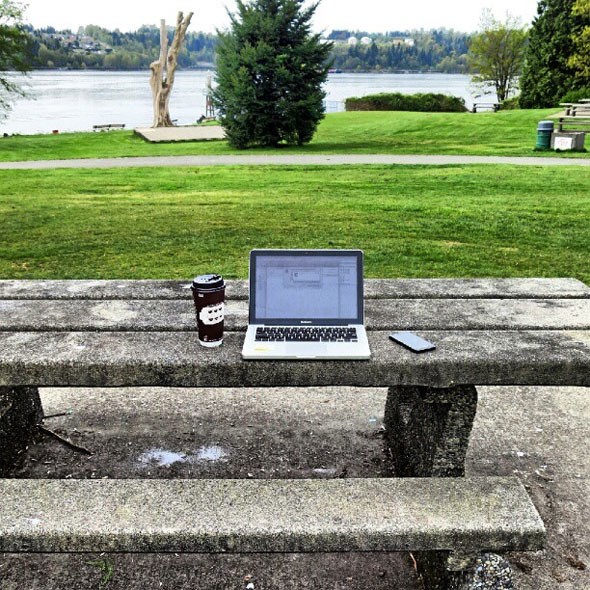 Around lunchtime I went for a walk and spotted Expo 86's "McBarge" which has been parked in these waters since the late 80's, waiting to be turned into something new and exciting. SO MANY DJs and party promoters have dreamt of what they would do with this thing over the years, but the current owners have floated the idea of dragging it to Mission and making a sort of Fraser River Quay out of it. What's interesting to note is that even though it's parked in front of an oil refinery and is a somewhat heinous sight, the forest and the water surrounding make it almost magical.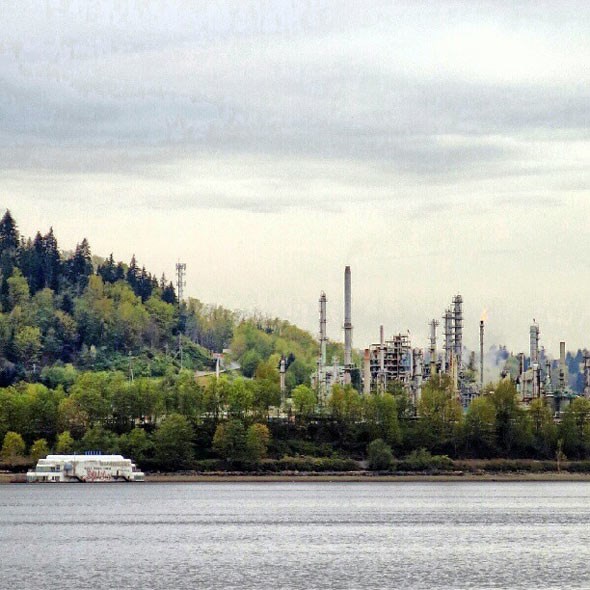 I got hungry and foraged on the beach a bit but all I could find were these "edibles" below, so I decided to relocate for the afternoon.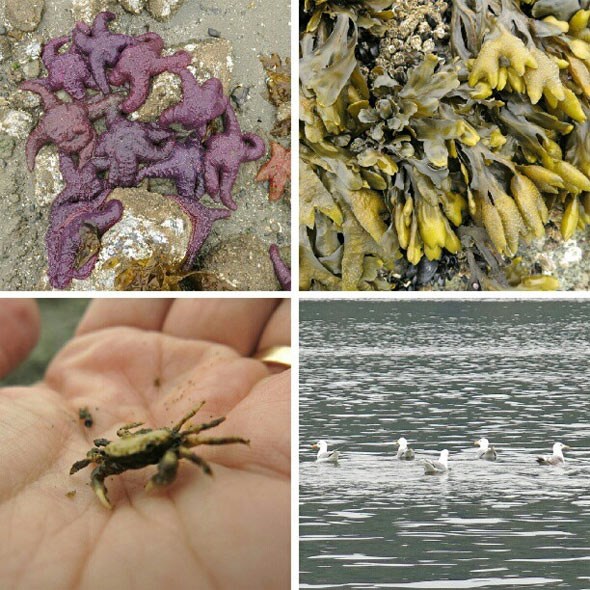 I drove a few minutes down the road and found myself in the quaint, oceanfront community of Deep Cove. I grabbed a quick bite from one of the shops there and then found myself sitting near this scene with a view of the water where I finished my work day answering emails, taking calls and updating our blog. I managed to find an outdoor 120V outlet to charge the battery on my laptop, and ended the day smiling.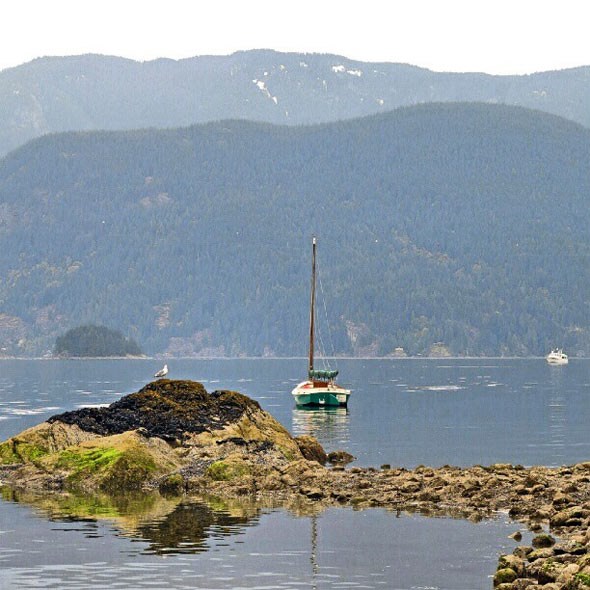 Needless to say, Freewheelin' Fridays was a success. The future is now and I'm incredibly fortunate to be able to essentially disappear from my office environment but take all of my tools with me and actually get all of my work done remotely. I'm hoping to make this at least a monthly thing from here on out.
And how was the Trax? Fantastic. I think it might be the most fuel efficient vehicle of the ones I've taken out so far, partly because it's really small. It's got a touch screen like the Chevy Traverse I recently drove, as well as a USB port to charge my BlackBerry when it started getting low from having a Hotspot set up all day. Weighing it (literally) against the Traverse, this one is the clear winner as it's the perfect size for what I would be using it for if I owned it. We strapped my son's car seat into the back for the week and beyond my Freewheelin' Fridays time with it, it served our family quite well zipping around the city.
Learn more about the 2013 Trax HERE.