Welcome to the fourteenth instalment of our "On the Road to..." series! The deal is simple: manufacturers loan us vehicles, we drive them to sweet locations, shoot photos along the way and then share that experience with you.
This past weekend we loaded our little family into Toyota's RAV4 for a fairly epic camping trip to the Okanagan. We visited a tiny little lake called Baird which my parents started taking me to when I was the age that my young son is now. My parents met us there along with some aunts and uncles and we took in some of that Okanagan sunshine.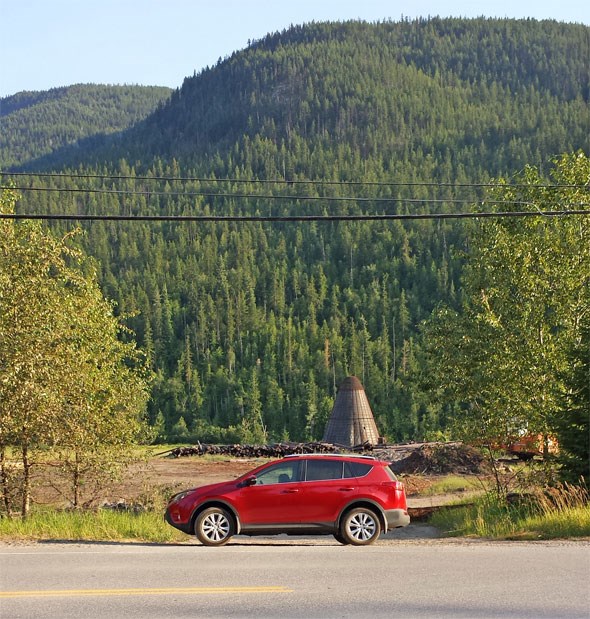 If there's one stop that you absolutely must make on the 6 hour drive from Vancouver up the Coquihalla Highway it's Hope, BC where you can put your head through this cutout and briefly become Rambo (even if you have no idea who he is, like Arlo here). I'm pretty sure this attraction has been there since 1982 when they filmed the movie First Blood in the town, and I assure you there's a lot more to the place but for the sake of stretching your legs when you're headed north, this is just the spot.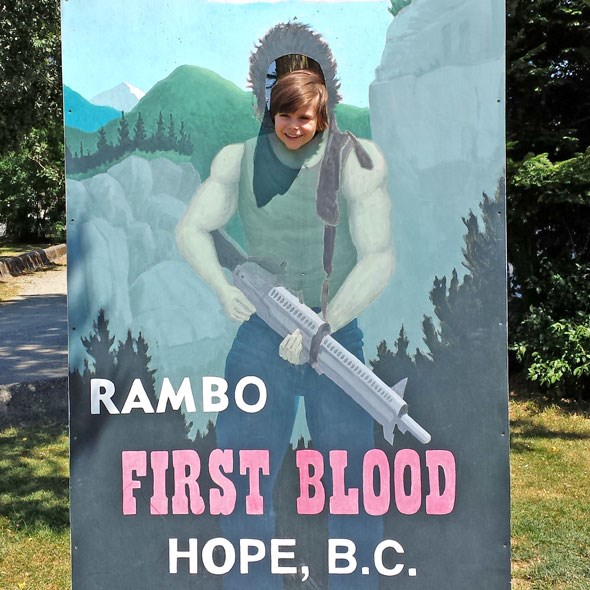 A few hours past Rambo is a small town called Enderby which has these sweet stop signs that have english as well as the language of the Splatsin people who are the original inhabitants of the area and whose reserve lands border the town. Very cool.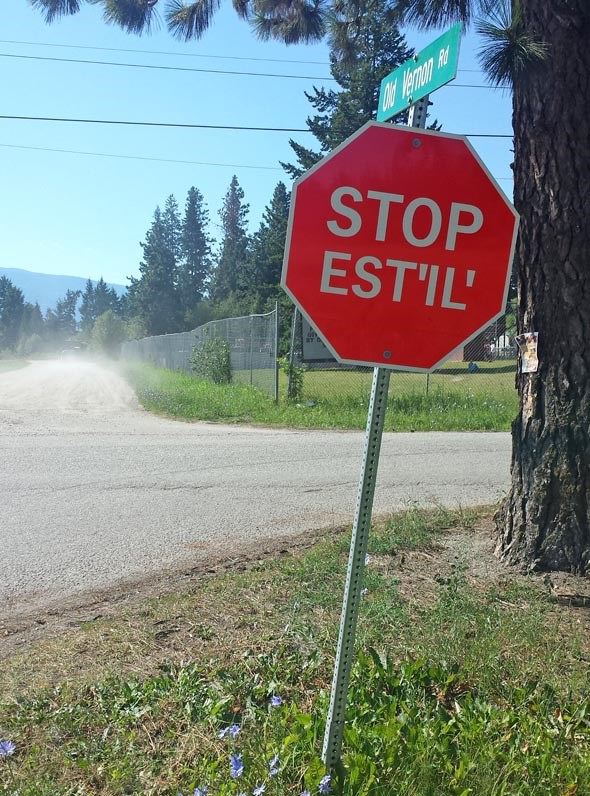 A few kilometres before the dirt road that leads to the lake this single lane bridge crosses the mighty Shuswap River. I've got a thing for old structures and this one has a grip on my heart.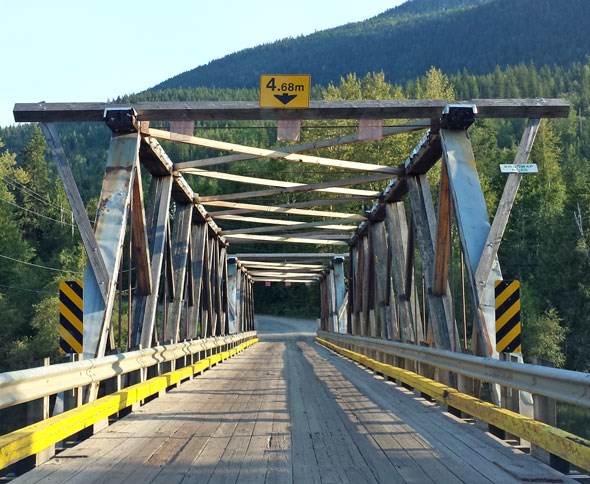 There's a ton of this type of scenery once you get off the highway. We could (ahem, did) spend a fairly good chunk of time just driving around side roads looking out the window and stopping to shoot photos and breathing in the country air and the country silence that is almost deafening the moment you step into it.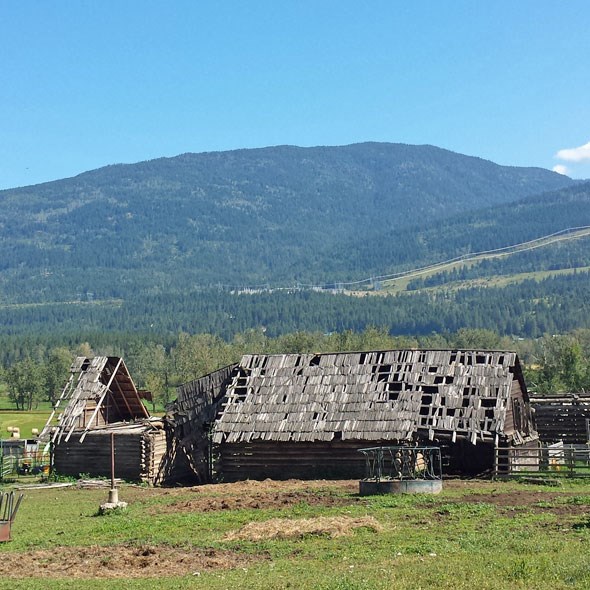 And speaking of the sounds, have you ever driven across a cattle guard? Actually, do you know what a cattle guard is? I introduced my son to this invention this weekend and the thought occurred to me that not everyone grew up in a household with a father who would take them down a dirt road every chance he got, and this could be just as new to you as it was to Arlo. So a cattle guard is exactly what it says it is: it's a thing that guards cattle. From escaping off of public land, that is. Under the provincial Range Program the government of British Columbia allows farmers to bring their cows onto pieces of public land (like the one surrounding the lake we visited) so that they can graze for months and years at a time. These pieces of land are often fenced off, with the roads being the only way cows could escape them. Being... well... not the most intelligent mammals on the planet, a cow will never walk across a cattle guard on the road because it can't figure out how to do it . An interesting fact is that 85% of the cattle in our province graze on public land that is owned by you and I. Of course ranchers have to get a permit and there's quite a process involved, but what an interesting use of public land this is. And back to the question of sound, it make a Buh-Buh-Buh-Buh noise when you drive over it.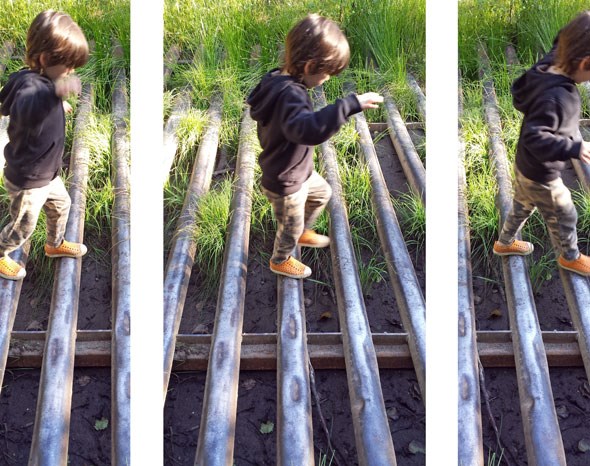 Arlo demonstrates what a cow can and will not ever do on a cattle guard
Once across the cattle guard, we set up our tent and headed out onto the lake for a bit of of lazing in the sun in my parent's canoe.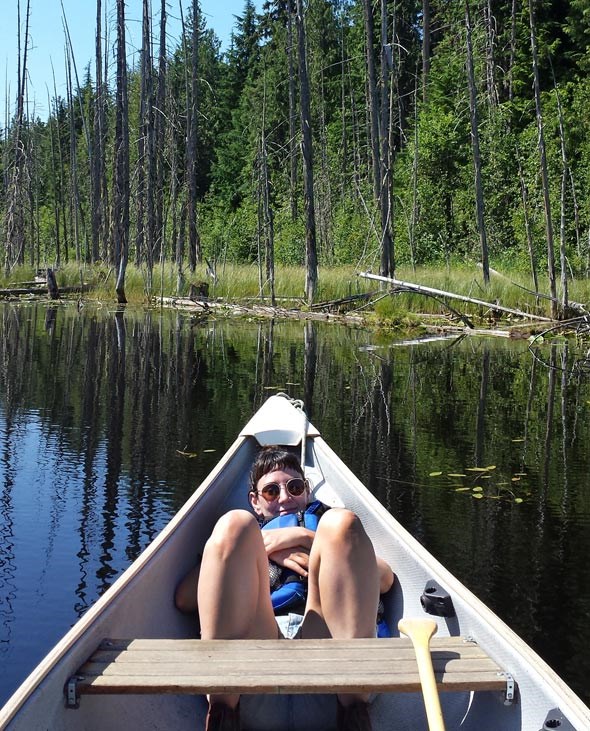 And how was the RAV4 experience? Well, we've taken out a lot of SUVs in this series, and a few of them have been compact SUVs which is the category it's in. For a city-dwelling family who like to get out and adventure quite a bit this category seems to be the Goldilocks fit for us as they're generally good on gas in the city and capable of taking us and all of our stuff to resorts and campgrounds.
The technology in the RAV4 is everything I was hoping it would be, with Bluetooth connectivity for my phone, a USB port for connecting (and perhaps more importantly, charging devices), XM satellite radio, separate climate control options for the driver and passenger as well as a range of controls on the steering wheel. The backup camera is perhaps the most practical tech feature, with the blind spot detector coming in a close second. Those are two features that hold a ton of value for me.
Something specific to the RAV4 that I noticed the second I got in is that I don't feel like I'm looking beyond a huge hood just to see the road, even though it still feels like an SUV. Something else that I love about it is the real-time monitor which shows you how well you're doing (or not doing) in terms of fuel economy. It has 3 different driving settings - Normal, ECO and Sport - and by setting it to ECO it actually promotes more efficient driving and better fuel consumption. As I like to try to save money on fuel costs I find Sport mode to be fairly hilarious because it does almost the exact opposite of that; it sharpens the shift timing and makes the vehicle more responsive and in turn burns more fuel. If that's your thing, just put it in Sport! But I kept it in ECO. Something I had no control over though, once we got off the paved road and onto the dirt for a few kilometres, was the automatic all wheel drive. When we needed it, it certainly locked in and it was pretty great to be driving on gravel and feel as though the responsiveness of asphalt was under the wheels.
Overall, the RAV4 is a fantastic vehicle. A joy to drive, smart, and a perfect fit.
Learn more about the 2013 RAV4 HERE and stay tuned as we've got a couple more weeks with this vehicle and will be going on some more road trips in it!