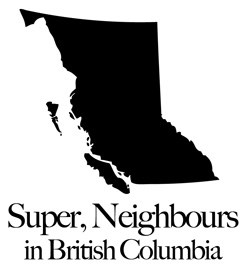 Welcome to the latest series of Super, Neighbours blog posts where we highlight incredible travel destinations in British Columbia!
For this adventure we're taking you to Bodega Ridge on Galiano Island. If you're just coming in have a look at PART 1 about getting there along with some information about the population of this sweet little island that's only about an hour ferry ride from Tsawassen.
Once you've driven off the ferry you'll go about 20 minutes along that two lane main artery and eventually you'll take a turn and find yourself on the 22 acre parcel of land that Bodega Ridge resort calls home. On this piece of land is a great deal of nature to enjoy (we'll get to that later), as well as seven self-contained, three-bedroom cabins and a main lodge. The rental price on the cabins is $200 a night in the peak season or $150 in the off season (THIS season!) and they were kind enough to host us for a couple of nights so that we could deliver this feature to you.
This is the exterior of the cabin we stayed in. Cabin #6. I'm not sure if they all have the same floorplan but they're all the same number of rooms and they all share the same look. I think we lucked out with the rope swing on the left though, and this one is a little more private than the rest, perched atop a small ridge with it's own little private driveway.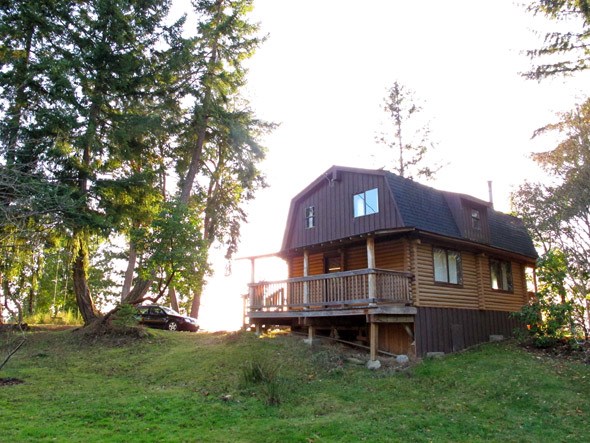 Here's one of the three beds. This room is on the main floor and boasts that sweet log cabin framing.
Here's a look at one of the other two bedrooms, both of which are upstairs and one of which has a private balcony overlooking the ocean. You could sleep a lot of people in one of these cabins, in fact the entire second floor sometimes felt like wasted space because there's just so much room there just for bedrooms. Coming from a small living space in Vancouver I'm always calculating square footage and what it should be valued at. Let's just say that the second floor of the cabins at Bodega are worth a fortune in breathing room.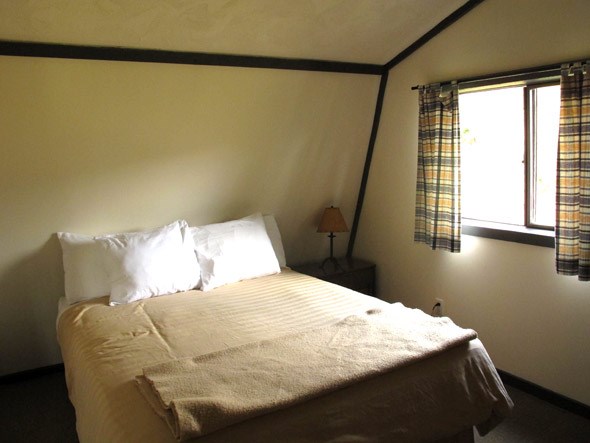 In case you need to fit more people in there's a hide-a-bed in the living room as well as a couch, along with a flatscreen TV/DVD that I don't recommend you use; it's a nice TV but you'd be better off spending your time relaxingly gazing through the window in the fireplace at the burning logs and glowing embers. The fireplace is almost my favourite feature in the place and we had it piping most of the time we were there. It was so appreciated to come in from our adventures outside and step right into a cozy cabin. I should note that there is also electric heating if you're not inclined to use the fireplace.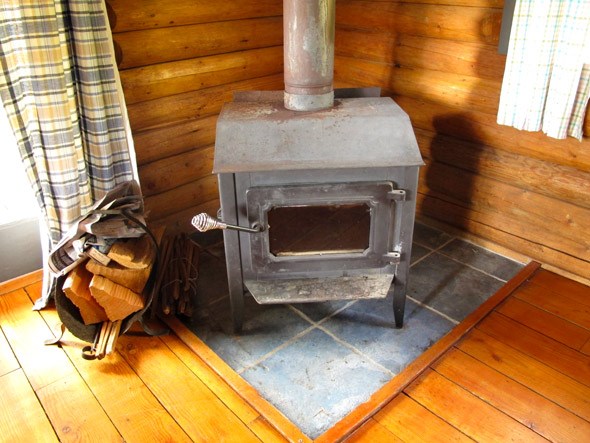 Did I mention we brought this guy along? Note that he's still wearing the Sightseeing Pass he got on our recent trip to Whistler which I SHARED with you. Along for this trip was my wife, my son Arlo and his grandmother on my wife's side. We could have comfortably fit a few more, and we could have made the cabin even more toasty as there's an endless amount of firewood available. Hence the smiling boy in front of a pile of firewood photo.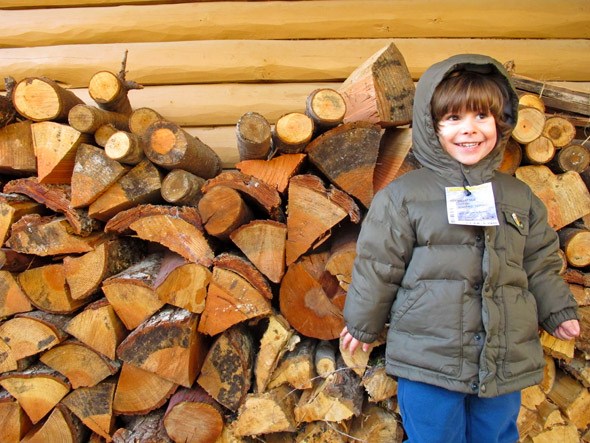 Each cabin has a fully stocked kitchen with everything you'll need to make meals except the food, of course. There's a sweet organic grocer called Daystar on the way to the resort that sells everything you need, or you could truck in stuff from the mainland in coolers if you so choose. We did a combination of both, making trips to the store for coffee (Galiano Coffee Roasting Co's Raven Dark blend!), milk and sweets.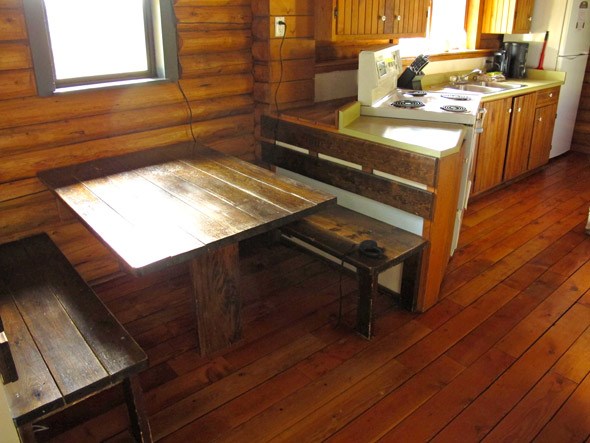 Lastly, my favourite detail of the cabins at Bodega is the stained glass in the bathroom windows. I didn't go peeking around the toilets at all the other cabins but from what I could tell from walking around, each of them has this sweet dogwood design.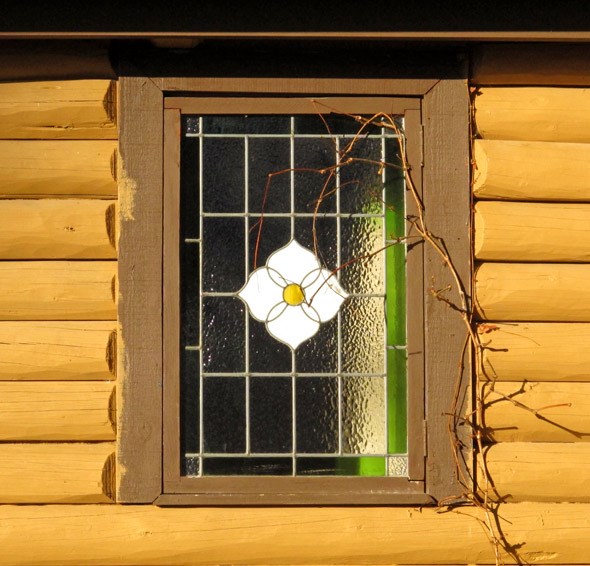 Stay tuned for Part 3 when we introduce you to the wild mammals we brought along. In the meantime check out BodegaRidge.com.