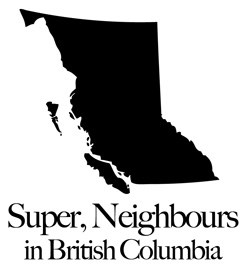 Welcome to the latest series of Super, Neighbours blog posts where we highlight incredible travel destinations in British Columbia!
This is an adventure to Bodega Ridge on the wonderful and easily accessible (one hour ferry ride from Tsawwassen) Galiano Island. In PART 1 we shared the voyage to the island, in PART 2 we showcased the cabin we called called, PART 3 showed how much our dog loved it and PART 4 we took you on a walk to the ocean with 2011 Vancouver Book Award winning author, Michael Christie.
There are a ton of interesting folks who live on the island and just as many who visit it or have vacation property there and it's easy to see what makes the place an infinitely attractive destination even in the winter. For this last in the Super, Neighbours series on Bodega Ridge I want to take you on a walk through their 23 acre property and show you just a few of the more awesome things we came across on it.
This zig-zag fence surely has an actual named beyond "zig-zag fence" but I don't know what it is. There's a couple of them near the cabins, as you're making your way out to do some exploring you'll pass by them and think "What's the name for these anyway?".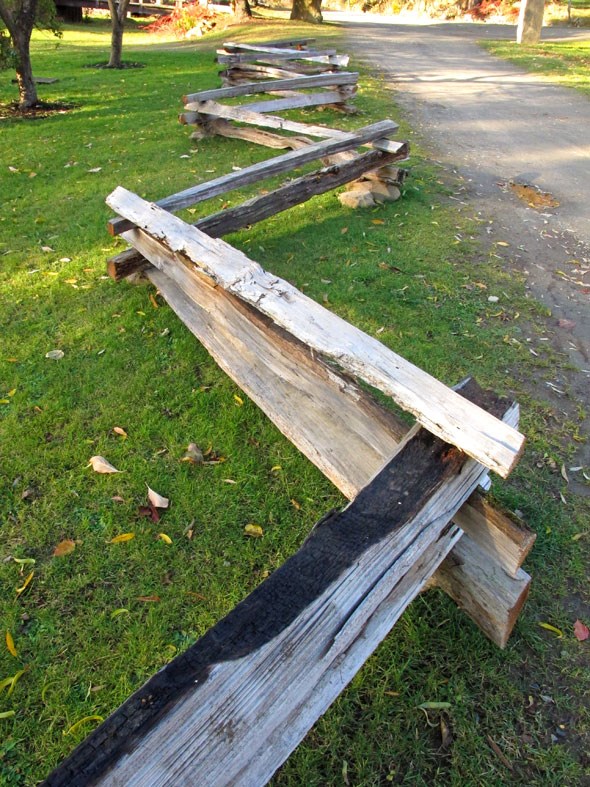 There are also a great deal of totally sweet rock carvings throughout. As I'm a fisherman this one is my favourite one there but there are so many more, some prominent and some hidden, that you'll discover.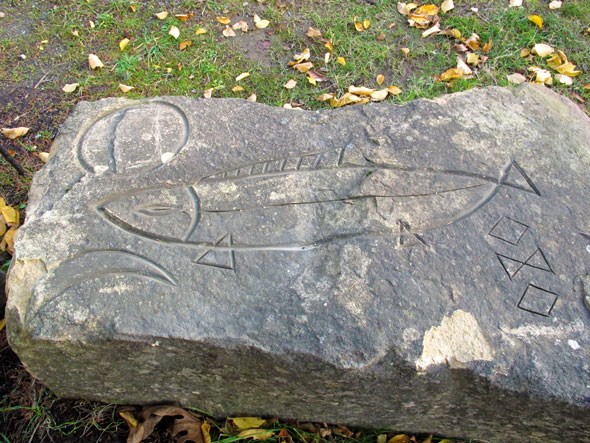 This one's pretty sweet and helps illustrate the fact that there are a ton of arbutus trees around the property. On one hill there's a whole grove of smaller ones and dotting the place are some massive old ones.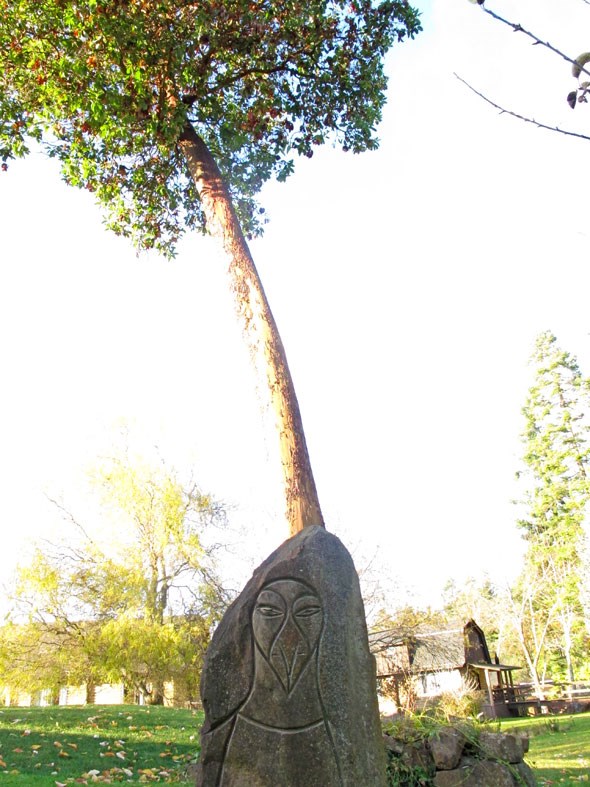 A quick walk up one trail leads to these inukshuks.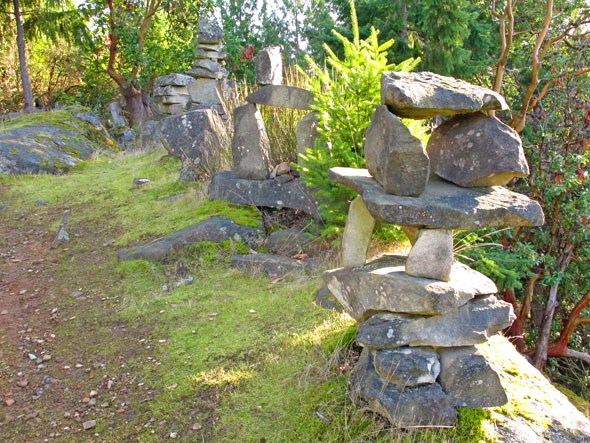 Look beyond the inukshuks and you'll see the main lodge as well as the view of Vancouver Island and a bunch of the other smaller Gulf Islands.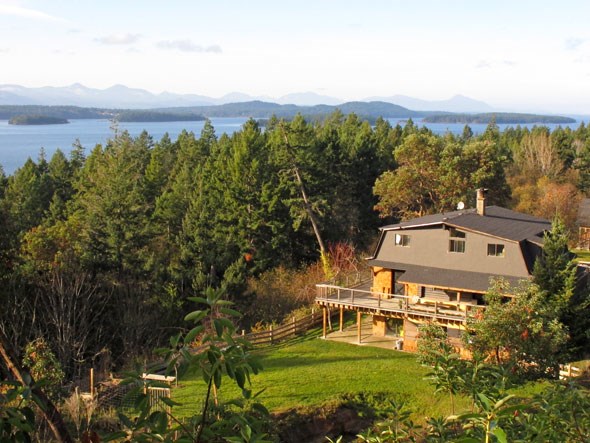 The proprietor of Bodega Ridge, Jesse Keefer, spends some of his time on the island and some in Vancouver. I imagine he keeps this stone artichoke that you see in front of Vancouver Specials as a little piece of the city. Two of them sit right out in front of the lodge.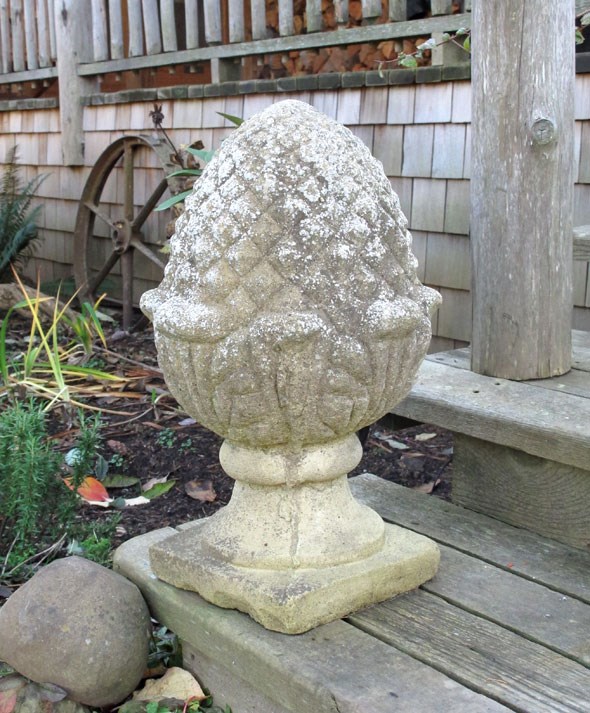 It's pretty much impossible for me to share all of what there is to explore, but here's a photo of my son Arlo (whom made an appearance in an earlier post) running through one of the big fields.
Proof of wildlife abounds (as does actual wildlife). We didn't see any deer on the property but saw some during the drive and plenty of deer prints like this one are on the roads and trails at Bodega Ridge.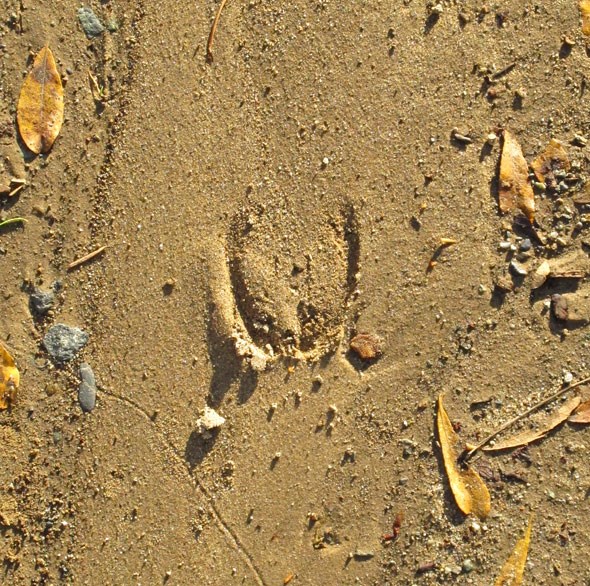 I almost fell to the ground dead when we stumbled across this lake and another one on the property. I had no idea they were there until the last day, right before we were about to leave we stumbled across them, and after getting some info from Jesse and pitching an idea at him I'm happy to say that we're working on something seriously mind blowing (to me, and hopefully to you) in conjunction with Bodega that's going to be happening in the next few months. I can't say much more right now but rest assured that you will be seeing a lot more about the lakes at Bodega Ridge on V.I.A. in the future.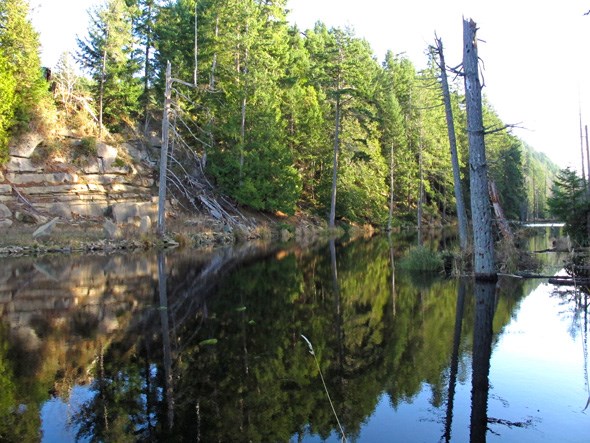 Beautiful sunset to end our visit to this absolute gem of a property on Galiano Island. Any season is a good season to visit and we will definitely be making many more trips back here in the future.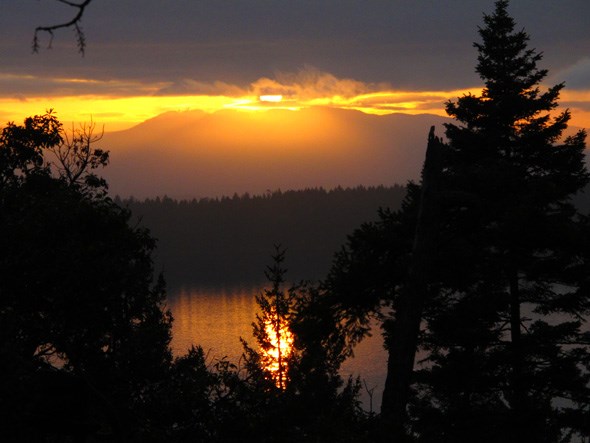 Visit BodegaRidge.com to find out more about booking a stay there. I can't give it any higher of a recommendation, the place is just the best.
Oh! I almost forgot. Have a look at this 1 minute video that was just released. It's not specifically Bodega Ridge but it shows you how totally awesome Galiano Island is to visit in the winter.
http://vimeo.com/35117877