Curious about the safety protocol at an airport you might have to travel to in the near future?
This week, Apple Maps began displaying COVID-19 airport travel guidance directly on airport place cards. Now, travellers with iPhones, iPads, or Macs can easily access local airport health requirements, such as face coverings, health tests or screenings, and quarantine guidelines.
Using information collected through Airports Council International (ACI) web-based Health Measures Portal, the app will display the COVID-19 health measures for the airports you search.
Currently, Maps provides data for COVID-19 protocol at over 300 airports worldwide.
More detailed information about the health measures in place at individual airports around the world is also available through ACI's Check & Fly mobile app and passenger portal. The Check & Fly app provides a way for airports to communicate to passengers directly about what to expect when they plan to travel, helping them to meet any requirements, and making their journeys smoother and more efficient.
"The recovery of air travel will rely on passenger confidence in the industry's focus on their health and welfare," said ACI World Director General Luis Felipe de Oliveira. "Having this information displayed in Apple Maps will help to make this crucial data much more broadly accessible to passengers."
Here an example of what will be viewable for Vancouver International Airport.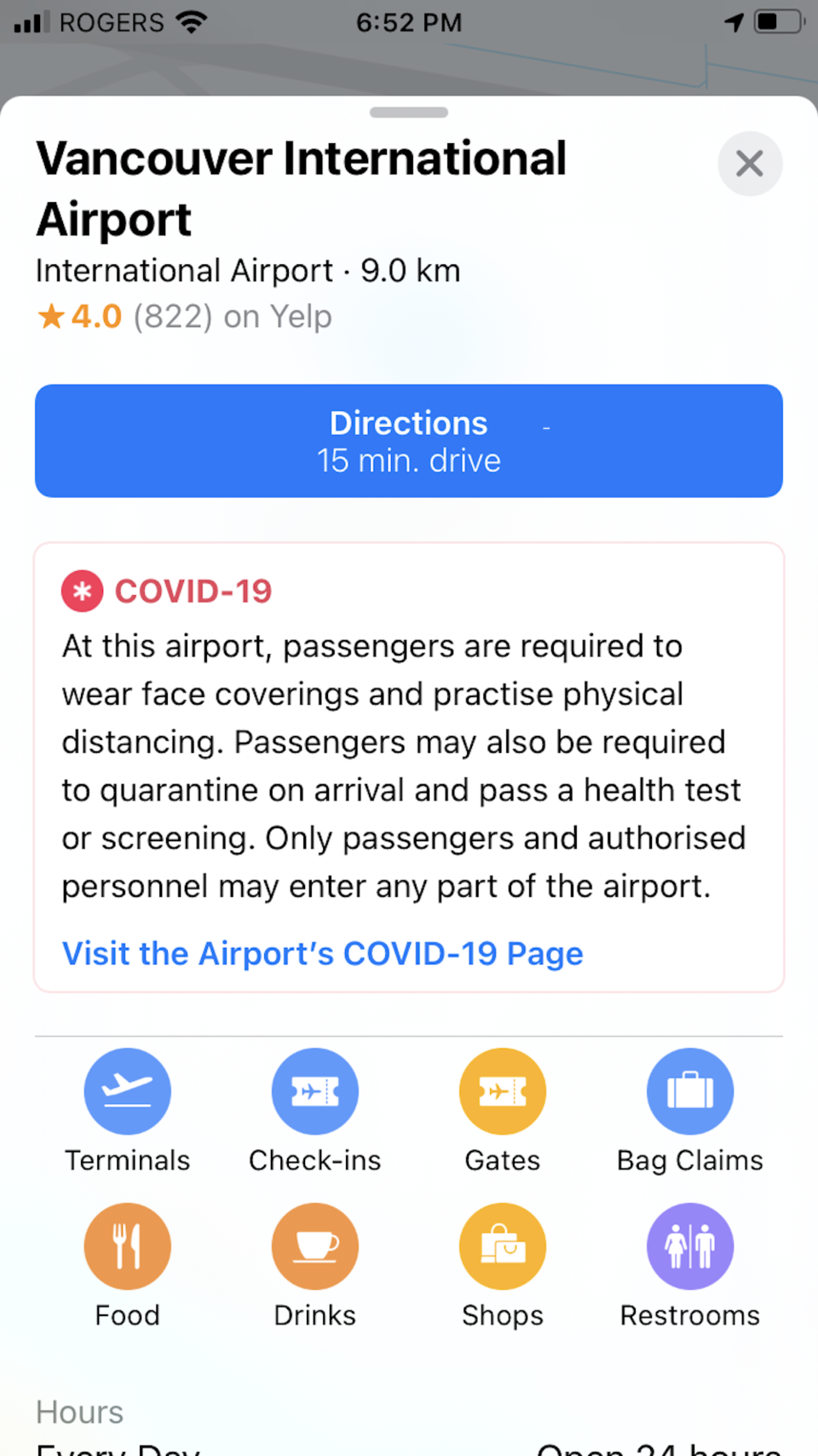 Photo via Apple Maps
The data is also available via an Application Programming Interface (API), and all solutions are based on the Aviation Community Recommended Information Services (ACRIS) standard that enables third parties such as airlines and app developers, to access data.
A note on travel during the pandemic
Even if you have been vaccinated, the Canadian government still advises against nonessential travel outside of the county. So until the advisory is lifted, it is in your best interests to stay put.
If you choose to travel despite these advisories, the Government of Canada highlights that:
you may have difficulty obtaining essential products and services
you may have limited access to timely and appropriate health care
you may suddenly face strict movement restrictions and quarantines at designated facilities and at your own cost
your insurance may not cover your travel or medical expenses
Canada may have limited capacity to offer you consular services
Violating any instructions provided when you enter Canada is an offence under the Quarantine Act and could lead to up to six months in prison and/or $750,000 in fines.