For the past 30 years the Pacific Rim Whale Festival has served as a marker for the people of Tofino and folks like me who love to visit: it's the end of storm watching season and the Grey Whales have returned after months away. Every year 20,000 of these beasts migrate 13,000 kilometres from Mexico to the Bering Sea, passing right by this far flung community on the West Coast of British Columbia. That is certainly means to celebrate, and this year the festival was 16 days full of culinary, cultural, musical and educational events (many of them free). I took my family there for opening day to check it out and am happy to provide a play-by-play of our trip which can double as a guide for you to get the most out of your next trip to Tuff City, as the locals call it.
If you've been reading V.I.A. for a while you know Tofino is a favourite around here. It once won our Most Awesome Award for being BC's best travel destination and we've published many stories about it over the years. One of the draws is simply the getting there, and for this excursion we took the most part of the day puttering our way across Vancouver Island after getting off the ferry in Nanaimo.
The first stop you should make on the island is the Coombs Old Country Market, a little more than 30 minutes from the ferry terminal. If you've seen the sticker below on the back windows of cars and wondered what it's about then wonder no more: it's the official Goats on the Roof logo! A proudly placed badge of awesomeness for anyone who loves Vancouver island.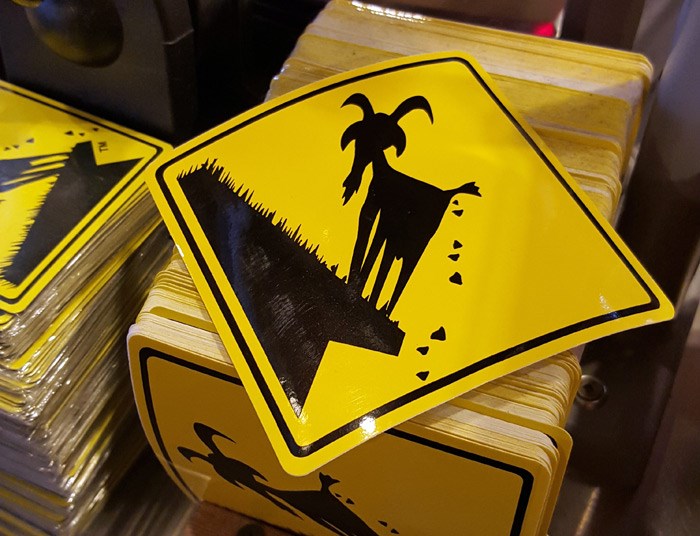 During the summer months they let their goats roam the roof of this quaint little market, which has one of the greenest tops you'll ever see (pictured left below). In the early spring the goats are kept way at the back of the property (pictured right), so be sure to go for a quick walk to see them if you're not visiting in the summer. Also, a fun fact: I posted a photo of the roof to my Instagram and former Vancouver Canuck player, Willie Mitchell, let me know that the owners actually named the goats Willie, Henrik and Daniel. Ha!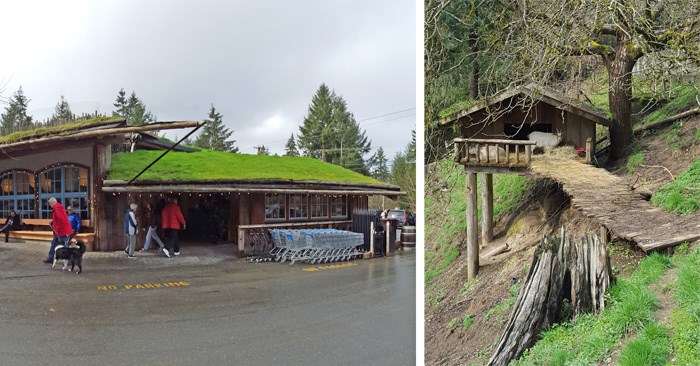 Next to the market are a number of different collectible shops. Not quite antique stores, they're filled with curiosities that might not cost you an arm and a leg. How could I resist going into one of them with a sign like the one below?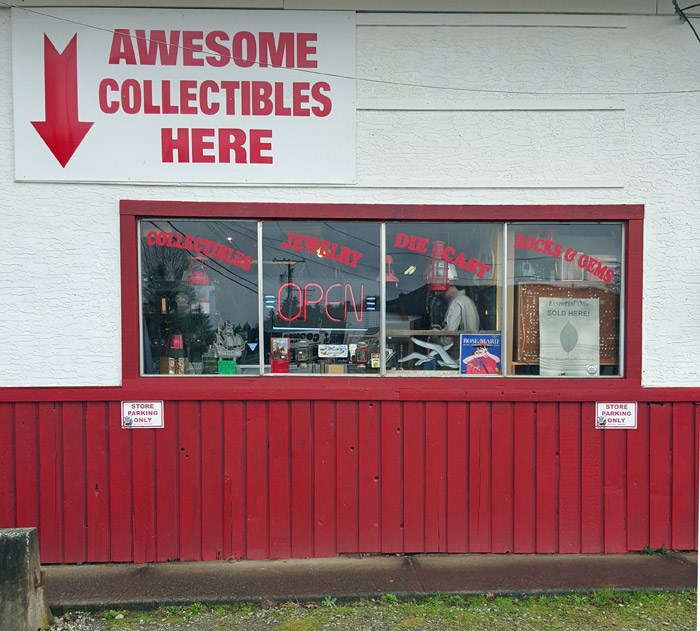 This spot is filled with all different types of collectibles, broken down into a number of sections in different rooms. Here's a look at a portion of the beer section.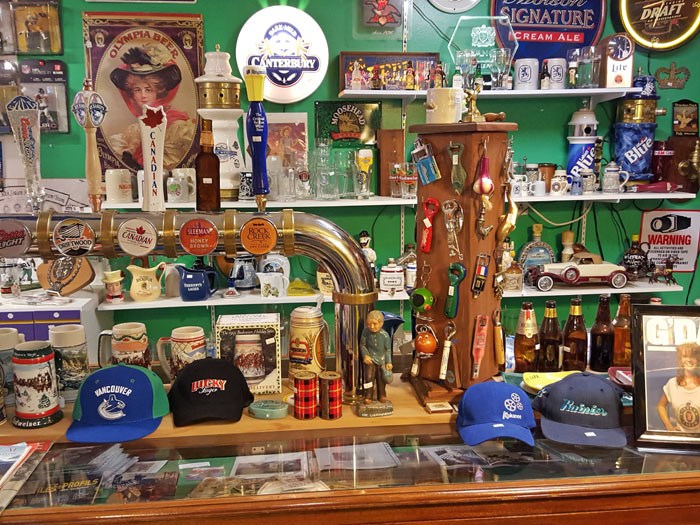 As we were about to leave we spotted a large box full of old matchbooks priced at 10 for $1.00! After rummaging for a bit we walked out with these very-Vancouver selections from the 80s and 90s.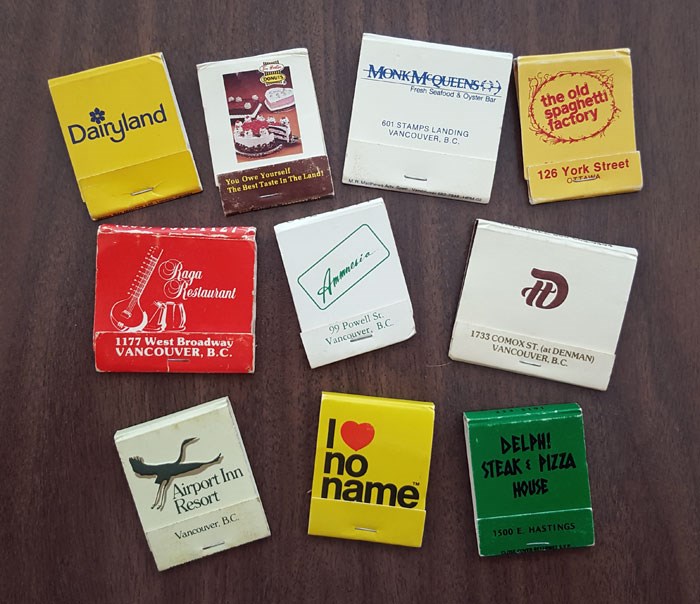 Get back in the car and drive for 15 more minutes and you'll find yourself at Cathedral Grove Provincial Park. You can't miss it as there are a few signs leading up to it, and it's definitely worth stopping and going for a 15 minute stroll on either side of the road. The park is 301 hectares containing some of the largest and oldest trees left standing in our province - some of the Douglas Fir are 800 years old - and they've set up a couple of trails where you can see just enough of the splendour without getting too deep.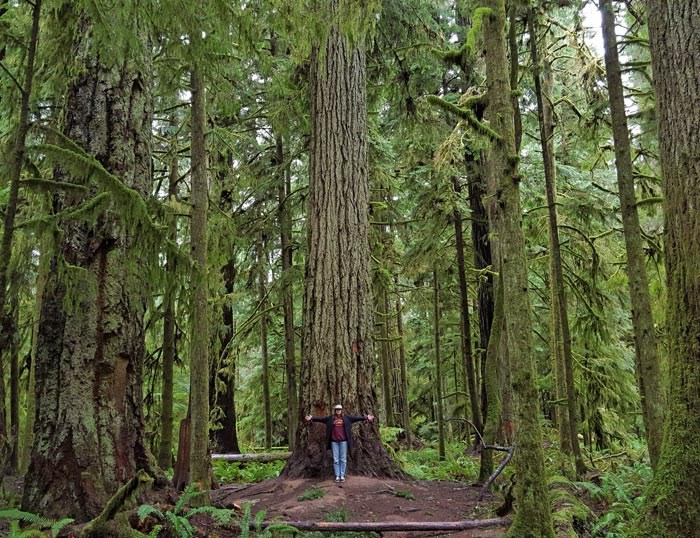 Drive another 20 minutes and you'll find yourself in the town of Port Alberni, which is a bit of a throwback. Stop at J&L Drive-in for an authentic old-school lunch experience. You pull up, check out the menu board then turn your lights on when you're ready to order. A server comes to your window and you can either take your food to go or sit there with a tray out your window and enjoy your meal.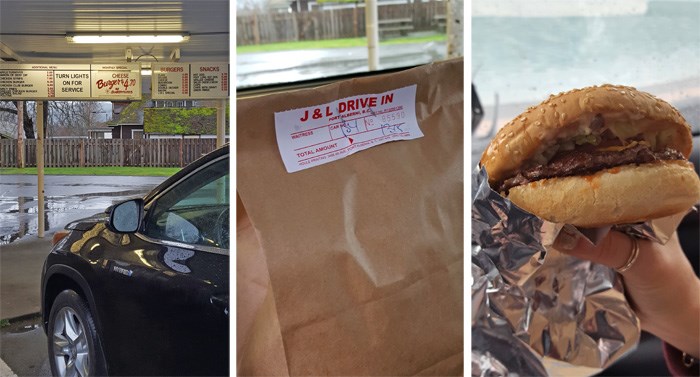 A few minutes down the road is a donut shop aptly called The Donut Shop, which I only recently found out about but might be the most important stop you'll make; for $5.50 you'll get 6 of these wonderful cake donuts, much like the ones that'll cost you $3.00 each in Vancouver!
So that's two throwback sights in Port Alberni. The third are the old cars that you might see rolling around. We caught up to this one right outside The Donut Shop.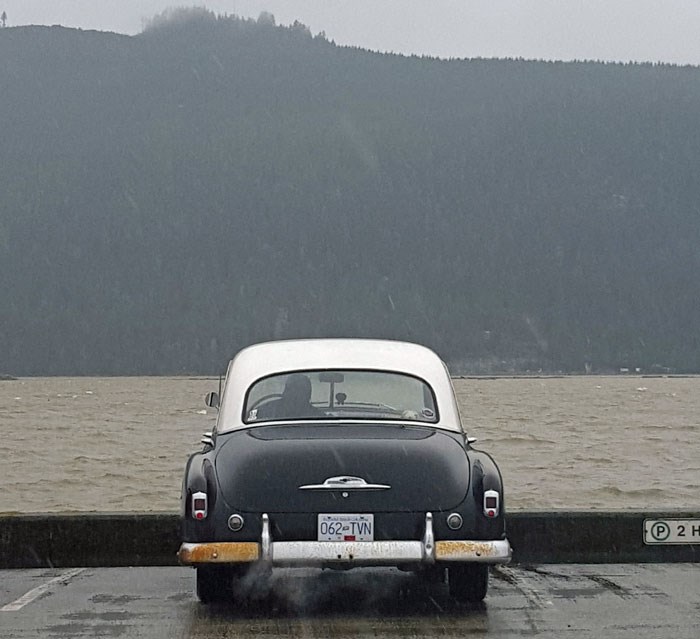 15 minutes down the road is another stop to consider making: Sproat Lake! There are a number of different access points to the lake, and this time we chose the provincial park for a quick nature walk.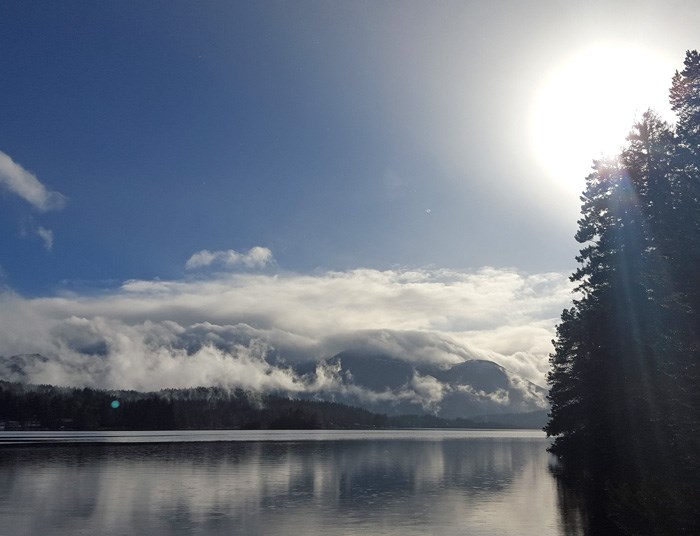 There are tons of other stops to make along the way but beyond Sproat Lake you might want to buckle in for the next hour and 45 minutes West across the island, ultimately finding yourself in Tofino which is literally the end of the road. There are a number of resorts, hotels and B&Bs to stay at, and in the summer the camping is great. We checked in to a 2 bedroom beach house suite at Cox Bay Beach Resort. In the past I've stayed at Long Beach Lodge, The Wickaninnish Inn and Pacific Sands and this spot is not only close in proximity to those other luxury accommodations but also in quality. Heated bathroom floors, a fireplace, full kitchen, large private patio and more. Oh, and the architecture is next level!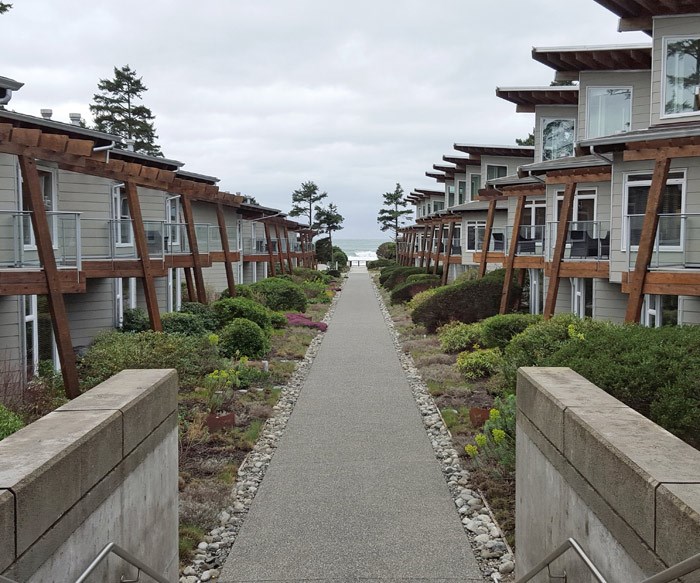 The experience inside your suite and on the property can only be rivalled by what lies beyond the gate: exploring the beaches, trails and rocky coves. You'll find sand dollars and other shells, lots of sea foam and even more peace out there. This is my favourite part of visiting.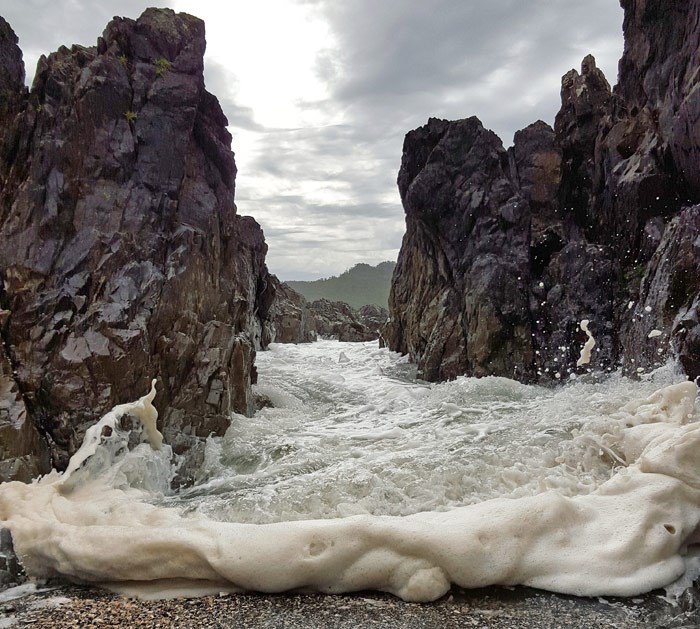 The waters in front of the resort are some of the best for surfing in Tofino and on the second day there I was pleasantly surprised to run into my friend, photographer Jeremy Koreski, while I was on the beach. He was out shooting some local and international pros and inbetween waves checked snapchat and saw a snap I had just made (I'm bobkronbauer on there if you want to follow along on these trips in real time). He texted me "You on the beach?!" and I looked over and there he was. Crazy. Did I mention that Tofino is a small town? If someone you know is there you'll likely bump into them at some point, even if it's randomly at a beach a few minutes out of the core of the town itself.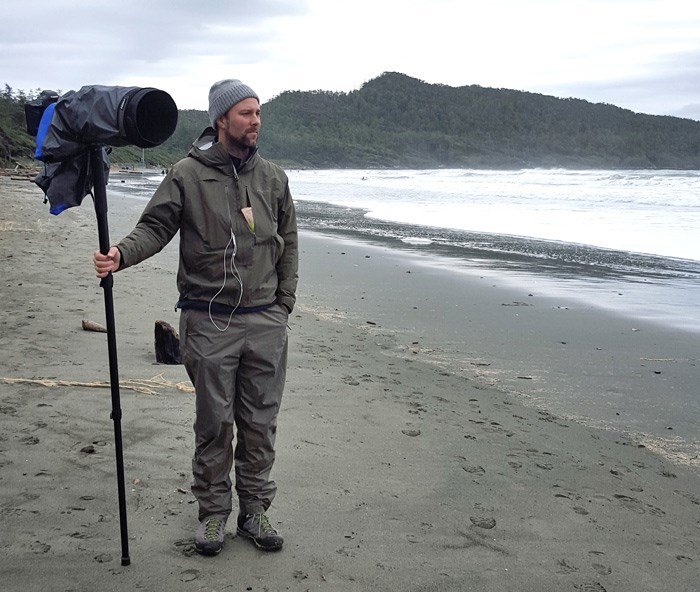 We'll get to the whale festival soon, but first I wanted to share one of my other favourite things: the food! Out of all of the places I've travelled in BC somehow this tiny community has the most amazing restaurants per capita than anywhere else in the province. Pictured below is the chowder I must get each time I visit, made individually bowl-by-bowl as you order it by the good people at The Fish Store and Oyster Bar. It's the single dish I would recommend to everyone and is made from ingredients that come in fresh each day (the spot is owned by the same people who own a commercial fish processing facility nearby). Jeremy suggested that I also check out the chowder at Sobo this trip, which I did and which I can now recommend as an alternative to my favourite. It's super fresh and tasty and a bit on the spicy side, which almost puts it in another category altogether. We also checked out the fairly new Kuma, which serves Japanese-inspired comfort food. Put that one on your list if you want some of the best ramen in BC. All three of these places are within walking distance of each other.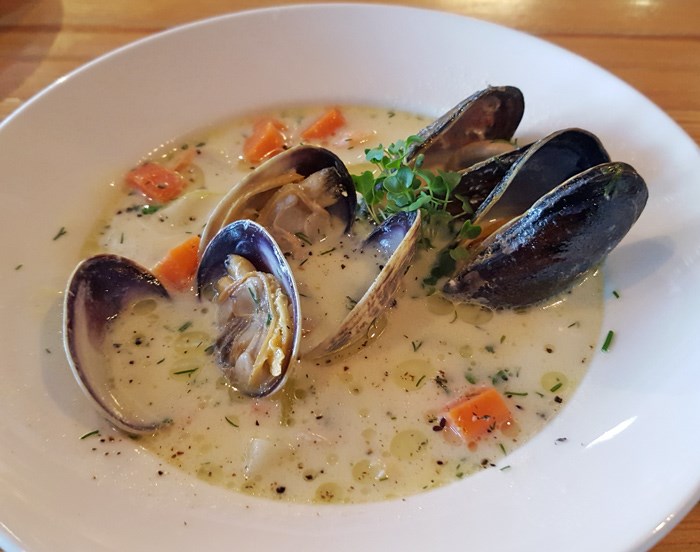 "Whales! Where are the whales?" you ask? We came early and they were being celebrated everywhere. First we noticed them inspiring the design of some donuts at Rhino Coffee House while we were waiting for the whale festival parade to start.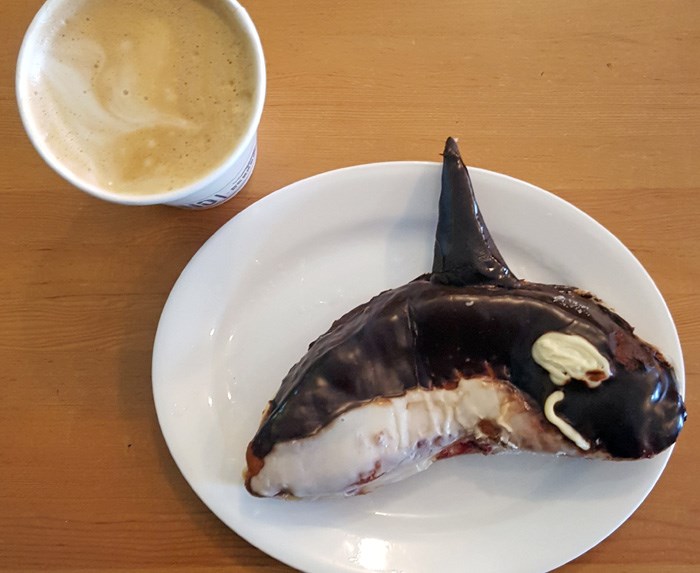 Then we saw them in the parade itself, being respresnted on floats from all the local businesses. This one is from the Wickaninnish Inn and was one of the most impressive on display.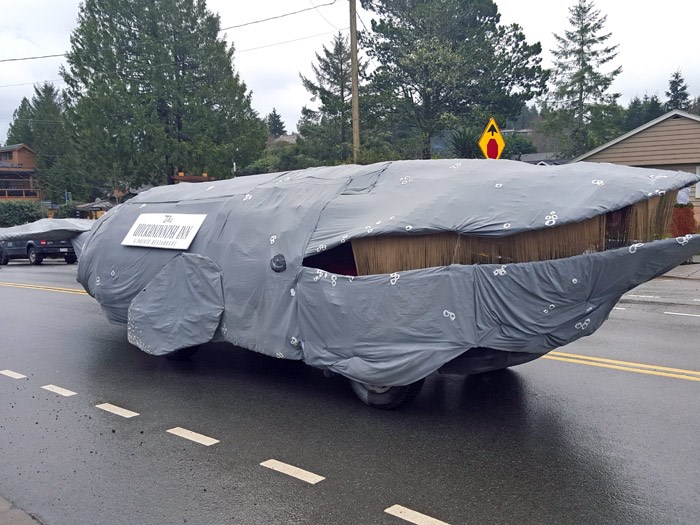 After the parade wrapped up we headed out on a whale watching tour on this boat below with hopes that we'd catch a glimpse of the first real whales as they were expected to start rolling in. Despite a couple hours out there in fairly choppy waters we didn't manage to see any, but we have seen them on other trips out there - I think we just got there a little too early this year. It should be noted that there has been the odd accident in these boats over the decades - one every 20 years or so - so go in knowing that's the risk of being out in open waters. If you're in for a less bumpy ride the bear watching excursions don't go out into open water like the whale watching boats; they head into the Sound more and hug the shore looking for bears on the many tiny islands and shorelines they come across. We'll certainly be back to see more bears and whales in the future.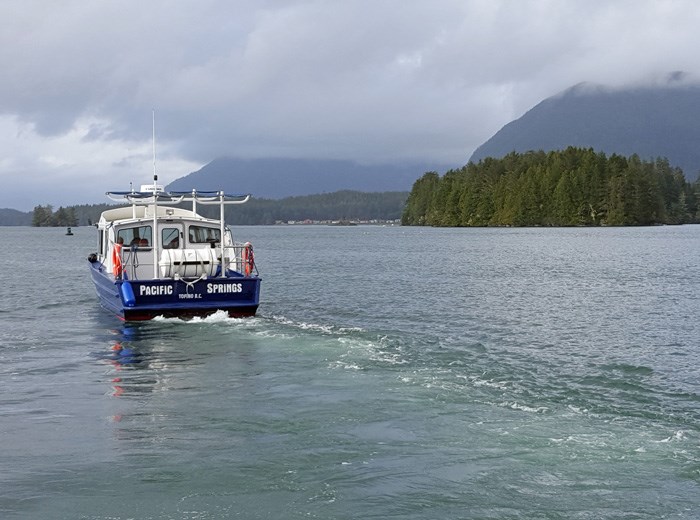 Oh, and if you go out on a tour and you don't see any whales you're still in for visual treats like this one below. Tofino is paradise.
Learn more about the Pacific Rim Whale Festival here.