If you're looking to avoid Vancouver's April showers (or torrential downpours) without breaking the bank, there is an affordable ticket to paradise offered through Canada's second-largest airline.
While there are numerous, affordable tickets for flights that visit Hawaii later this year, ones for trips departing soon are more expensive. In particular, return and direct airfare to Honolulu can start at well over $550 to $650 if they depart within the next month or so.
But travellers can enjoy cheaper trips with WestJet, as some of the lowest prices start at just under $450 including all taxes and fees.
For example, a flight that departs on Apr. 18 from Vancouver International Airport (YVR) and returns from Honolulu's Daniel K. Inouye International Airport (HNL) just over a couple of weeks later on May 2 costs a total of $444.40 including all taxes.
Tickets are booking up quickly for these low-cost flights, so you might want to pop open WestJet's price calendar to ensure that you are getting the best deal based on your availability.
Also, when you are prompted to select your fare, keep in mind that there are several options, even within the economy class. You will be able to choose between Basic, Econo, and EconoFlex, but each of them comes with disadvantages or perks.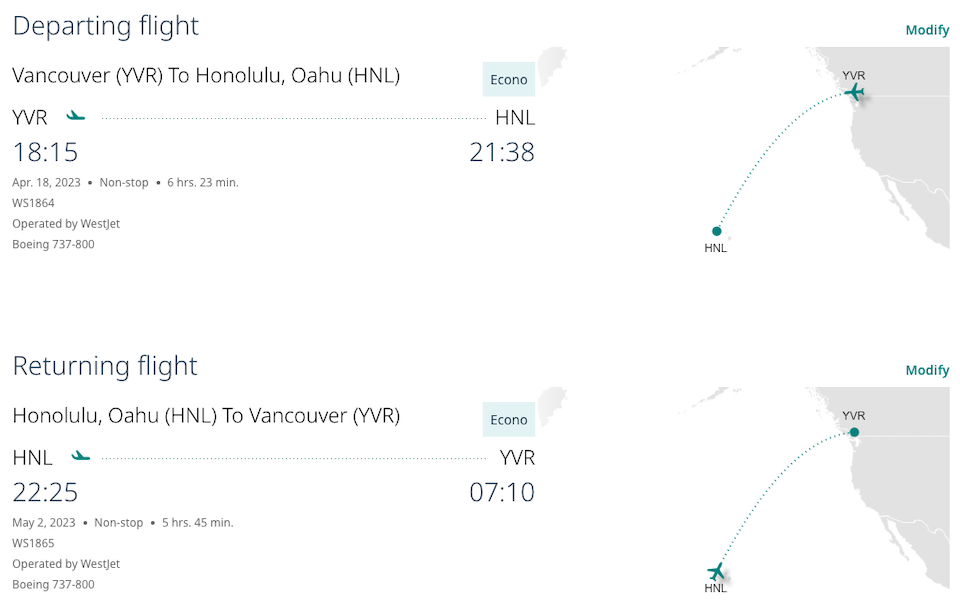 Take Vancouver flights to Honolulu and the Hawaiian Islands this spring
Not only is Honolulu famous for its breathtaking, crescent-shaped beach, but it also offers incredible nightlife, shopping, and dining.
Hawaii also offers a range of natural gems to explore on each of the islands as well as many places to dine, shop, and catch live shows. From the Mauna Kea Summit to the massive, approachable populations of manta rays, the rich history of Lahaina to the stunning Waikiki Beach, the islands ooze tropical beauty.
You can book your tickets online with WestJet.