Locals looking to get away on the cheap can take advantage of an ultra-low-cost option that includes accommodation in the "City of Sin."
Low-cost carrier Sunwing offers a handful of Las Vegas packages for under $400 including all taxes and fees. The packages include round-trip, direct flights from Vancouver International Airport (YVR) to Harry Reid International Airport (LAS) and three nights of accommodation in three- or four-star hotels.
While there isn't a great deal of availability over spring break, travellers can browse multiple low-cost options throughout the month of April. But if you want to get the best bang for your buck, trips departing on Monday, April 17 offer the best deal of the month.
For example, a package that departs Vancouver on Monday, April 17 and returns on Thursday, April 20 with accommodation at the four-star Rio All Suite Hotel & Casino costs $365 including all taxes and fees.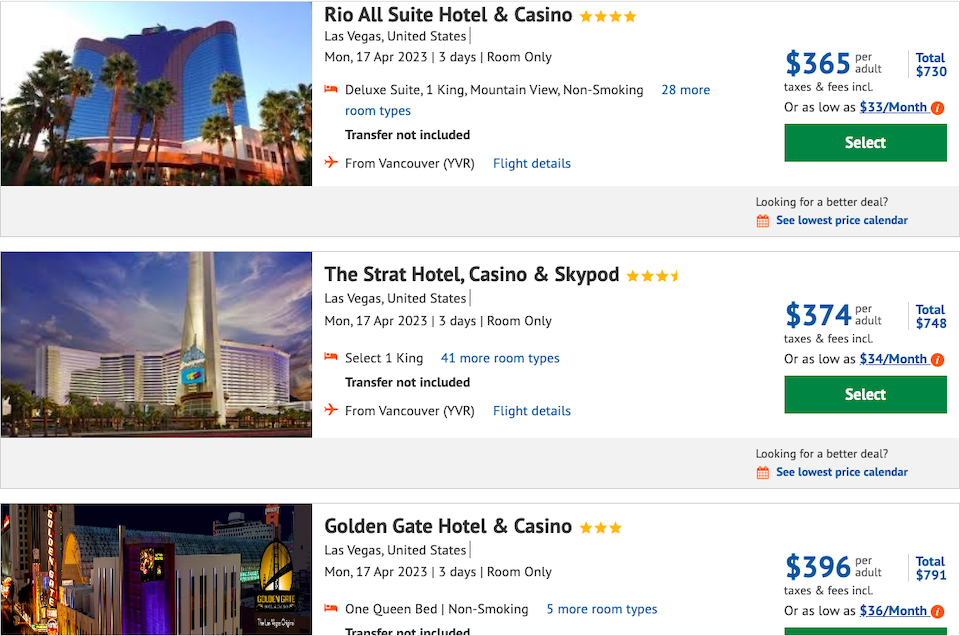 The outbound flight departs YVR at 5:30 p.m. and gets into LAS at 8:15 p.m. The return flight departs LAS at 9:00 p.m. and gets into YVR at 11:48 p.m.

For a more luxurious stay, a three-night stay at the five-star Mandalay Bay Hotel & Casino is a steal at $620 per person in the Resort King room category.
The property is unique because it has real sand and a wave pool for guests to enjoy on the 11-acre property.

Vancouver flights to Las Vegas
A trip to Las Vegas can include all of the usual suspects -- gambling, impressive shows, pool parties, and big-name DJ concerts — but there are a plethora of other activities and attractions to enjoy in the city or just outside of it.
Visitors who venture outside of the entertainment zone can take a nostalgic trip down memory lane with a visit to Old Vegas or a day trip to see the Grand Canyon.
You can view options and book your package with Sunwing online.
Canadians heading across the border can take advantage of a new option that allows them to submit their information digitally in advance of travel. Find out everything you need to know about how to save time when flying to the U.S. with this comprehensive guide.