New York City is often called the "City that doesn't sleep" — and you shouldn't sleep on the low-cost flight options from Vancouver in the spring.
Whether it's a unique shopping experience in Soho, a massive slice of foldable pizza in Brooklyn, or simply getting lost in the vibrant lights of Times Square, New York has something for everyone.
If you can afford to be a little bit flexible, return trips to the iconic destination cost as little as $400 for direct flights.
Using the Google Flights price calendar, you can browse options from Vancouver International Airport (YVR) to the John F. Kennedy International Airport in New York.
JetBlue continues to offer the best deal, with direct flight options for just over $400 with tax. However, there are several dates that cost significantly more, so you'll have to have to play with the dates to get the lowest price.
For example, a flight that departs YVR on April 17 and returns on April 22 costs a total of US$296.56, which works out to roughly C$404.88 at the current exchange rate.
Keep in mind, however, that these low-cost fares, called Basic Blue, are non-refundable and cannot be changed; they also do not include any bags. If you want more flexibility or peace of mind, JetBlue's Blue Fare offers free changes and is fully refundable. You also get a free checked bag and a carry-on bag as well as a free seat selection.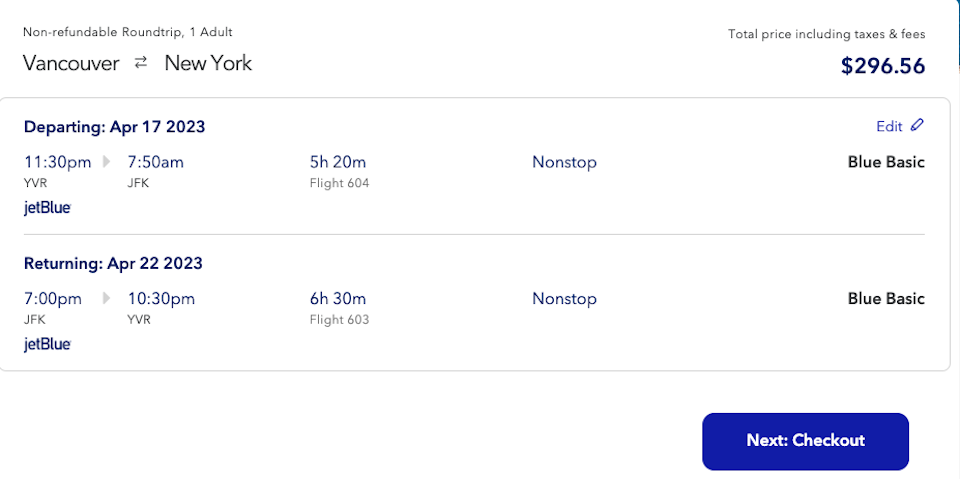 JetBlue operates flights between Vancouver (YVR) and New York City (JFK) daily; the flight departing from Vancouver is a red-eye option while the New York departure is in the evening.
The airline has five different fare classes, as well as two memberships. For members, the rules for each fare class will change, allowing for more flexibility and inclusions than other guests. The fare classes are Blue Basic, Blue, Blue Plus, Blue Extra, and Mint.