Canada's third-largest airline is offering the best deals on flights out of Vancouver International Airport (YVR) right now.
Flair Airlines has come under fire in recent weeks following the seizure of four of its aircraft after it allegedly failed to make lease payments to a New York-based hedge fund.
The seizure resulted in mass cancellations across the discount carrier's extensive networks, leaving thousands of passengers stranded or scrambling to make alternative arrangements.
But Flair says its flights are running back on schedule and it is committed to offering the most competitive fares on the market.
Locals can take advantage of some ultra-low-cost options as part of the airlines' "this sale is no joke" promotion, which offers 25 per cent off base fares on travel between March 31 and June 15.
There are a couple of blackout dates that do not apply to the sale, including travel on May 18, May 19, May 22, or May 23.
Tickets must be booked by April 3 at 11:01 p.m. and the promotional code only applies to base fares. It does not apply to taxes and fees. Use the promotional code "nojoke25" during checkout.
The lowest price available to travellers looking for a cheap ticket out of town is a one-way flight from Vancouver International Airport (YVR) to Kelowna International Airport (YLW) for as little as $12.94 including all taxes and fees.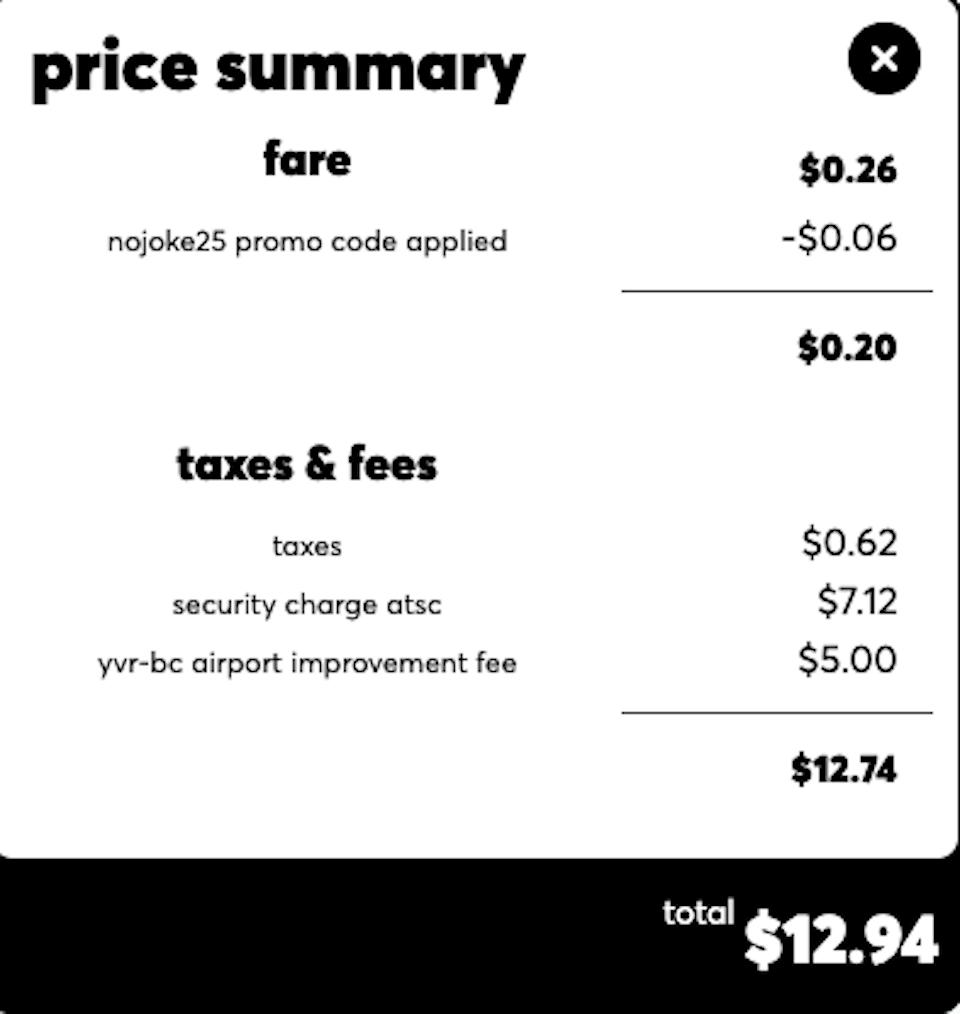 Cheap Metro Vancouver flights are included in the massive sale on all base fares
There are several other options out of Metro Vancouver for travellers looking to travel on a budget, including one-way tickets from Abbotsford International Airport (YXX) to Calgary International Airport (YYC) for as little as $16.13 or Toronto Lester B. Pearson International Airport (YYZ) for $38.62.
Travellers can also score cheap tickets on flights to Vancouver from the United States, such as ultra-low-cost tickets from Las Vegas for as little as US$35.37, which works out to roughly C$47.84.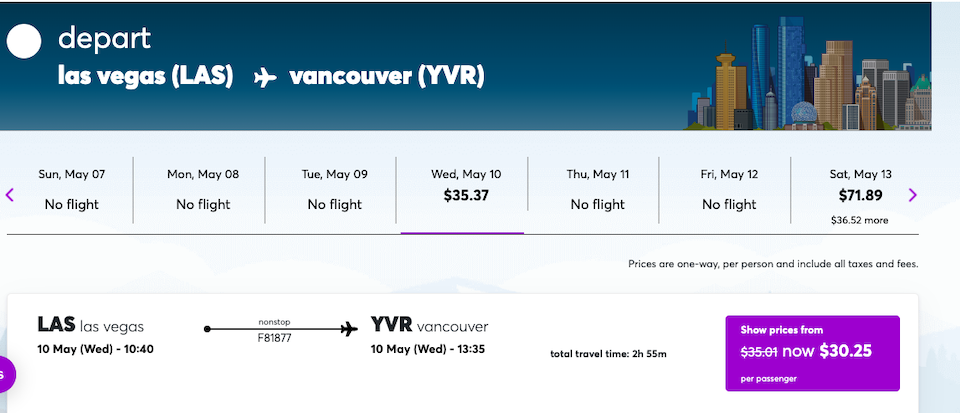 Discount carrier Flair Airlines came under fire recently after nearly 2,000 travellers were stranded in destinations across the country when their flights were cancelled at the eleventh hour following the seizure of four aircraft.
While the airline said it was communicating with passengers, many travellers said they spent days waiting for instructions and some of them re-booked their own flights. Many of them have also expressed uncertainty regarding whether or not they will receive compensation.
You must pay an extra fee for bags with Flair Airlines. You can take a personal item but anything else will cost you, including a piece of carry-on luggage.
Book your flight with Flair Airlines online.