Want to go to sleep in one drool-worthy European vacation destination and wake up in another?
A new sleeper train will connect Paris, France and Berlin, Germany, allowing travellers to save costs on a hotel while travelling between the two world-class destinations.
Nightjet, operated by Austrian rail company ÖBB, currently offers a wide array of trains across Europe, including numerous options in Germany, Austria, the Netherlands, Italy, and Switzerland. The train also features routes to France, Belgium, Croatia, Poland, Slovakia, Slovenia, the Czech Republic, Hungary, and more.
Soon, travellers will be able to enjoy the return of a previously popular overnight rail service connecting the "City of Lights" with Germany's "Grey" City (although Berlin is a far cry from grey). Berlin is Europe's graffiti capital, with soaring, multicolour murals and tags as far as the eye can see.
The new service will provide rail transportation from Berlin to Paris, departing in the evening and arriving at the home of the Eiffel Tower in the morning, just in time for coffee and a croissant (and maybe a cheeky macaroon or two).
The new service is expected to roll out before the end of the year.
How to purchase tickets from Berlin to Paris with Nightjet
While tickets for the highly-anticipated route haven't dropped yet, the buzz has stirred up considerable commotion, meaning that you'll want to check the website and Nightjet's social channels to find out when they do. Paris and Berlin are two of Europe's most iconic cities and tickets for a practical and affordable connection between the two will likely sell fast.
In the meantime, however, you can enjoy service on another overnight train between Austria's picture-perfect Vienna and Paris. The itinerary is likely similar to what will be offered from Berlin. Right now, the drop-down menu shows Germany as a possible option for Paris but then redirects users to Vienna.
The Vienna route departs just after 7:30 p.m. and then makes several stops overnight before arriving just before 10 a.m. in Paris.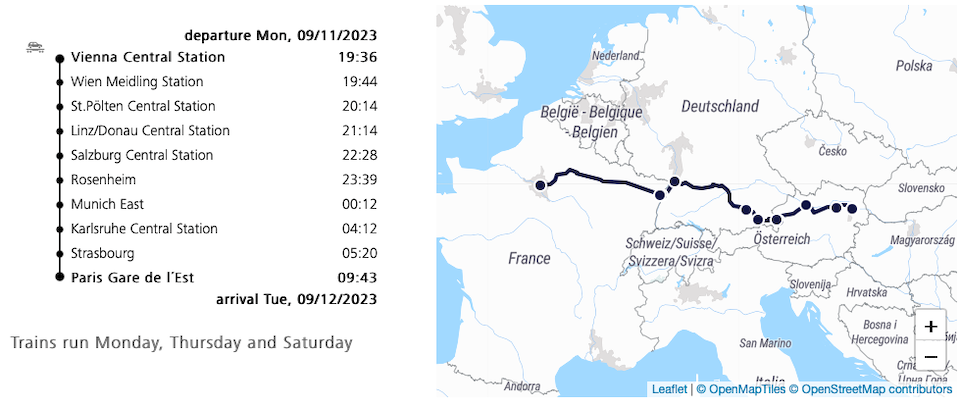 What is an "open jaw" and how might it make my travel experiences better?
An "open jaw" refers to a flight itinerary where the city a traveller flies to is different from the one they depart from, which is a contrast to the classic "round-trip" flight option where the incoming and returning flights involve the same cities.
On many occasions, flying to a destination that is different from the one you fly home from could save you hundreds of dollars. It may seem counter-intuitive -- and it doesn't work in all circumstances -- but it offers a money-saving solution for many people looking to shave some money off their vacations. Of course, these trips also mean that travellers will see at least two places rather than one, meaning they will have two distinct experiences.
For travellers from Vancouver International Airport (YVR) who want to travel to Berlin Brandenburg Airport (BER) and Paris Charles de Gaulle Airport (CDG), it might be wise to book two tickets separately.
For instance, a flight that departs from YVR to BER on Dec. 12 costs $355 including all taxes and fees, provided you are okay with overnighting in Paris in one of the two stops (this is plenty of time to leave the airport).
A return flight from CDG to YVR on Dec. 27 costs $479 including all taxes and fees. In total, these flights cost $834, which is nearly half the price you'd pay for a return trip ticket to Berlin. Paris does offer some return trips for that price, however.
You can use the price calendar on Google Flights to browse cheaper options for your travel time. You'll need to select "one-way" flights to get these results.