Locals looking to explore a charming B.C. town have a new flight option from Vancouver International Airport (YVR).
Central Mountain Air has resumed a thrice-weekly service on Mondays, Wednesdays, and Fridays between YVR's South Terminal and Smithers Airport (YYD).
Located in northeast B.C. halfway between Prince George and Prince Rupert, Smithers is a town of approximately 6,000 people that services roughly 20,000 in the Bulkley Valley.
Smithers is home to the Hudson Bay Mountain resort, which offers a range of terrain suitable for skiers and snowboarding of varying abilities. With consistent powder conditions on over 300 acres, it has 44 runs, including novice, intermediate, and advanced ones. It is slated to open on Dec. 3 this year.
In the spring and summer months, locals and visitors enjoy refreshing dips in the scenic destination's breathtaking lakes. Outdoor enthusiasts can enjoy stunning alpine views from Kathlyn Lake Park. The small community lake is an ideal place to take a dip, go fishing, go canoeing, or go kayaking.
The town also has a thriving arts and culture scene, as well as a variety of places to eat and drink. Visitors can mark their calendars for festivals, fairs, and rodeos held throughout the year, too.
Smithers has a range of areas to explore by foot or horseback, with trails leading to panoramic views of the Bulkley Valley. Additionally, the six-block-long Main Street is alpine-themed with a charming red-brick sidewalk.
Cheap Vancouver flights to Smithers Airport in 2022 and 2023
Air Canada typically offers a cheaper return ticket for air passengers flying from YVR to YYD, with prices starting around $556 including all taxes and fees in January 2023. That said, there are some cheaper deals available with Central Mountain Air that depart within the next few weeks.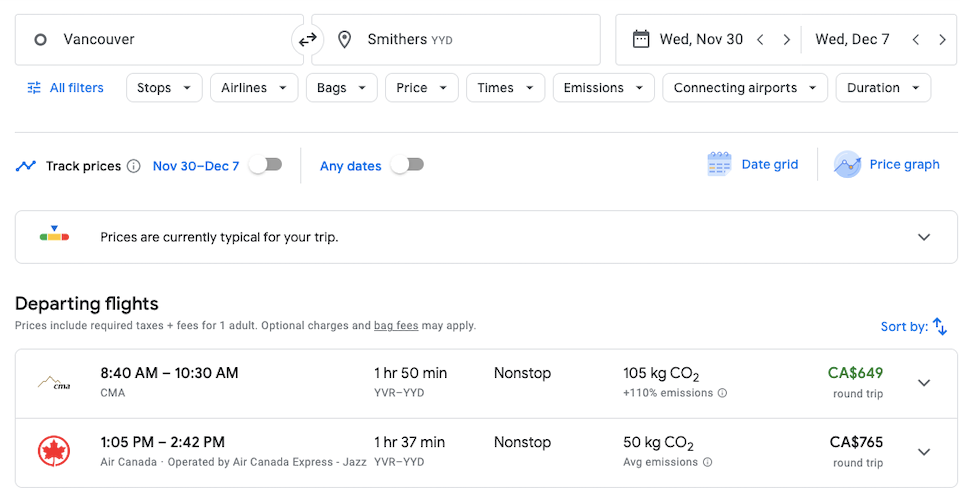 Travellers who are looking to depart this month will find that prices have increased a couple of hundred dollars, with the lowest options starting over $600. For instance, a flight that departs YVR on Nov. 30 and returns on Dec. 7 costs $649 with Central Mountain Air and $765 with Air Canada, according to Google Flights.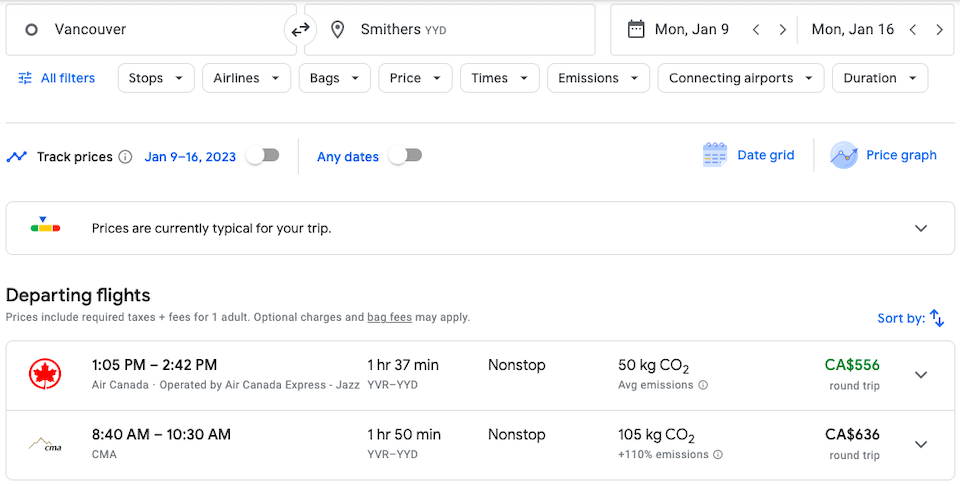 Find out more information with Central Mountain Air.