Flights from Vancouver to Las Vegas are one of the cheapest options for locals looking to travel on a budget.
There are numerous ways to save on the already low-priced option, such as opting for flights from Seattle to Las Vegas. While it will involve a drive, bus, or train trip down across the border, doing so may shave hundreds of dollars off the price.
For example, the cheapest round-trip tickets from Vancouver International Airport (YVR) to Harry Reid International Airport (LAS) start at around $150 with Flair Airlines, while ones departing from Seattle International Airport (SEA) may cost as little as $53.
Historically, flights from Bellingham, WA (BLI) to Las Vegas were also a viable option for locals on the hunt for a price reduction. Today, however, prices for these flights are largely on par with Flair's YVR options.
How to save on packages from Vancouver to Las Vegas
Travelling to Seattle will typically save locals the most money on Las Vegas flights, but that isn't always the most affordable or convenient.
If you plan on pairing your flights with accommodation, or if you simply don't want to make the trip across the border in advance of a flight, Sunwing Airlines continues to offer the best prices on packages to Sin City that include hotel and accommodation.
With WestJet's acquisition of Sunwing, prices on the popular vacation supplier's products may increase in the coming months. Industry experts have speculated that this may be the last season to enjoy ultra-low-cost packages to Las Vegas.
For now, however, you can continue to enjoy these low-cost options through at least the remainder of 2023. Prices on the average three-night trip start to climb heading into 2024, although this pricing trend is consistent with fluctuations seen throughout the year.
Trips purchased about a month in advance of travel tend to offer the best options for pricing. For instance, packages for three-day trips departing on Nov. 9, 2023, start at around $360, while similar ones departing on Jan. 9, 2024, start at closer to $750.
Typically, Sunwing's Las Vegas packages cost significantly less for trips departing during the week. For example, a trip departing on Monday or Tuesday and returning on Thursday or Friday will cost hundreds of dollars less than one departing on Thursday or Friday and returning on Sunday or Monday.
Cheap Vancouver packages
A trip that departs from YVR on Monday, Dec. 9, and returns a few days later on Thursday, Dec. 7, and includes three nights of accommodation at the Flamingo Las Vegas, costs $363 including all taxes and fees.
The Flamingo is an older property but considered an average three-star hotel and is centrally located on the popular Las Vegas strip.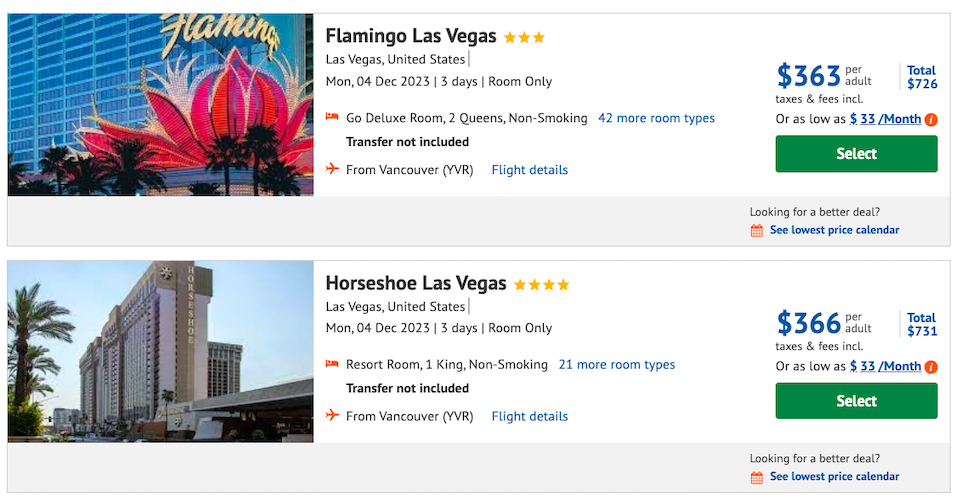 Travellers looking for a step up from The Flamingo can stay at the four-star Luxor Hotel and Casino for only marginally more, with prices starting at $413 including all taxes and fees.
The Linq Hotel + Experience only costs a few dollars more than The Flamingo, with prices starting at $416 including all taxes and fees; it is also a four-star property but both of the accommodations are older.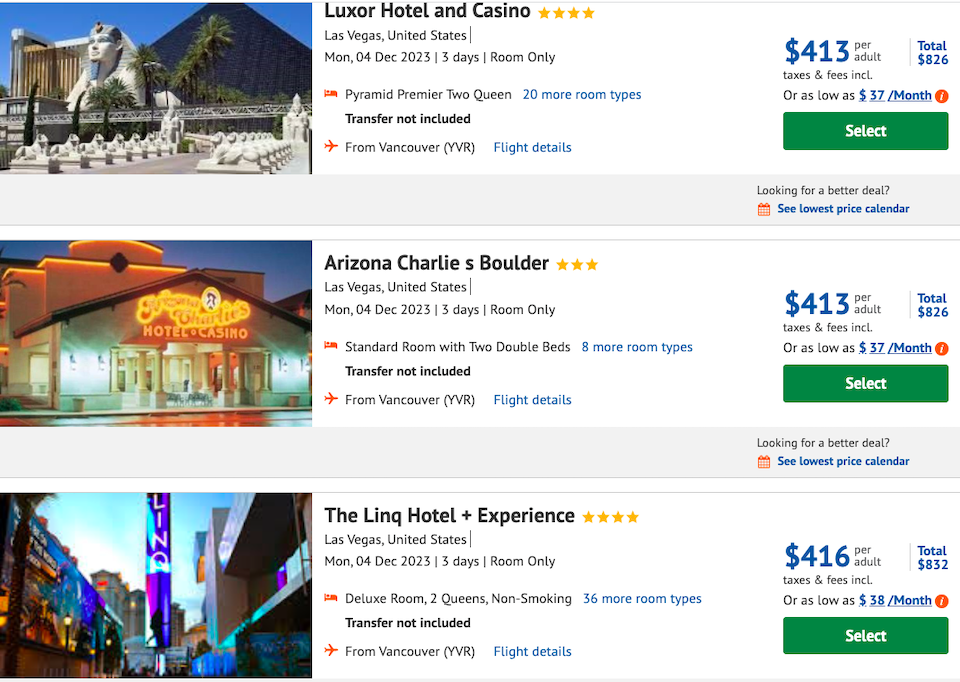 The Park MGM is considered a four-and-a-half star stay for $562, while the Delano Las Vegas at Mandalay Bay's packages start at $567.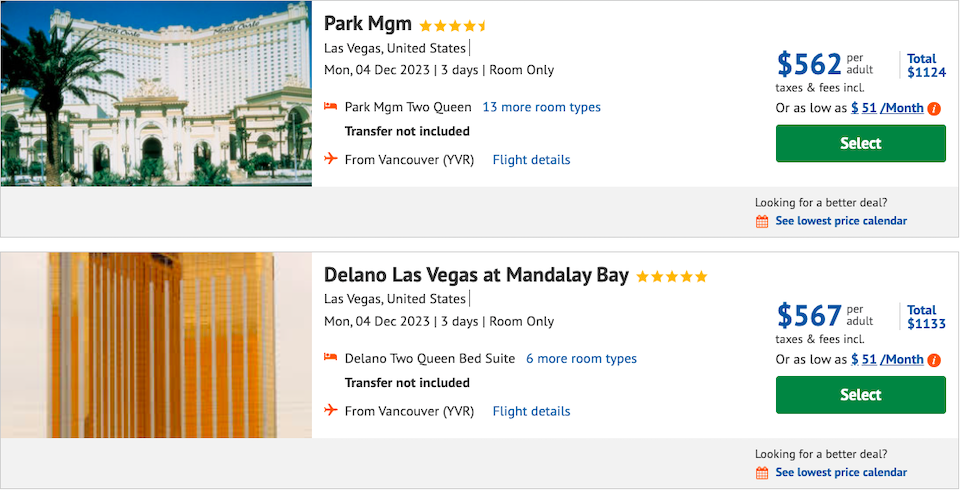 Many people are flocking to the Nevada city following the opening of the Sphere in Las Vegas. The $2.3 billion immersive venue will welcome attendees at U2 concerts until December, wowing them with awe-inspiring, floor-to-ceiling visuals and crystal-clear audio.