By Daniel Zomparelli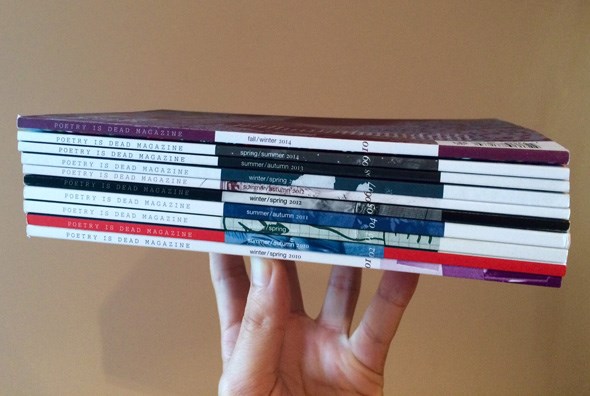 In honour of Poetry Is Dead's 5-Year Anniversary on May 28th, as the Editor-In-Chief and founder of the magazine, I thought I would give you my top ten things I learned starting out a poetry magazine in Vancouver.
1. Rent is expensive, and somehow we still have an intense amount of poets in Vancouver, so that's pretty cool.
2. One out of ten people in a coffee shop here is a poet, and they are working on a sonnet about how beautiful the mountains and ocean are and what a garbage human their ex is, and about condos.
3. All of your friends secretly write poems and the poems are not good ... they are not good.
4. The worst thing you can ever say on a date in Vancouver is "I run a small literary magazine." Simply translated it means, "can you pay the bill please?"
5. Bob Kronbauer is probably, secretly a brilliant poet. I have a feeling about it.
6. Most venues in Vancouver will be willing to host a poetry reading when you tell them they can have the bar sales.
7. Rain appears in 100% of poems written in Vancouver.
8. Press releases are basically tricking people into thinking you're cool. Like, "Super cool, not boring literary event, wait no, not literary, so cool, please post on your media, bye."
9. Trying to get anyone to any event in Vancouver is tough because it's always you vs. nature. Like, here is my event in a cold place where you're sitting for a long time, or here is this beautiful sunset with rosé wine, and some attractive hot yoga body person flipping their hair in slow motion on a paddleboard. And yet ... the Vancouver audience have always come through for us and filled out our rather large venues.
10. Vancouver Is Awesome and Vancouver is awesome. Both have been supportive of Poetry Is Dead since it started out five years ago (VIA even posted about our very first call for submissions!). In just that short time, we have become one of the most highly circulated poetry magazines in Canada, and had nods from newspapers and media around the world including Monocle magazine. We hope you join us at The Cultch on May 28th to celebrate five years of Poetry Is Dead!
***********************
Join Poetry Is Dead to celebrate five years of poetry and the launch of their 11th issue "Youth Culture." Poets and performers will take on the subject of youth culture, from high school to Tiger Beat crushes. Hosted by Cynara Geissler and Daniel Zomparelli with readings, stand-up and performances by Dina Del Bucchia, Sara Bynoe, Kayla Czaga, Cass Keeley, Richard Kemick, Curtis LeBlanc, Poetry Is Dead's Drag sister Shanda Leer, Geoff Nilson, Shannon Rayne, Mallory Tater, and Alicia Tobin.
Thursday, May 28th, 2015
8:00pm
Historic Theatre at The Cultch
1895 Venables Street, Vancouver
Tickets: $22.00 (adult) / $19.00 (student)
Tickets available at tickets.thecultch.com or at The Cultch box office.