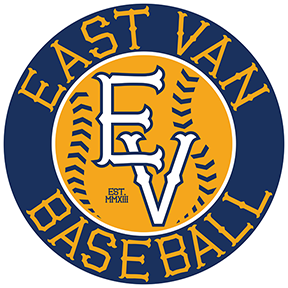 Established in 2013 by the world-infamous Isotopes Punk Rock Baseball Club, and their ever-worthy foes, the East Van Black Sox, the East Van Baseball League is entering its fourth year in existence, and expanding for the 2016 season with the introduction of two brand-spanking new franchises: the Strathcona Stevedores - who take their name from the dockhands who shed blood and sweat at the east side neighbourhood's adjacent sea port; and the Mt. Pleasant Murder, whose name pays homage to the nefarious dive-bombers of south Main Street.
Although no rosters have been finalized at this time, advance scouts report they are scouring the city for ballplayers and promise that expansion clubs will be stacked with talent to help drive the EVBL's mission to bring exciting, independent baseball back to East Vancouver.

Here's 9 ways the EVBL is poised to be the best summer ball league in town.
1. This Ain't No Soft Ball Game. Hard balls, wood bats, long pants, strikeouts, walks, stolen bags, steel spikes, the cheapest trash talk in town, and naturally, no crying. The East Van Baseball League's mandate is fun, yet competitive Sandlot-style baseball.
2. For East Van, By East Van. With four teams and a governing board comprised of East Van's most (and least) agile artists, musicians, local business owners, and scene supporters, EVBL is an extension of the grass-roots, entrepreneurial spirit that brought us here to begin with, and an overwhelming representation of our community's love for baseball.
3. Same Rules For Fellas & Ladies. Unlike in many softball leagues, where gals are treated like a different species of ballplayer who can't play a gentlemen's game, lady ballplayers in the EVBL are not subject to any game-softening, lady-rules! Throughout baseball's history, the game's thoughtfully conceived and refined rules and codes have proven to be its best equalizer. We don't feel the need to compensate for gender inclusion by adding extra rules to an already perfect game. Come one, come all, let's play some ball!
4. Home Run Derby, Beer Garden, & Championship Tournament. A 12-game season is fun enough on its own, but like we already said, this ain't your local soft ball league. Halfway through the summer we'll take a break from all the sweat and blood, and watch the league's top dong rippers go head2head in the first annual East Van Baseball Home Run Derby brought to you by Black Sox hat provider The Nine O'Clock Gun Company (please inquire for sponsorship opportunities)! And as if you weren't already having the time of your life, just hang on for the end of summer 4th Annual East Van Baseball Championship, where we see all the fanfare in full effect. Anthems, walk-up music, play-by-play announcers, beer garden, and of course, the most heated day of ball you'll see all season, as each team tries to stave off defeat in a double-knockout format championship tournament.
5. Grade-A Calibre Trash Talk Always Encouraged. Yeah, we know - we already mentioned our formidable proclivity for the spewing of vitriol toward one another on and off the field, but we can say whatever we want, however many times we see fit - this is our column, and we got carte blanche, baby! Check the scoreboard.
7. Fun For The Whole Family. We get it, you've got a family now, times are tough. Well, life doesn't have to be all bad. EVBL games are fun for you and the kids. Bring 'em down and send 'em off to retrieve foul balls so you can catch a breather, root on your favourite players, or even sneak in an adult beverage or two in the bleachers.
8. Sneaky Bleacher Beverages. Hey, it's noon somewhere!
6. Cool-As-All-GTFO Uniforms. You walk out on any soft ball diamond and what's the first thing you see? Embarrassing, game-disgracing, and often traumatizing uniform choices made by, you'd assume, the team clown - which, by the way, only narrows it down to about half the squad - and it's always some horrific pun or reference to cannabis culture or at the best of times, plain old vulgarity. You wanna play on The Randy Johnsons? Keep moving, partner. The EVBL takes tremendous pride in the aesthetic of our teams, and strives to pay tribute to our city's heritage with each new franchise we create, and give our players something they can be proud to be a part of.
9. Post-Game Afterparties at the Official Bar Of The EVBL, What's Up? Hot Dog! Winners, losers, bystanders, hecklers, and kids are all welcome at our post-game celebration at What's Up? Hot Dog!! Watch out for flying hot dogs!
Wanna play ball? Get in touch at eastvanbaseball@gmail.com | eastvanbaseball.com
Vancouver Is Awesome is a proud sponsor of The EVBL! Watch out for more stories from the diamonds in 2016, here on the blog.