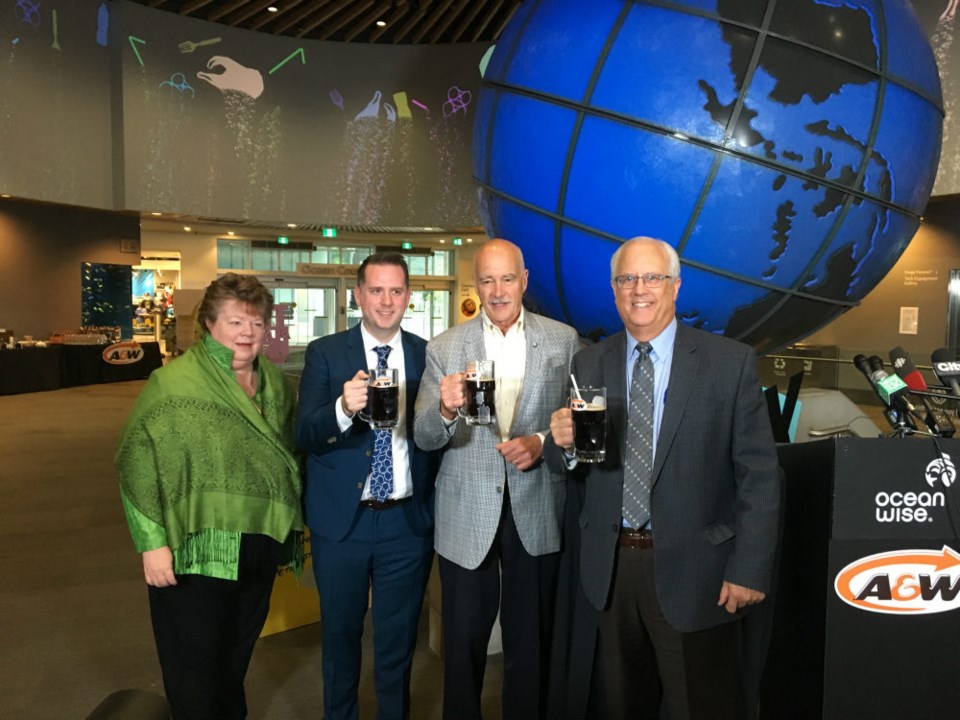 A&W Food Services of Canada has pledged to eliminate all plastic straws from its restaurants by the end of the year.
The company will switch to using biodegradable paper straws, which it says will keep 82 million plastic straws out of the landfill each year. Paper straws last two to three hours in a drink without breaking down and biodegrade in about three to six months in the environment.
Tyler Pronyk, the company's director of distribution, equipment and packaging says the decision impacts 925 restaurants from coast to coast.
Pronyk says guests can expect to start seeing paper straws at locations in their community as early as August.
"Paper straws are more expensive than plastic but we don't anticipate this affecting our guest pricing in terms of our menu," he says.
The decision was applauded by Malcolm Brodie, Mayor of Richmond and chair of the National Zero Waste Council, BC Liberal MLA Linda Reid and Ocean Wise president and CEO John Nightingale.
"At Ocean Wise we believe everybody on earth plays a role in protecting our oceans. Consumers can make better choices and companies like A&W, who are beginning to offer their consumers choices that will make a big difference in ocean health are to be congratulated," says Nightingale.
Brodie says there is a "phenomenal" amount of debris in the ocean and single-use plastics do not break down unlike paper products.
Instead of breaking down plastic breaks up into tiny pieces called microplastics, which are eaten by marine life including the fish and shellfish that humans eat.
He says the Zero Waste Council looks forward to other companies following A&W Canada's lead.
Merchants the North Vancouver community of Deep Cove have also made a commitment to stop using plastic straws.
The City of Vancouver plans to ban plastic straws by June 1, 2019 raising questions about accommodation for people with disabilities and extra costs to small businesses.
In a emailed statement, A&W Canada says "we understand that for many people with disabilities and impairments, plastic straws are necessary to facilitate drinking. Our switch to paper will be come into effect at the end of the year and we are reviewing options in the interim."
A&W Canada announced the news on World Oceans Day at the Vancouver Aquarium.