Four salmon farms in the Broughton Archipelago will be shut down by the provincial and federal governments in 2019, and another 13 could be phased out by 2023.
In a joint announcement Friday, Dec. 14, provincial and federal governments, First Nations and two fish farm companies, Cermaq and Marine Harvest, addressed an agreement that will see up to 17 salmon farms in the Broughton Archipelago phased out by 2023.
Some might be able to stay but only if the companies operating them can get First Nation consent.
Of the four farms to be permanently shut down in 2019, two are fallow, said Jeremy Dunn, public affairs officer for Marine Harvest. The company is not expecting any job losses, since the plan to maintain current production levels by shifting some production to other existing fish farms that are not in the Broughton Archipelago.
Both the federal and provincial governments plan to remove those sites which are directly along wild salmon migration routes. In the coming years, the federal government plans to invest in research and development aimed at addressing the technological and commercial barriers that have, to date, prevented land-based, closed containment salmon farming from being commercially viable.
Salmon farming in B.C. is a $1.5 billion industry that employs roughly 1,600 people, many of them First Nations.
But First Nations in the Broughton Archipelago, where salmon farms are most highly concentrated, have been increasingly vocal about their opposition to the industry. Their concern is that they are having a negative impact on wild stocks, since wild salmon migrate past the farms.
One of the biggest concerns is that they could be picking up diseases and sea lice from salmon farms.
Representatives from Cermaq and Marine Harvest were surprisingly upbeat over the prospect of their salmon farms being shut down.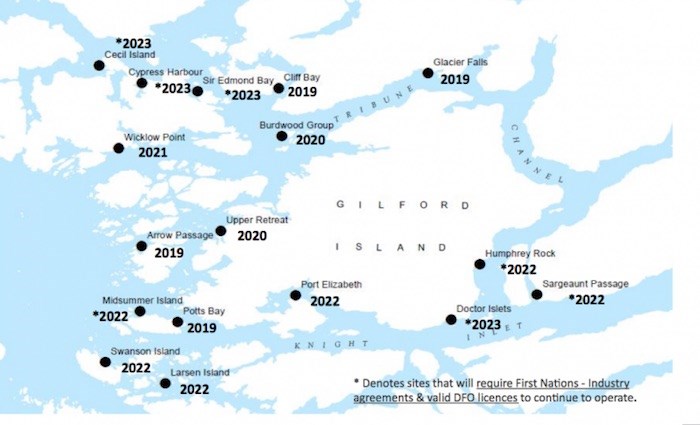 "We look forward to working closely with you in partnership to ensure the health of our wild salmon while creating good jobs and opportunities and feeding future generations," said David Kiemele, managing director for Cermaq Canada.