The 10 wealthiest families in British Columbia have a total net worth of $24.9 billion, or approximately the total worth of the province's bottom 1.32 million people, according to a new Canadian Centre for Policy Alternatives report.
The average wealth of the families in the top 10 is $2.51 billion, while the median net worth of all households in the province is $429,400. This means the average top-10 billionaire family is 5,845 times wealthier than the B.C. average.
The gap between the ultra-rich and everyone else is increasing, according to the CCPA. Between 2012 and 2016, the province's 10 richest families increased their net worth by an average of $299 million each year. Meanwhile, the total wealth of those in the lowest quintile increased by only $6,900, on average. Those in the highest quintile – excluding the wealthiest 10 families – increased by an average of $491,500.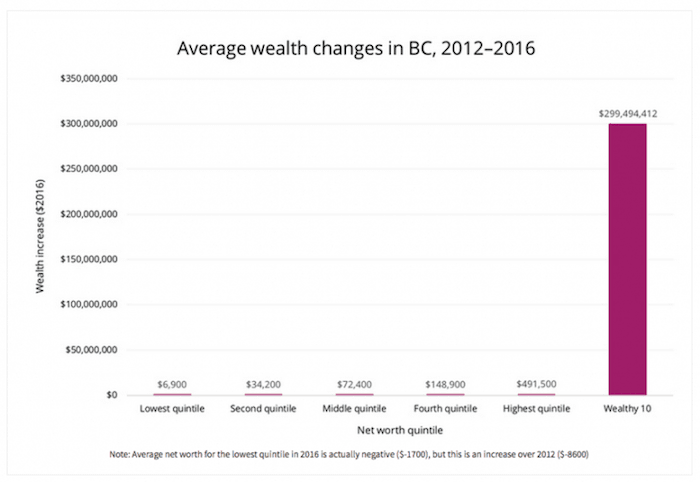 Chart: CCPA Report
The province's top 10 wealthiest families are, according to the CCPA (net worth calculated using 2016 data):
1.     James Pattison family: Jim Pattison Group; net worth: $5.7 billion;
2.     Aquilini family: Aquilini Investment Group; net worth: $3.3 billion;
3.     Gaglardi family: Northland Properties; net worth: $3.6 billion;
4.     Lalji family: Larco Group of Companies; net worth: $3.1 billion;
5.     Dennis "Chip" Wilson family: Lululemon Athletica, Kit & Ace; net worth: $2.9 billion;
6.     Brandt Louie family: Georgia Main Food Group (formerly H.Y. Louie Co.); net worth $2.1 billion;
7.     Hassan Khosrowshahi family: Inwest Investments, DRI Capital; net worth: $1.2 billion;
8.     Caleb and Tom Chan family: Burrard International Holdings; net worth: $1.1 billion;
9.     U. Gary Charlwood family: Uniglobe Travel International, Century 21 Canada Partnerships; net worth: $1.0 billion; and
10.  Belkin family: Belkorp Group; net worth: $0.9 billion.
As for where these families are getting their money, not all of them have earned it by their own efforts. Seven of the 10 families got their wealth passed down to them from older generations. Only the James Pattison family, the Lalji family and Chip Wilson's family did not receive the bulk of their wealth through inheritance.
Net worth is calculated as the sum of all family assets – including homes, financial investments and vehicles – minus all debts.