By now you've likely HEARD about how the Vancouver startup, Slack, has become "the fastest $2 billion startup in history". Their lightning fast growth and VALUATION is a super hot story but most people - even in my personal circle of nerds and entrepreneurs - don't really have a firm grip on what their business actually does. With Canadian tech success stories we've traditionally been blessed with simply digestible descriptions such as "they make really secure phones for business" (Blackberry), "they let you sell stuff easily online" (Shopify) and, reaching a little further back, "they let you upload your photos to the internet" (Flickr [COUGH]). "They provide workplace collaboration software that makes life simple, more pleasant, and more productive" is practically abstract, but it's something that the really smart people have their money on. Literally. We'll all be learning about Slack firsthand in the coming months and years as their product gets adopted in our workplaces, and their recently released podcast may be the first step in personifying their brand and showing us what they're all about, without ever even talking about their product.
Slack's Variety Pack launched on Saturday and has already been celebrated by FORTUNE and FAST COMPANY. "A collection of stories about work, life, and everything in between" which is meant to give a look at work life which is "less work-y", it doesn't break down why we need Slack, but instead offers an entertaining audio experience for anyone who uses a computer for work (that's most of us, right?).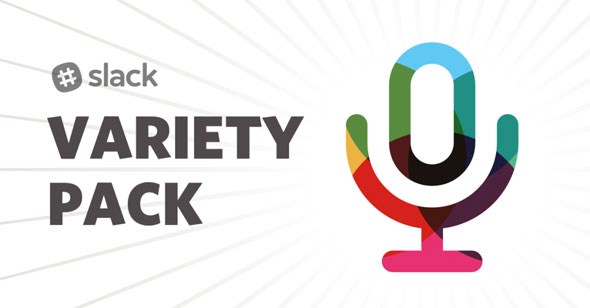 Packed into the 28 minutes of their first episode are stories of a 10 million dollar computer (in Burnaby), what emojis would might sound like, children teaching their grandparents how to communicate with them online, a re-enactment of some crazy office drama that involves an actual fist fight (starring Ryan Biel, the A&W commercials guy!), a Whistler high school teacher who might be flying to Mars, and more. Here, have a listen:
The podcast is described (for Americans, specifically with a 415 area code) as "This American Life meets Office Space meets Monty Python". In Canada talk that's "Quirks and Quarks meets This is That meets The Debaters". Slickly produced, funny and modern, it brings together long form documentary features with quick and quirky bits as well as full-on comedy, and it should come as no surprise that the team of 5 who produced it are all alumni of Canada's public broadcaster, the CBC. In fact some of them have worked on those shows I just mentioned.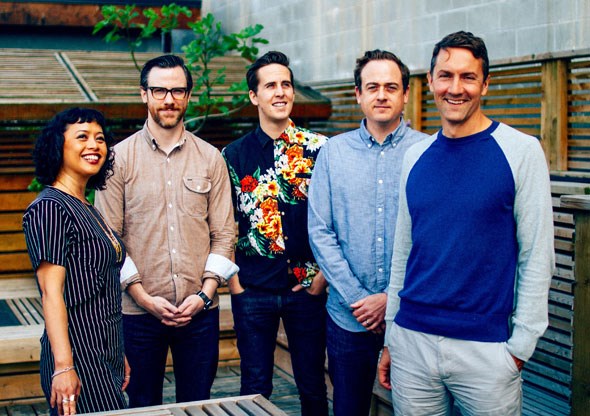 Photo courtesy Pacific Content
Pacific Content is a company co-founded by Steve Pratt (far right in the photo above), the guy responsible for CBC Music's success over the past decade. He left the CBC and last year teamed up with award-winning producers and personalities Pat Kelly and Chris Kelly (no relation), bringing on Dave Shumka and Jennifer Ouano in 2015. Together they're now producing some of the best content out there, and Variety Pack is the best thing they've put out yet. They end this podcast with a 415 area code (SF) callback number making the target audience relatively obvious, but this thing is for everyone.
Go to Slack.com/VarietyPack to subscribe and learn more.
***********************
DISCLOSURE NOTES FOR THE HATERZ:
In the past we've been accused of favouring people who have helped our blog in one way or another. THIS piece with Bob Rennie was critiqued on Twitter and trashed by someone at The Courier, saying it should have been titled "The guy who gives V.I.A. money is awesome", simply because his company sometimes advertises with us.
The truth is that Awesome recognizes awesome. VancouverIsAwesome.com is the one place that exclusively showcases great people doing great things in our city, and this is a small town; often times we work/collaborate with folks we write about or even partner with them on a large scale. I note this because Pacific Content's Steve Pratt was once on our board of directors. When we made the jump to become a social venture he was then on our advisory board, and he has been a personal friend of mine for many years. We're going for coffee next week.
Also of note is that I saw Pacific Content's Chris Kelly the other day (in my office!) and gave him a hug and congratulated him for becoming a new father.
Further down the conspiracy rabbit hole is that Pat Kelly is married to Lizzy Karp who heads up Rain City Chronicles, and we used to sponsor her series of storytelling nights.
And just you wait! It gets more nefarious: Not long ago I unintentionally trolled Pacific Content's Dave Shumka on Instagram because a photo he posted of himself looked like he had a John Hamm SIDE PIPE happening in his pants. He blocked me, then unblocked me, and we've since put it behind us. His wife is friends with my wife, and we all comment on each other's photos on Insta.
I've never connected with Pacific Content's Jennifer Ouano but there's likely to be some forthcoming corruption between her and I that will be exposed.
Also, Slack's Stewart Butterfield is a future billionaire and I have spoken with him for more than 8 minutes.