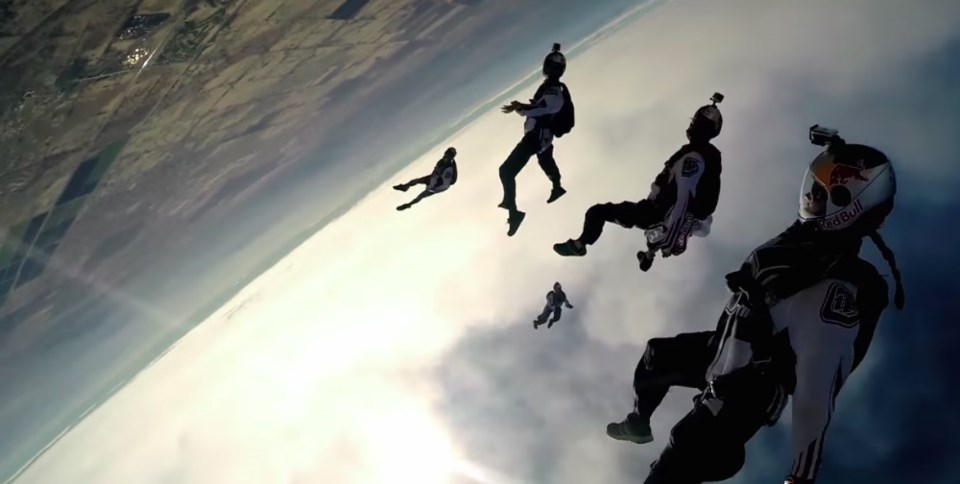 Three divers with the Red Bull Air Force will perform in an aerial acrobatic show ahead of the Honda Celebration of Light fireworks tonight and on Saturday.
Team manager and athlete Jon Devore says he and the other divers -- Mike Swanson and Sean MacCormac will begin the performance 3,000 feet above the ground releasing smoke from canisters on their feet.
"It's the first time we've performed at the Celebration of Light and also the first time the team has performed in Vancouver. We're really excited about checking out this awesome city from above -- a bird's eye perspective," Devore says.
The divers will quickly deploy their parachutes hitting the ground at speeds of about 100 km and skipping across the water for about 100 metres before splashing down in English Bay.
Devore has found a way to turn his passion into a profession and is part of an eight-person team that travels the world performing at various events. "When you start to fly it's not just an adrenaline-fuelled activity -- you start to realize that your body is an amazing flying machine. It's an amazing feeling of freedom and it's a blessing to be able to do it for work."
The team will be recording their performance for social media using GoPros and a Garmin 360 camera. "If anybody's curious to see what it's like to jump out of a helicopter over the city and land in English Bay come check us out," he says.
Catch the Red Bull Air Force performance on August 1 at 6:45 p.m. ahead of the Canadian Forces Snowbirds air show and on Saturday at 7:45 p.m.
There is a full lineup of musicians that will be performing on the Park Stage at Second Beach on fireworks days from 2 p.m. to 9 p.m.
The Honda Celebration of Light fireworks start at 10 p.m. with Sweden competing on August 1 followed by South Korea on August 4.