B.C.'s highest-paid executives took a slight pay cut in 2018, according to data collected on Business in Vancouver's Top 100 Highest-Paid Executives list.
Those on the list were paid an average of $4.08 million in 2018, down 8% from 2017, when they made an average of $4.45 million.
The highest-paid executive on this year's list was Lululemon Athletica Inc. CEO Calvin McDonald, who reported $22.2 million in earnings. That total was 52% lower than that of the highest-paid executive in 2018, Jon Feltheimer, CEO of Lions Gate Entertainment, whose compensation package was $46.4 million that year.
Steven Beeks, former Lions Gate co-COO and Lionsgate Motion Picture Group co-president, moved the furthest up BIV's list over the past five years. Beeks jumped to 10th place in the 2019 rankings, up 82 spaces from 92nd, where he was ranked in 2015. During this time, Beeks' total compensation grew 280.1% to $6.9 million in 2018 from $1.8 million in 2014.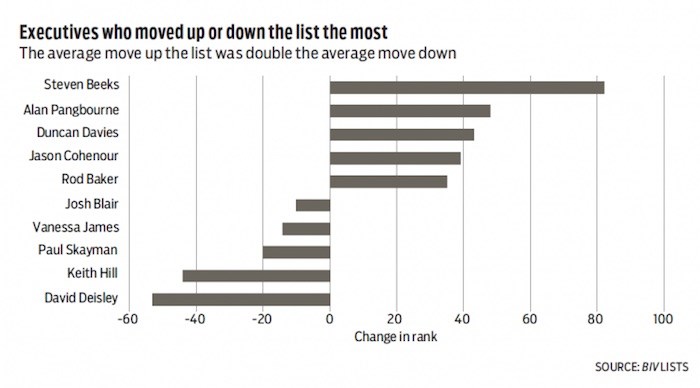 David Deisley, executive vice-president and general counsel for NovaGold Resources Inc. dropped the most on BIV's list, to 97th in 2018 from 44th in 2015. During this time Deisley's compensation fell 30.6% to $2.1 million in 2018, down from $3 million in 2014.
Jason Cohenour, former president and CEO of Sierra Wireless Inc., climbed 39 spots to 11th in 2019 from 50th in 2015 – the fourth-biggest gain on the list. He also had the second-largest compensation increase among the top five executives who moved the most up BIV's list. Cohenour's compensation increased 143.7% to $6.9 million in 2018 from $2.8 million in 2014.
Of the five executives who dropped the most down the list, Vanessa James, senior vice-president of global marketing and logistics at Methanex Corp., was the only executive to report compensation growth. James fell 14 spots to 99th in 2019 from 85th in 2015. During this time, her compensation increased 5.2% to $2 million in 2018 from $1.9 million in 2014.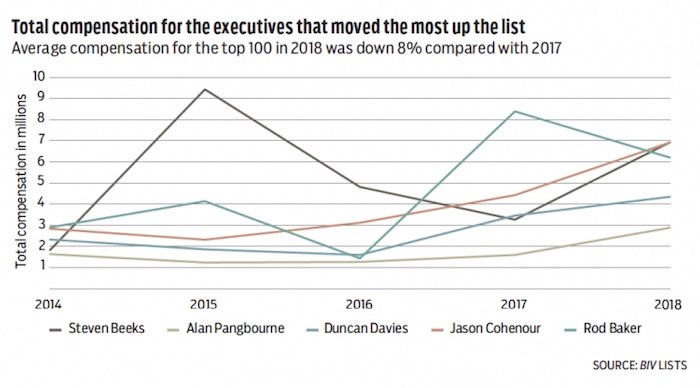 BIV's list includes a total of 43 companies, which suggests that each has an average of 2.3 executives who rank on the highest-paid list.
Lululemon had the most executives on the list. The yoga-wear maker's seven executives pulled in a combined $46 million, or 11% of all of the money paid to the top 100 in 2018.
With six each, B2Gold Corp. and Lions Gate Entertainment had the second-highest number of executives on the list.