West Vancouver police and the BC Coroners Service are looking to for help to identify a human foot that washed ashore late last summer.
On Sept. 3, 2018, a resident walking along the beach at the bottom of 30th Street in Altamont happened by the human remains in a shoe and called police.
Because there was nothing to indicate foul play, police turned the investigation over to the BC Coroners Service to determine who died, when and how.
Typically whenever human remains are found, police and the coroners service will cross reference any clues they have, including DNA, with missing persons databases and police records in hopes of finding a positive ID.
Now investigators from both agencies are releasing images of the shoe in hopes of generating tips from the public.
"We don't expect any suspicious nature with this but we want to make sure that we are helping to find the positive ID because somebody out there is looking for closure and the family of that loved one will be looking for that closure. It's really important for us to get this information out to the public," said Andy Watson, coroner spokesman.
What investigators can tell from the remains is that the remains belonged to a male, likely under the age of 50.
The shoe is light grey Nike Free RN shoe with a black Nike swoosh logo and white base, white laces and a blue sock. It is a U.S. size 9.5 with an OrthoLine insert. It was manufactured between Feb. 1 and April 2017 and appeared to be in relatively new condition.
It's the 15th time since 2007 that a human foot has washed ashore. Of those, 10 have been identified and police deemed not suspicious.
As bodies decompose on the water, feet tend to "disarticulate" from the rest of the leg and running shoes make them buoyant. Because of the complex nature of currents and tidal flows, it's difficult to know where the foot came from. In one case, the foot of a man who went missing in Washington State turned up on the west coast of Vancouver Island.
"It's not as simple as going downstream and ending up somewhere," Watson said. "That's the mystery in this."
The BC Coroners Service currently has almost 200 unidentified human remains case and there are over 1,300 missing persons' files investigators can access.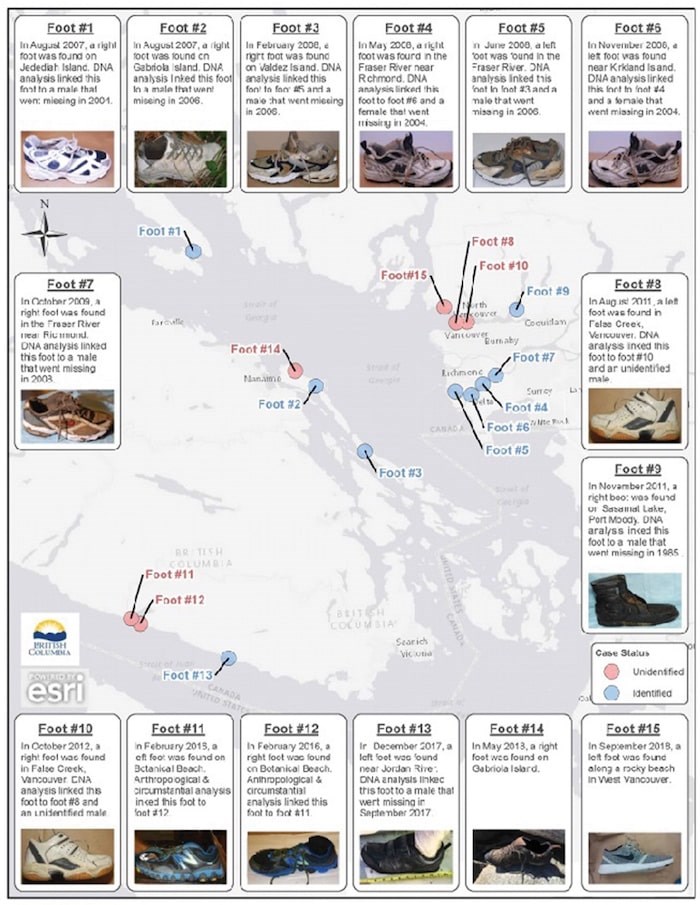 Anyone with information that may assist is asked to call West Vancouver Police at 604 925-7300 or the BC Coroners Service at 1-877-660-5077.