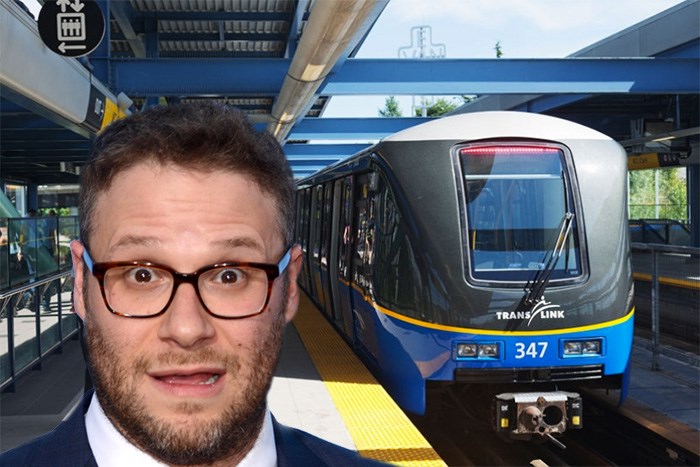 While he's already a favourite among Metro Vancouverites, Seth Rogen wasn't as well received in the east.
Toronto decided to apply his loveable comedic stylings to their transit system, the TTC, after Translink began its announcements; however, his voice was promptly removed from the messages.
In fact, they only lasted for one month on the system before they were removed. The messages, which are similar to the ones heard on Vancouver's SkyTrains and buses, started playing on July 31st, but were removed by the end of August.
Vancouver, on the other hand, is still playing them.
https://twitter.com/jewkrainian/status/1040465683316924417
The Toronto transit provider stated that it decided to phase out the announcements after it was determined that riders weren't all too keen on Rogen's style.
RELATED: Here are all 12 of Seth Rogen's announcements playing on TORONTO transit
A number of riders voiced their concern on Twitter over Rogen's decorum, and they didn't take too kindly to the actor's choices.
https://twitter.com/hellocookie/status/1028030404891004928?ref_src=twsrc%5Etfw%7Ctwcamp%5Etweetembed%7Ctwterm%5E1028030404891004928%7Ctwgr%5E363937393b70726f64756374696f6e&ref_url=https%3A%2F%2Fnationalpost.com%2Fnews%2Ftoronto%2Fseth-rogen-ttc-announcements
https://twitter.com/Dylanhayden/status/1042175210844315648
https://twitter.com/ChrisTremblay/status/1040263005857099776
With that being said, a number of Torontonians adore the funnyman, and don't share the same sentiments.
Nevertheless, Rogen's voice won't appear on the Toronto lines for the next foreseeable future.