VANCOUVER CREATIVES 2 EXHIBITION OPENING ANNOUNCEMENT
Mid' May is already here and a great summer is now knocking at our door! No better time to celebrate everything unique our city has to offer both on its outstanding natural outskirts as what lives inside: this is when the 2nd edition of the Vancouver Creatives Calotype Exhibition will come handy next month, with 20 more beautiful hand-printed historical portraits half of both established creative figures and the other of up & coming talents all spanning many contemporary art and design industries!
Opening date for this original-to-Vancouver photographic home-run is set to Thursday, June 4th from 7:00 to 10:00 PM, with a short series of talks and Q&A with this year's 9 laureates open to the public from 6:00 to 7:00 PM. This opening night will also feature a live musical set by Vancouver-bred electronic duo "Combine The Victorious" for their 2nd album launch, as well as a themed bar and, of course, a great crowd of creatives with which to mingle and network including laureates and jurors and many of the Vancouver Creatives sponsors that have come together in support of the project!
We wish to express here renewed sincere thanks to Vancouver Is Awesome, Montecristo Magazine, Jukebox, Opus Arts Supplies, Vitamin Daily, Fall for Local (and Kelly Turner!), When They Find Us, Combine The Victorious, and last but not least Make, our wonderful exhibition partner and space home of all Vancouver Creatives shows! So come celebrate your talented city altogether on June 4th, we'll be honored to see you all there!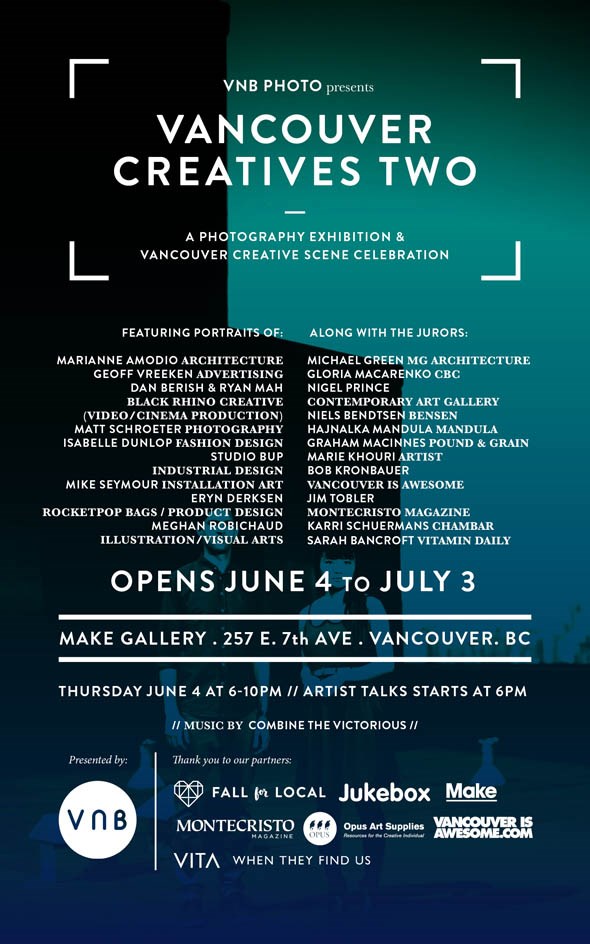 Two more portraits to go. Today meet Eryn Derksen who was picked by our 11 jurors as the top talent in the Product Design industry! Make sure to mark your calendar on 
June 4th
 and come see her portrait as a genuine silver gelatin handprint at the
Vancouver Creatives 2 Exhibition opening at Make Gallery
at 257 E. 7th Ave (Main & 7th)!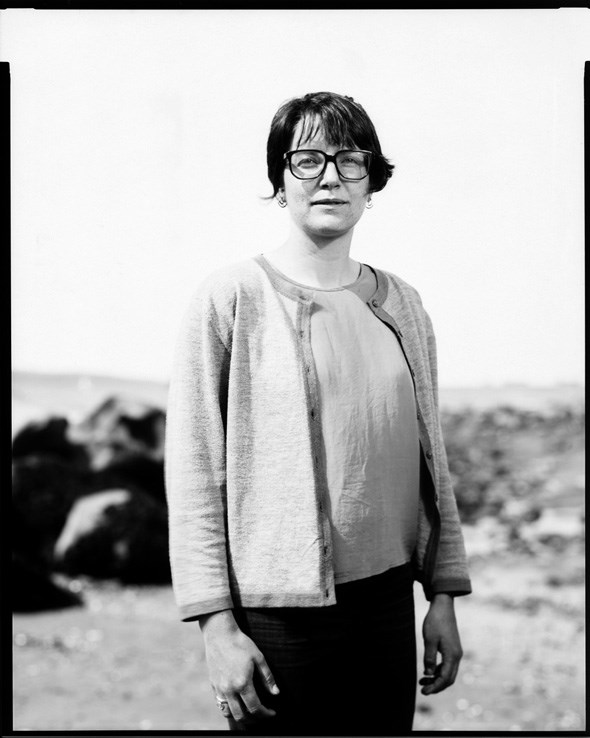 Eryn Derksen is the founder of Rocketpop Bags which craft backpacks and bags that are durable, weather resistant and comfortable while integrating aesthetically (and functionally) into an urban lifestyle. Eryn has been a lifelong maker, learning how to do almost anything she could learn from a young age. After being uninspired to work in the field of her university training (forest ecology and conservation) she started to make backpacks for fun, which turned into a business after enough friends and friends of friends began to seek out and promote her products. Rocketpop also plans to start a clothing line based on similar principles and design aesthetics in the next few years.