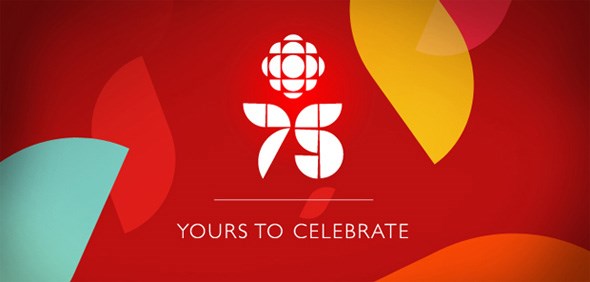 It's an undeniable fact that the Canadian Broadcasting Corporation, our beloved CBC/Radio-Canada, has helped to shape this country and it's identity since it's inception seven and a half decades ago. They've been warming up to it all year and today across the nation are celebrating their 75th anniversary on TV, radio and online!
It's no secret that here at V.I.A. we're huge fans of Canada's national broadcaster, so we asked all of our editors and contributors to help us put together a list of our favourite things about the CBC. They ended up mostly being specific programs, and we capped it at 50 so that you could help us finish the list of 75 things that make the CBC totally awesome.
Have a look at our list and add your comments on the things YOU love about the CBC!
1. The National
2. The loveable Peter Mansbridge... of The National
3. Hockey Night in Canada
4. Stephen Quinn and Matthew Lazin-Ryder
5. Their fancy new building on Hamilton and all of the free events that we the public are invited to attend there
6. This Is That, or "the fake news"!
7. Bob Nixon's human interest pieces
8. The man, the BC news legend: Tony Parsons
9. CBC Radio 3. Duh!
10. The logo, designed by Burton Kramer
11. As It Happens and their use of the most liberal amount of puns allowed under the CRTC
12. David freakin' Suzuki
13. The Vinyl Cafe
14. Ian "HandsomeManThing"
15. Mr Dressup
16. Kids In The Hall
17. THE Friendly Giant
18. This Hour Has 22 Minutes
19. THE Rick Mercer Report
20. ...and on that note, TALKING TO AMERICANS!
21. The Fifth Estate
22. Degrassi
23. Street Cents
24. The Hour/ George Stroumboulopoulos Tonight
25. The Beachcombers
26. The Racoons
27. Danger Bay
28. Anne of Green Gables
29. Wok with Yan
30. Good Rockin Tonite with Terry David Mulligan
31. Switchback hosted by Stu Jeffries
32. Letting us know when it is exactly 10 am with that long dash following ten seconds of silence
34. Mamma Yamma and her special musical guests on CBC Kids
35. Rick Cluff, always dark and early
36. Canada Reads and all things CBC Book Club
37. That really cool sign-off at the end of the night (when stations actually signed off at night), where they played an instrumental version of Oh Canada accompanied by scenic vistas from coast-to-coast
38. Royal Canadian Air Farce - "I'm Mike, from Canmore"
39. The Chicken Cannon
40. Road to Avonlea
41. Introducing us to Sarah Polley via the above
42. The do-do-do and then the quick paced bit before the news on the radio
43. Those old-school CBC Sports standard-issue powder blue sports jackets, as seen in this link
44. Brave New Waves - a musical oasis for kids starved for something other than CFOX, but way past bedtime
45. CBUX 90.9 FM and waking up to French every morning
46. Fraggle Rock
47. Da Vinci's Inquest and Da Vinci's City Hall: two dramas that broke the stereotype of what Canadian-made shows could be
48. Giving a platform to awesome National Film Board animated shorts, like the Log Driver's Waltz
49. Giving a platform for Canadian talent on an American program in SCTV
50. Zed! Zed was amazing!
Help us finish our list of 75 things that makes the CBC awesome! Leave a comment telling us what you love about them...