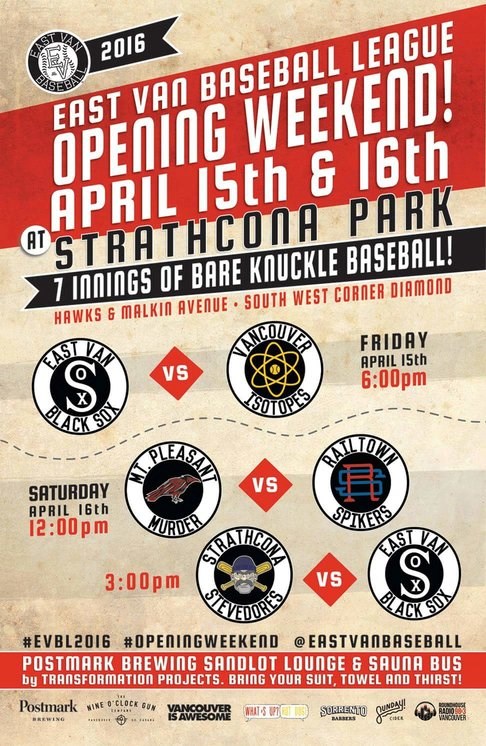 Poster designed by Strathcona Stevedore, Ehren Salazar.
Hello again ladies and germs,
After months of planning and preparation, opening weekend for the newly expanded East Van Baseball League has finally arrived, and brought some beautiful weather along with it. What better way to enjoy an early summer night than by cracking open a bag of Spitz, popping the tab on a Postmark Brewing Blonde, and catching a ball game, just a short cycle away from all your favourite places?
This coming weekend will feature three games worth of bare knuckle sandlot style baseball, and kicks off Friday evening at 6 pm with EVBL originals The Vancouver Isotopes taking on the East Van Black Sox. These guys have been battling for three years now and both teams will be looking to strike early and set the tone for the coming season.
On Saturday things get underway at high noon with EVBL expansion franchises The Mount Pleasant Murder throwing down with The Railtown Spikers. Get there early to watch The Murder warm up and see why the New Zealand All Blacks called them the most intimidating team in sports*.
Finally, at 3 pm Saturday the East Van Black Sox are back at it, playing host to the Strathcona Stevedores. Rumour has it the Stevedores plan to call in sick to get out of their shifts at the port that day. It will be interesting to see how their on-field prowess stacks up against their ability to effectively manipulate a collective bargaining agreement.
In addition to the on-field action, Transformation projects will host attendees in the Postmark Brewing Sandlot Lounge and Sauna bus. Lounge up front, loung(er) in the back. That wasn't a typo folks, there's a massive sauna in the back of this thing. If that's your thing (and it really should be your thing), bring a swim suit and a towel... you're not going to want to miss this.
Once the games are done, the party continues at What's Up? Hot Dog! the official bar of the East Van Baseball league. Postmark Brewing will be on special and pair perfectly with the delicious dogs, salads, and waffle fries.
EVBL players can pick up their member cards all weekend and get $2 off gameday growler discounts (and they're already a smokin' deal!) all season long at Postmark's 55 Dunlevy location, kiddy corner to the old Powell Street Grounds, where the Vancouver Asahi were once Pacific Northwest Champs and the Great Bambino once played an all star game.
As we approach this momentous and historic occasion, the EVBL would like to extend their gratitude and appreciation to all of our players, our supporters, and to our sponsors including Vancouver is Awesome, Postmark Brewing, What's Up? Hot Dog!, The Nine O'Clock Gun Company, Sorrento Barbers, Sunday Cider, Roundhouse Radio, The Vancouver Baseball Academy and The Vancouver Canadians.
See you on the diamond!