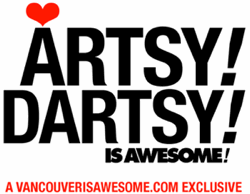 Greetings Vancouver is Awesome readers! We here at Artsy-Dartsy are proud to be new contributors to VIA.A brief background on us: We are Linus and Denise. So pleased to meet you! We love art and design, hence we started a website called Artsy-Dartsy.com to help people like us find out about art and design events in our awesome city of Vancouver!This week there are tons of great events happening. For the full listing please head to Artsy-Dartsy.com.
This week a little further afield but worth the trip Adrian Buitenhuis' short film Hwy 99 is being presented by the Cafe for Contemporary Art, Saturday Aug 14, 7pm. Adrian Buitenhuis' HWY 99 is a short film that beautifully treats the place of memory and family in the context of the environmental and social changes that are concurrent with systemic shifts in the global economy. Part of a broader practice where the artist examines late 20th, early 21st century shifts in the texture of everyday life and the proximity of production, this film draws an intimate portrait of a family coping with loss during the recent construction of the Sea-to-Sky Highway.

Born and raised in West Vancouver Horseshoe Bay area, Adrian is arguably one of the North Shore's most important young artists. In addition to continuing to pursue work that tackles some of this communities most pressing cultural territory, Adrian is currently in the post-production stages of a documentary that follows the recent archeological excavation of a 40,000 year old cave drawing gallery of the Jaywon Tribe in Australia. He also works as artist Jeff Wall's Production Manager.
Other notables: The Pendulum Gallery present David Catta, Nelson based furniture designer and artist. Catta  showcases his limited edition Aviator Chair, for which each part has been specifically  designed and hand crafted to create a beautiful piece of functional art. Ayden Gallery is hosting Art & Sole with 40% going towards supporting Arts Umbrella.  See Artsy!Dartsy! Opening Receptions for details.