Michael Christie (author of our current Vancouver Book Club selection, The Beggar's Garden) will be introducing an afternoon of cinema about misfits by two of the National Film Board of Canada's master filmmakers: Claude Jutra (Mon oncle Antoine) and Don Owen (Nobody Waved Goodbye). It's DAY FOR NIGHT at the Waldorf and it's on Sunday, February the 20th at 2:30. Doors are at 2pm.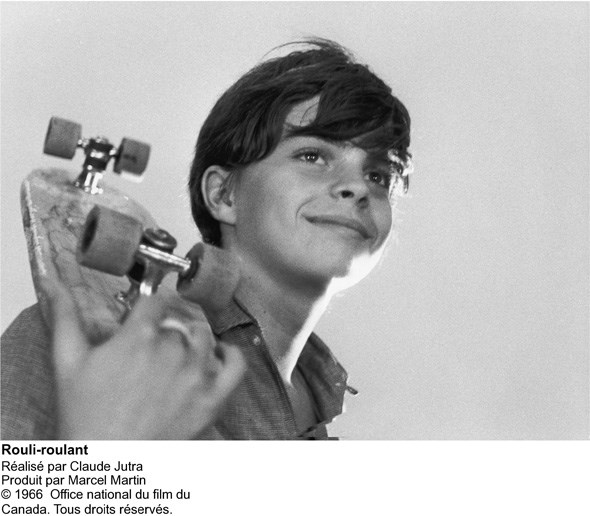 Rouli-Roulant/The Devil's Toy (1966) directed by Claude Jutra
15 minutes
Rouli-Roulant (The Devil's Toy) is a poetic documentary about teenage skateboarders made in the Westmount area of Montreal in 1966. Take it as a metaphor for French separatism, or for the free spirit of youth - either way, it the first film depiction of skateboarding in Canada, if not anywhere. "It was frowned upon by the constabulary and disapproving adults, but the skateboard gave the youngsters who mastered its technique a thrilling sensation of speed unexcelled by any other pavement sport. This film captures the exuberance of boys and girls having the time of their lives in free-wheeling downhill locomotion" - NFB
Followed by...
The Ernie Game (1967) directed by Don Owen
90 minutes
A mid-Winter romantic feature filmed in Montreal, though the story could take place in any city where those young people live who have left their parents' homes but still have not made homes of their own. It follows Ernie, a young loner whose just been released from a mental institution. He meets Donna (Judith Gault channeling Anna Karina in early Godard), a single mother who invites him to crash at her arty pad. Throughout, he shuffles between his social worker, ex-girlfriend, art students, and the occasional hustler. Ernie's alienation is far more extreme than most. For him life is a game, not because he chooses to make it so, but because he is unable to make anything more of it.
But for those who befriend him and eventually turn him loose again, his game is not enough. A co-production by the NFB and the CBC and featuring a rare film performance by Leonard Cohen - who sings The Stranger Song at a house party - The Ernie Game brims with the energy and eccentricities of 1960s Canadian youth culture.