Emily Carr University of Art + Design has been helping to make Vancouver awesome for 86 years. One of Canada's premier, post-secondary universities, they're the only university in Vancouver to specialize in undergraduate and graduate art and design education and research. Their graduates are innovative, inspiring, award-winners who make significant contributions to the world of art, design and media. In this new V.I.A. series, we catch up with some alumni who are making a difference. To learn more about what they do, visit their website, www.ecuad.ca.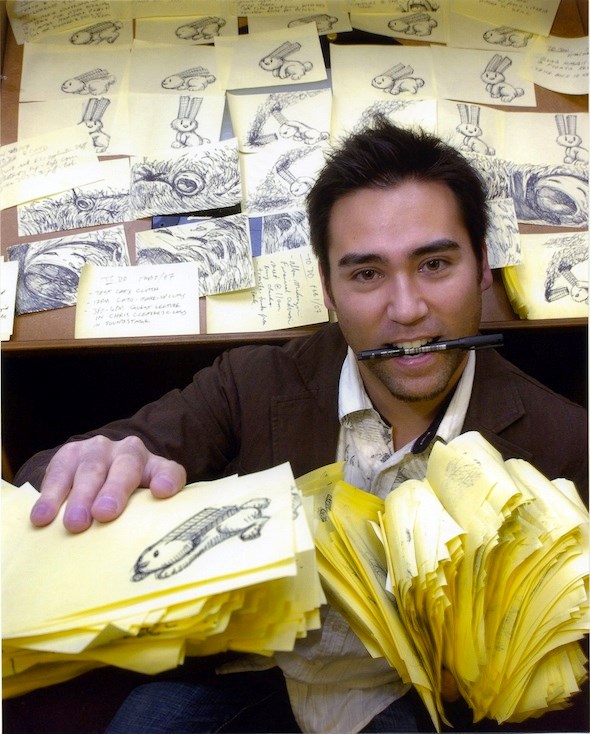 Fortunately for us, Jeff Chiba Stearns has been drawing ever since he first learned how to hold a pencil. This passion, coupled with his talent, has produced numerous award-winning animated shorts – Kip and Kyle (2000), The Horror of Kindergarten (2001), Where Are You Anyways? (2005), Yellow Sticky Notes (2007) and One Big Hapa Family (2010).
An independent filmmaker born in Kelowna, of both Japanese and European heritage, Jeff graduated from Emily Carr University of Art + Design with a degree in Film Animation in 2001. He almost immediately founded Meditating Bunny Studio Inc., specializing in creating animation, documentaries and experimental films aimed at children and adults that combine different philosophical and social elements together to create humorous, inspiring stories.
Yellow Sticky Notes came about when Jeff realized that yellow sticky note "to do" lists were taking over his life and he decided to visually self-reflect on his filmmaking journey by animating on the same sticky notes that caused him to ignore major world events for the last nine years. Yellow Sticky Notes blends "animation meditation" with image, text and an original musical score by Genevieve Vincent through the creation of an experimental animated film drawn with only a black ink pen on over 2300 yellow sticky notes.
The film garnered numerous awards and accolades and provided Jeff with the opportunity to create Ode to a Post-It Note, featuring Art Fry, inventor of the Post-It Note. Shot using over 3500 digital photos, the film utilizes stop motion, classical and pixilation animation to celebrate the inventor and the innovative inventions born from the smallest of ideas. The animation was commissioned by 3M Canada and features one Post-It Note that goes on an incredible journey of self-discovery to find its 'father'. The animated short has more than 1.8 million views and recently won for best Branded Entertainment in Online Film + Video at the 15th Annual Webby Awards – the internet's highest honour.
One Big Hapa Family is Jeff's first feature length documentary, utilizing both film and animation, and was inspired by a family reunion, at which he started to question why everyone in his Japanese-Canadian family married interracially after his grandparents' generation. The film explores why almost 100% of all Japanese-Canadians are marrying interracially, the highest out of any other ethnicity in Canada, and how their mixed children perceive their unique multiracial identities. Through the use of innovative animation techniques, created with the assistance of some of Canada's hottest independent animators, One Big Hapa Family challenges our perceptions of purity and makes us question if mixing is the end of multiculturalism, as we know it.
Jeff's interest in his hapa family has provided him with opportunities to speak about multi-cultural families and he was recently awarded the Cultural Pioneer Award by Harvard University in 2011 for his continued exploration of multiethnic identity in his work. He was also awarded the Edith Lando Peace Prize in 2011.
He has said that he always enjoyed the feeling of moving pens, pencils and brushes across paper, which is why he still animates all his films by hand. Along with his inspirational family, we can be assured Jeff will provide us with years of thought-provoking and emotional films.