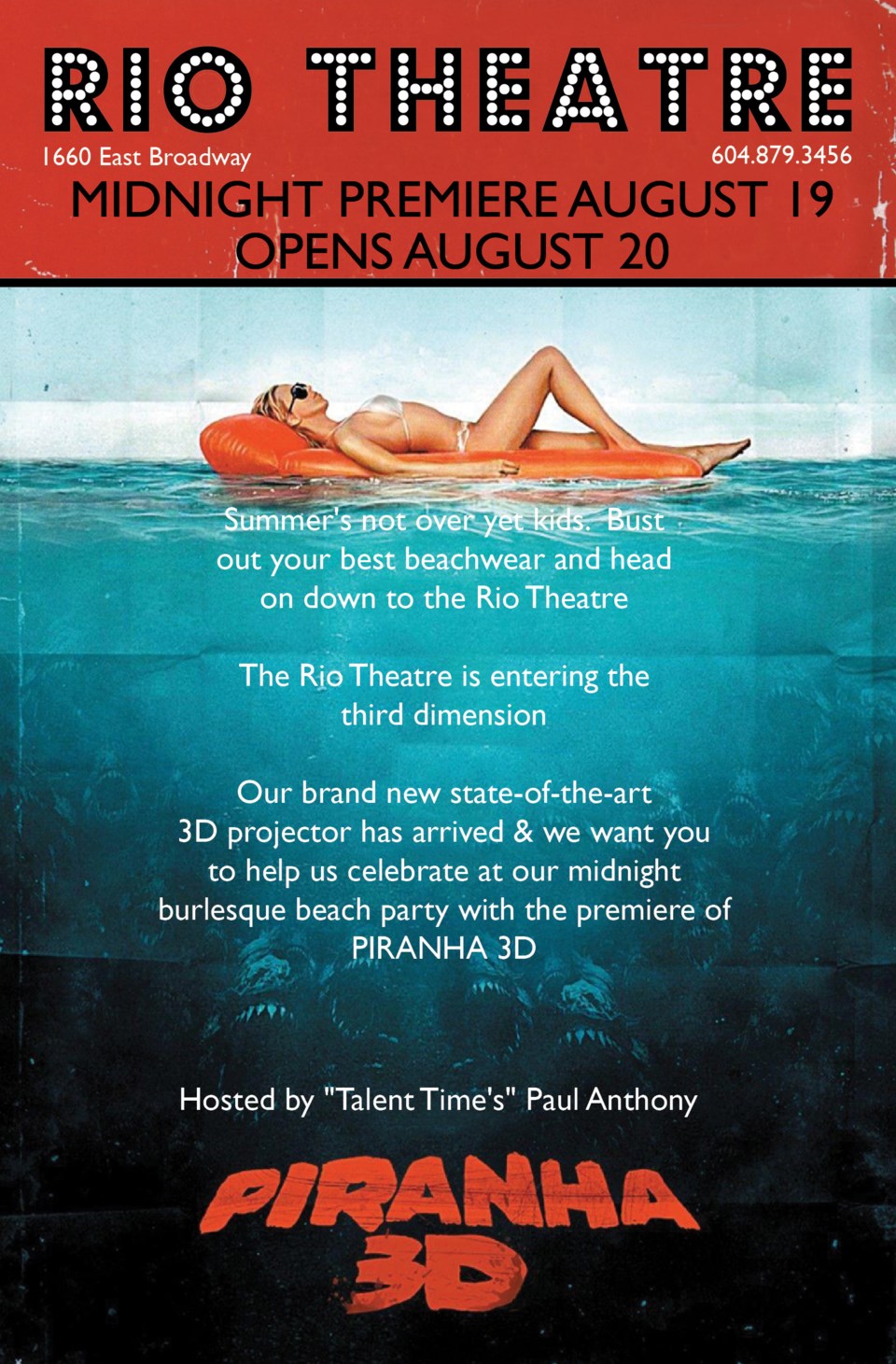 Captain Eo at a Friday midnight screening? I would totally be there. Just sayin'.
The poster pretty much says it all...
...except for the fact that Vancouver is Awesome has tickets to give away to the party @RioTheatre on Thursday night.
Follow @VIAGiveways on The Twitter to win tickets. I like alliteration, so let's go with "Trivia Tuesday." Starting at noon.
The Official Word:
In 1978 Joe Dante, creator of The Howling and Gremlins bit you on the butt with the original Piranha...
In 1982 James Cameron, visionary behind The Terminator and Avatar bit you on the face with high-flying Piranha 2: The Spawning...
On Thursday August 19 at midnight the Rio Theatre presents Piranha 3D, the only piranha movie guaranteed to devour you in your seats!! [Hmm. RF.]
SEE YOU ON THE BEACH!!!
Piranha 3D (2010) After a sudden underwater tremor sets free scores of the prehistoric man-eating fish, an unlikely group of strangers must band together to stop themselves from becoming fish food for the area's new razor-toothed residents. Stars Elisabeth Shue (Adventures in Babysitting, Leaving Las Vegas) Eli Roth (Inglourious Basterds) Ving Rhames (Pulp Fiction) Christopher Lloyd (Back to the Future) & Richard Dreyfuss (star of the original Jaws). Directed by Alexandre Aja (The Hills Have Eyes).
3D Ticket Prices: $13 for Adults $11 for Students $10 for Seniors & Kids.