Vancouver Courier
for 15 years, first as a reporter, then as entertainment editor and now as city editor. But these days — at work and during off hours — he's focusing increasingly on video. Next week, his first short documentary,
Hinda and Her Sisterrrz
,
appears at the Vancouver Jewish Film Festival
with screenings on Nov. 3 and 6 at Fifth Avenue Cinema.
Hinda and Her Sisterrrz
was also an official selection at the Toronto, San Francisco, Boston and Victoria Jewish film festivals. Hinda Avery, the subject of the piece, is an elderly Vancouver artist who produced a series of paintings depicting fun-loving, feminist resistance fighters taking on the Nazis during the Second World War. We asked Kissinger about the short documentary and his budding film career.
Who is Michael Kissinger?
I am a ruggedly handsome 45-year-old man who proudly grew up in Nanaimo. Beloved uncle. Lover of '90s indie rock. Shut-down defenceman in ball hockey. Pisces.
Tell us a little bit about your short film.
It's about how an older Jewish woman deals with the Holocaust, using humour as a weapon. Tired of feeling victimized by the Holocaust, Hinda created a big, bright, boisterous revenge fantasy on canvas, reimagining herself, her friends and family members as fun-loving, gun-toting wonder women.
Hinda and Her Sisterrrz trailer from Michael Kissinger on Vimeo.
How did you meet Hinda Avery?
She left several phone messages for me at work over the course of a year, and being the intrepid journalist that I am, I never returned her calls. (I used to get a lot of calls from artists with exhibitions.) Then, for some reason, I Googled her name, and some of her paintings came up. I ended up writing an article about her and made a five-minute video to accompany it. A year or two later, Hinda received a Canada Arts Council grant to make a larger documentary and asked if I'd like to make it.
What was your reaction when you first saw her work?
Smiling, foul-mouthed, bikini-clad elderly women holding guns? I was sold.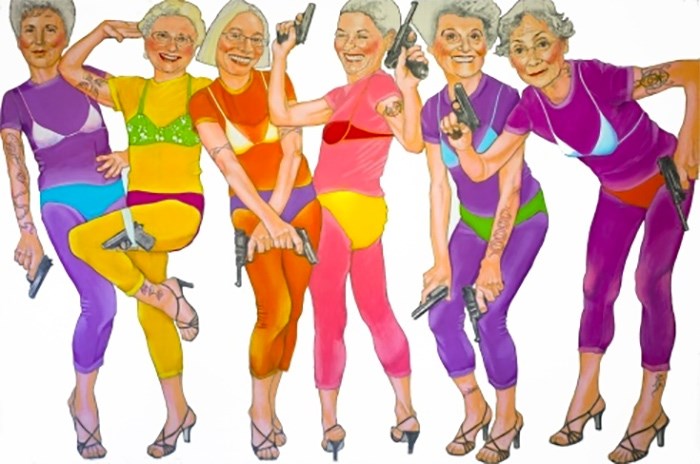 What was it about Hinda's story that struck you the most?
I'm a fan of quirkiness, and there's definitely a quirk factor. But she's also a really compelling person who's open about her personal struggles. She's pretty self-deprecating but she's also really determined and speaks eloquently about her art and her motivation behind it.
From a storytelling perspective, how did you approach the making of Hinda and Her Sisterrrz. What was your initial vision?
Hinda is such a unique character that I wanted her voice to steer the narrative despite her initial reticence. And from there I was able to weave in other interviews and voices to explore the role of humour and art in discussing the Holocaust and the mixed reaction Hinda's work has received from some members of the Jewish community.
Obviously, the subject matter is very serious and sensitive. Did that put extra pressure on you?
I didn't want to be flippant about it, but I also didn't want to be heavy handed or emotionally manipulative. Despite the context and darkness of the subject matter, there's a lot of joy and cheeky humour in her paintings. So I wanted to convey that, too.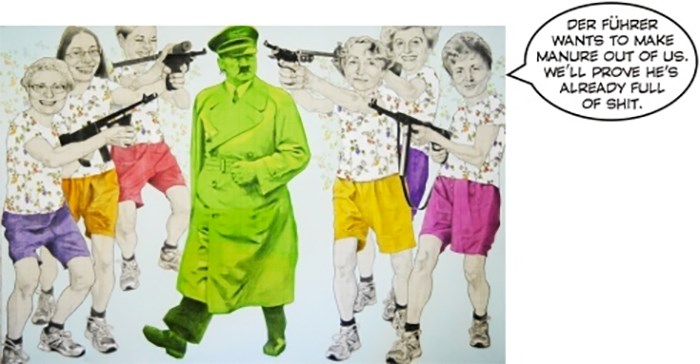 What was the most difficult part about creating the film?

Finding the time outside of working a full-time job to do it. I spent many weekends, evenings and trips on the B.C. Ferries working on the film. Everyone in the film I spoke to, besides Hinda, was in Victoria. I also worked really hard on the structure and rhythm of the film because there were a lot of moving pieces.

The short film has appeared in several film festivals across North America. You've attended a couple of the events. What's been the public's reaction and Hinda's reaction?

I talked with a lot of people after the San Francisco screening. They were all really quite taken with Hinda and surprised her paintings haven't received wider exposure.

What do you hope viewers get from the film?

I hope people find the story entertaining and compelling, and that they feel like they've been given a secret window to an artist they might not have known before.

Your career has mostly focused on writing but in recent years you've been transitioning more into video and film work. How are those two mediums different, from your perspective, in terms of how you approach the work and what you hope to accomplish?

Of course there's an added visual and audio element — more tools at my disposal that can permit some short-hand with an audience. But I think my experience as a journalist and editor lends itself well to film and video. At the end of the day, it's still all about telling stories well.

Do you have a mentor or inspiration in the film world?

I have encouraging and supportive friends, family and co-workers, so that's a tremendous kick in the ass.

What's next for Michael Kissinger?

Hinda would like to animate a comic strip she's been working on about a depressed, elderly painter who feels she doesn't get the respect she deserves, which Hinda maintains is not autobiographical. So we've been exploring that. I'm also pretty stoked about the Superchunk concert in February.

The 29th annual Vancouver Jewish Film Festival runs Nov. 2 to Nov. 12. For information about upcoming screenings and tickets go to vjff.org. Read more from the Vancouver Courier

Michael Kissinger has worked at the