KIBATSU CINEMA rolls into its 3rd eccentric week this THURSDAY, JULY 16 @ 7pm at the PACIFIC CINEMATHEQUE (1131 Howe Street, between Helmcken and Davie Streets) with the Canadian premiere of TRAVELLING WITH YOSHITOMO NARA.
"A rare behind-the-scenes glimpse of this critically acclaimed artist and pop culture figure, Traveling with Yoshitomo Nara is an intimate portrait of the man whose vibrant and evocative paintings of knowing children — sometimes sardonic and alienated, sometimes wistfully dreaming — have come to personify a generation of youth culture. The film documents his largest work to date, following Nara on a remarkable 240-day international road trip as he sets out to create, in collaboration with members of the design team GRAF, an imaginary town populated by his iconic images and enigmatic sculptures...."
DESCRIPTION CONTINUED UNDER THE CUT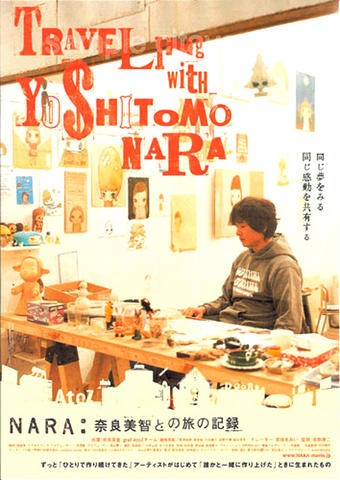 Kibatsu Cinema:
Travelling with Yoshitomor Nara
Thursday, July 16 @ 7pm
Pacific Cinematheque:
1131 Howe Street, between Helmcken and Davie Streets
"Born in the town of Hirosaki — the site of the film's final installation — Nara first garnered attention during Japan's growing Pop Art movement in the early '90s. Today his images are as likely to be found on a T-shirt or CD cover as in a major museum. Creating accessible yet emotionally complex work, Nara has managed to maintain a seemingly effortless position between two very different sides of the art world. The film explores his art process and reserved character through interviews, studio work and spontaneous moments, capturing the atmosphere of Nara's work by evoking a quietly organic quality to mirror the spirit of his imagination" (San Francisco International Asian American Film Festival). Colour, video, in English, Japanese and Korean with English subtitles. 93mins.