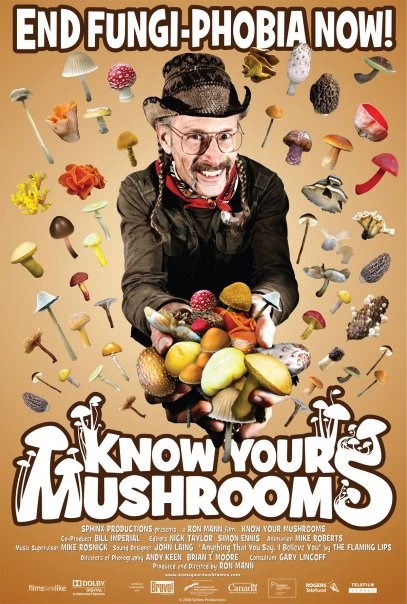 Did you go to the PNE this year and step into that amazing tent that housed the mushroom display? This amazing old dude with a backpack (which I can only assume was filled with mushrooms and mushroom searching gear) manned it and was super nice and willing to answer any questions about mushrooms, maybe hoping that he'd catch some new mushroomers. The dude ruled. I thought of him when I got word that next week at the Vancity theatre an interesting looking flick called KNOW YOUR MUSHROOMS is playing...
Though the oldest and largest living organisms recorded on Earth are both fungi, the world of mushrooms and their integral relationship with the planet's health have only recently been appreciated. And their use by a new, maverick breed of scientists and thinkers has proven vital in the cleansing of sites despoiled by toxins and as a "clean" pesticide, among many other environmentally friendly applications.
Inspired by a chance conversation with fellow mushroom buff Jim Jarmusch, Mann set off to the annual Telluride Mushroom Festival in Colorado, where he encountered the unique sub-sub-subculture surrounding fungi that includes an unlikely assortment of nerds, nuts, hipsters, tripsters, artists, chefs, musicians, foodies, foragers, and seekers all paying homage to the mighty mushroom. Know Your Mushrooms follows uber myco visionaries Gary Lincoff and Larry Evans (two unforgettably mercurial 'shroom experts) as they lead us on a hunt for the wild mushroom and the deeper cultural experiences attached to the mysterious fungi.
Combining material filmed at Telluride with animation and archival footage and a neo-psychedelic soundtrack by the Flaming Lips, Know Your Mushrooms opens the doors to perception, takes the audience on a longer, stranger trip and delivers them to a brave new world where the fungi might well guide humanity to a saner, safer place.
httpv://www.youtube.com/watch?v=Dsc-kUysYmg