This story contains descriptions of violent attacks that may be disturbing to some readers. Discretion is advised.
A man who went on a stabbing rampage in a public library plaza in North Vancouver two years ago pleaded guilty in court Monday morning to one charge of second-degree murder, five counts of attempted murder and one count of aggravated assault.
Yannick Bandaogo, 30, looked straight ahead as he entered the pleas in French in B.C. Supreme Court in New Westminster before Justice Geoffrey Gaul.
A three-day sentencing hearing has been adjourned until July, when psychiatric reports and victim impact statements will also be considered by the judge.
Because Bandaogo has pleaded guilty to a charge of second-degree murder, he will receive an automatic sentence of life in prison. Lawyers expect to make a joint submission to the judge about when Bandaogo should be eligible to apply for parole – which can range from 10 to 25 years in prison.
Bandaogo has remained in custody at North Fraser Pre-Trial Centre since his arrest. His guilty pleas came more than two years since the shocking events involving the stabbing of seven people took place on March 27, 2021 before horrified onlookers.
When police officers arrived at the scene, they found multiple victims in and around the library complex, ranging in age from 22 to 78, suffering from stab wounds.
Victims included a high school teacher, a North Vancouver mother of three and a young woman who was a student at Simon Fraser University.
One woman in her late 20s later died of her injuries. She cannot be named, under a publication ban.
In court Monday, Bandaogo pleaded guilty to the second-degree murder of that woman, as well as the attempted murders of Sheloah Klausen, Gary Mortenson, Susanne Till, Emma Henderson and Haya Newman. He also pleaded guilty to the aggravated assault of Mahnaz Kolahi.
Bandaogo entered the guilty pleas on what was to have been the start of a 10-week trial.
In court Monday, prosecutors read from an agreed statement of facts in French, detailing the events on the day of the stabbing.
Attacks detailed in court
According to the statements read out in French, Bandaogo first came to B.C. in February 2021 and had spent time at the Lynn Valley Library during the month of March 2021.
On March 27, Bandaogo arrived at the library just after 9:30 a.m., where there was a book sale going on in the community room.
Just after 1:40 p.m. that day, a woman referred only by initials was working on her laptop near the entrance to the book sale, when Bandaogo went straight towards her and suddenly started stabbing her, according to the statement of facts, read by prosecutor Jean-Benoit Deschamps. Bandaogo stabbed the woman 12 times, resulting in injuries that led to her death.
Sheloah Klausen was in the library corridor with her daughter during the attack and tried to stop the attack by hitting Bandaogo with her umbrella.
Bandaogo grabbed the umbrella from her hand and pushed Klausen to the ground, said Deschamps in French. While Klausen was on the ground, Bandaogo repeatedly stabbed her, including stabbing her in the head and neck.
When 78-year-old Gary Mortenson tried to come to Klausen's aid, Bandaogo turned and stabbed him multiple times in the head and back.
Susanne Till also sat frozen to the spot nearby. Before she could escape, Bandaogo attacked her in front of the entrance to the book sale. He stabbed her in the head and the knife entered the brain, according to the statement of facts. Till later lost an eye as a result of the injuries.
From there, Bandaogo followed a witness outside near Browns Social House restaurant, near to the library, said Deschamps, where he spotted Emma Henderson and approached her, stabbing her two times in the head and once in her hand.
Bandaogo then went towards Lynn Valley Road, where he encountered Mahnaz Kolahi who was standing outside her car, that her child was in. Bandaogo hit her in the face with the umbrella that he had taken from Klausen, said Deschamps.
Bandaogo then went towards the entrance of the library on Lynn Valley Road, where he attacked and stabbed Haya Newman, lodging part of the knife in her head.
As he went south in the direction of 29th Street, Bandaogo was pursued by multiple witnesses.
At the intersection of 29th St. East and Lynn Valley Road, Bandaogo was surrounded and arrested by police.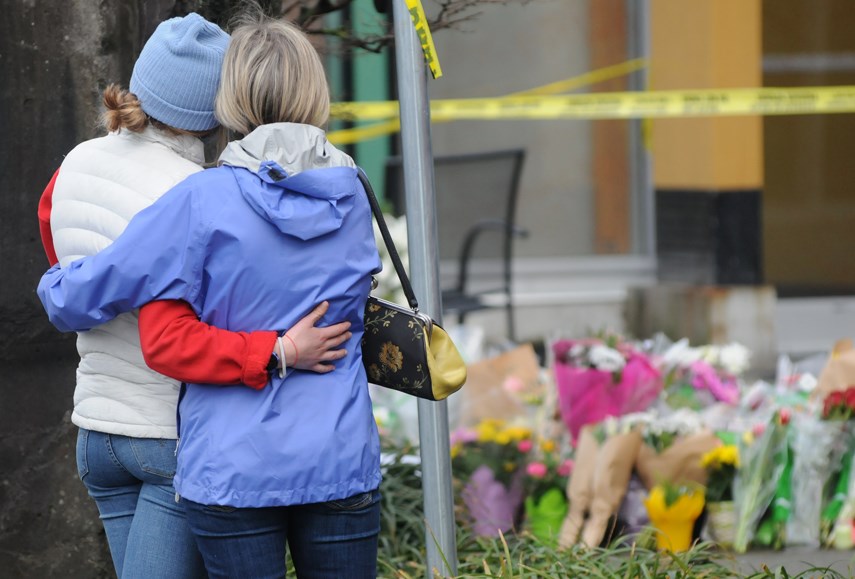 Guilty pleas first step
Outside court, Crown counsel Jean-Benoit Deschamps described the guilty pleas as the first step in the healing process for the community.
Prosecutor Daniel Loucks said the guilty pleas would likely provide "tremendous relief for a lot of the people involved – the victims and the community – to have this result rather than having to go through the uncertainty and anxiety of a lengthy trial."
In a statement prior to the guilty pleas being entered, District of North Vancouver Mayor Mike Little described the attacks as "a deeply impactful, shocking event" that continues to reverberate in the community.
"Our thoughts are with the victims and the families that still grieve and deal every day with the impact of that attack. We want justice for them and for everyone in the community that was affected," he said.
Bandaogo agreed in the statement of facts entered in court that he didn't know any of the people he attacked in the Lynn Valley library plaza.
There was no information in Monday's court hearing about what motivated the stabbings.
Prosecutors and defence lawyers said it's possible more information about that may come out in July's sentencing hearing.
Automatic life sentence
Outside the court, Georges Rivard, Bandaogo's defence lawyer, said Bandaogo had accepted responsibility for his actions by pleading guilty. Rivard described the case as "tragic."
Bandaogo, who is from Montreal, had no connection with any of the victims and no home in B.C., according to statements made by police.
At the time of the attack, he was wanted on warrants in Quebec and Manitoba, according to the Integrated Homicide Investigation Team.
Unanswered questions
Jacquie McCarnan, the founder of North Van Cares, who organized a fundraiser for the victims of the stabbing attack and has remained in contact with several of them, said before the pleas were entered that the big question left unanswered so far is why. "Why did he do this? What led him to this? Why would he just choose people at random and go absolutely bananas? … Nobody has any answers about his state of mind."
The other question is, "Why Lynn Valley?" she said. "Why was he there? I think people want to know the answers to those questions. I don't know that they'll get them."
McCarnan said of the surviving victims she's in contact with, most are doing well with their physical recoveries. "The mental scars are much more difficult to figure out."
"I do think that people are moving forward with their lives," she said. "I think in a general sense, they are not allowing this man to continue to hurt them.
"I think in a general sense, people want to not let him have any more of our bandwidth. He took a lot from our community. And I don't think people are willing to give him one iota more."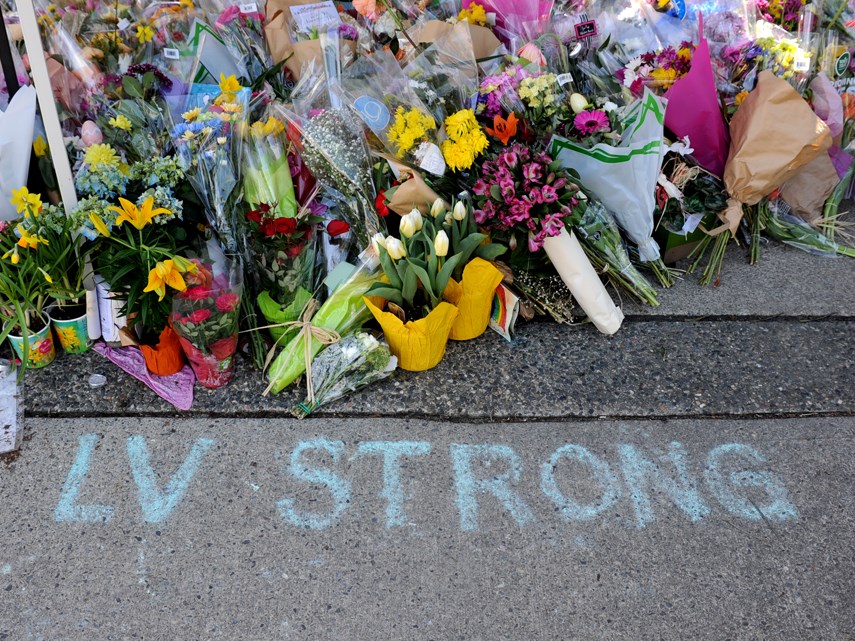 ​Video produced by Alanna Kelly