Perhaps you've seen this large stone while you were looking out the window near the washrooms on the bottom floor of the Museum Of Vancouver? It's not just any old rock, it's actually an ancient petroglyph that the Museum has had in its possession since 1992 (it was originally moved in 1926) and is now giving back to its rightful owners, the Stswecem'c Xgat'tem First Nation people.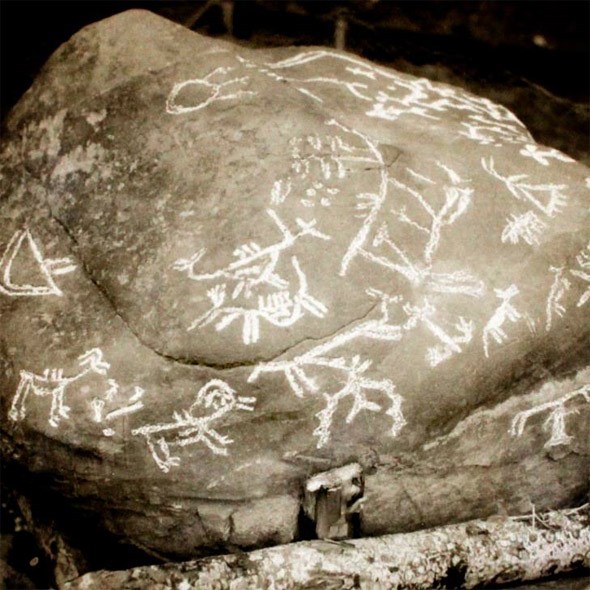 "It's been 86 years since the petroglyph rock was taken without our consent from our traditional area," says Hank Adam, Chief of the Stswecem'c Xgat'tem First Nation. "For Stswecemc/ Xgat'tem it means a sense of empowerment for us to finally have a voice as to the future of this sacred petroglyph rock. It is an exciting time for our community. We look forward to the rock's journey home.".
The MOV is returning it, and a documentary film is being made about it and its history so nobody will ever think of this as simply any old rock. We'll all gain insight on its history and the history of the earliest inhabitants of our region as a result. Learn more at the Story Of A Rock Facebook page: HERE.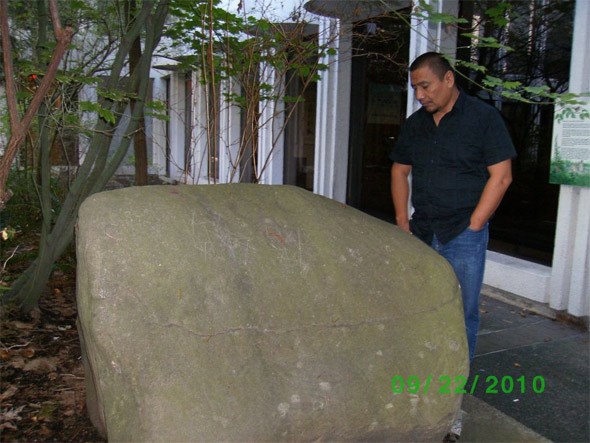 Chief Hank Adam visiting the rock at MOV. Photo courtesy Story of a Rock