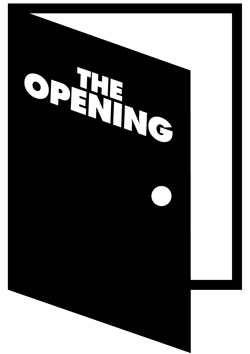 THE OPENING is all about introducing the fascinating, quirky and wonderful people working in and around the visual arts in Vancouver. Each week, we'll feature an artist, collective, curator or administrator to delve deep into who and what makes art happen!
We're profiling something a little different this week on The Opening – films. But not just any films. Two incredible visual arts documentaries that will be airing in Vancouver in the next week as a part of the 2012 DOXA Documentary Film Festival: Marina Abromovic: The Artist is Present and Ai Weiwei: Never Sorry. Both films deal with artists who were hot international topics recently and should help make their impact on not just the art world, but the world at large more clear.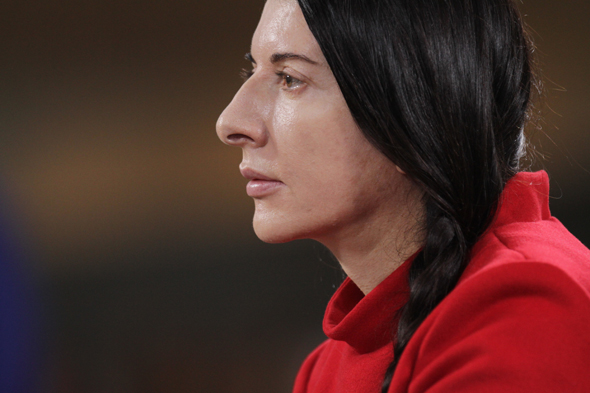 Film still 'Marina Abromovic: The Artist is Present' by David Smoler. Courtesy DOXA.
Serbian performance artist Marina Abromovic has long been known for her intense performances which test the comfort of the audience as much as herself. She uses performance as a means of fostering a relationship with the audience while she explores the limitations of the body and mind under varying stages of duress. From 1976-1988 she was in an intense relationship with another performance artist, Ulay. As a pair they worked as twins of one another, exploring ideas of conciousness and their relationship to the space around them.
From March 14 to May 31, 2010, The Museum of Modern Art in New York staged an enormous retrospective of her performance work, both solo and during her time with Ulay, called Marina Abromovic: The Artist is Present.She hired and trained numerous other performance artists to stage these works, which ran every day during the museum's opening hours. The entire exhibition culminated in the longest piece of performance art in her career: Abromovic sat in a chair on one side of a small table, with a chair on the other side for anyone to sit on for as long as they liked. Patrons lined up for hours to sit with her, some decrying the whole idea as a farce and others feeling as though they had reached transcendence. The performance even led to an online 8-bit version by artist Pippin Barr that operates in real time (play here).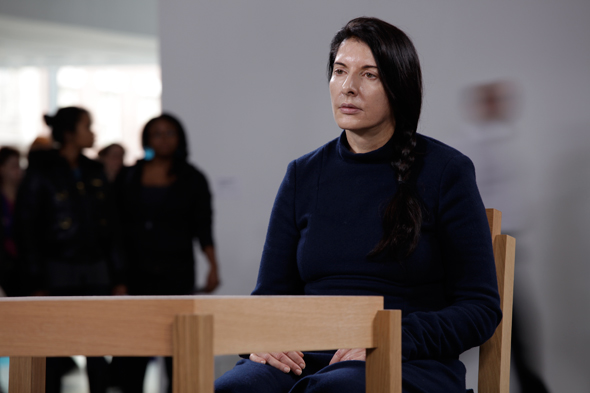 Film still 'Marina Abromovic: The Artist is Present' by David Smoler. Courtesy DOXA.
Matthew Aker's film of the same name, presented at DOXA on May 9th, offers a behind the scenes look of the entire exhibition (Trailer). Unfortunately there was no advance screening copy available for me to view, so I can't give you a deep insight into the film, but as someone who didn't make it to the exhibit, it sounds like a great way to experience it from not just the eyes of a patron, but also the creators, the artists, and Abromovic herself.
I did however get an advance screening copy of Ai Weiwei: Never Sorry, so I can tell you without a doubt that I would recommend checking it out. Ai Weiwei is arguably one of the most important contemporary artists to have come out of China in the last decade, largely due to his activism for human rights like freedom of speech in China. His father Ai Qing was a celebrated Chinese poet who despite his work for the Communists, was denounced for his poetry and sent to a labour camp for 16 years. Ai Weiwei grew up in this labour camp and witnessed the frequent public beatings of his father as an example to the other labourers. After attending the Beijing Film Academy, Ai lived in New York from 1981 to 1993, only returning to China when his father fell ill.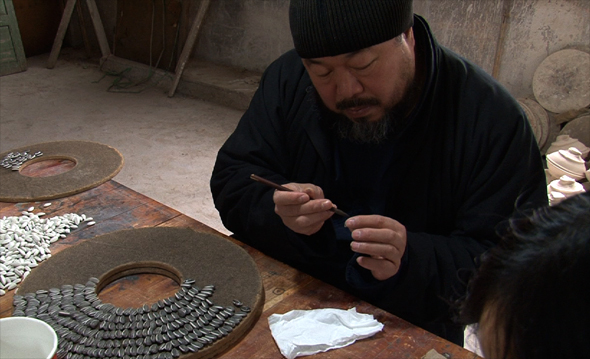 Film still 'Ai Weiwei: Never Sorry'. Courtesy DOXA.
Some of Ai's art can be described as dealing with the loss of heritage and ancient practices through modernization. He has used Neolithic and Han Dynasty vases found at antique markets as ready-mades a la Marcel Duchamp, painting over them in bold colours or brand names like Coca-Cola. The works that carry the most impact however are often the ones that almost became art accidentally, like his work in attempting to name all the students killed in the 2008 Sichuan earthquake as a result of the poor construction of the schools. Ai worked with other artists and volunteers, visiting the school districts to speak to parents, friends and teachers of the lost students to gather their names and birthdates, ultimately posting them to a blog that the authorities did not allow to last and leading to Ai fatefully joining Twitter (@aiww and the community translated @aiwwenglish). He and the others working with him were harassed regularly by police, and in Chengdu Ai was beaten by police while visiting to testify in support of a fellow artist and activist, Tan Zuoren. The entire ordeal, from the beating to the complaints to Ai's surgery in Munich for a cerebral hemorrhage believed to have resulted from the beating, is captured in the film either by audio or video recording.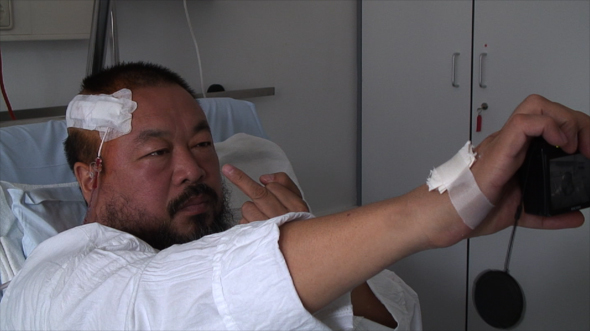 Film still 'Ai Weiwei: Never Sorry'. Courtesy DOXA.
Almost all of Ai's life and work is covered by the film, which ultimately deals with his arrest and detention by the Chinese government. On April 3, 2011 Ai was on his way to Hong Kong when he was detained at the Shanghai airport. The government illegally held him for almost three months, releasing him on bail on June 22, 2011 with strict instructions not to speak to the press and not to tweet. He was also forbidden from leaving Beijing for one year without permission. The authorities have since charged him with tax evasion, which he appealed in January 2012. Ai didn't allow these instructions to restrict him however; he began tweeting again not long after his release and has conducted numerous interviews in the time since. His Twitter feed is often defiant, and he even went so far as to create a website featuring live feed from some of the surveillance cameras at his studio. The authorities asked him to shut down the feed 46 hours after it went live, so I suggest you catch Alison Klayman's fascinating look at his life and work at DOXA on May 12th instead (Trailer).