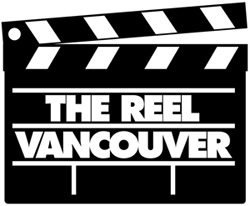 Adam Humphreys is still likely something of  an anomaly to his Brooklyn brethren.
After all, he was born and raised in West Vancouver, became a tree planting highballer, and ended up a New Yorker. And now, at 27 years old, he's a DIY filmmaker whose documentary, Franz Otto Ultimate Highballer, screens in Vancouver, for free, twice in the coming weeks.
Humphreys took the time to email with Reel Vancouver about the inspiration for his film, the social order of tree planters, and the next project on his horizon.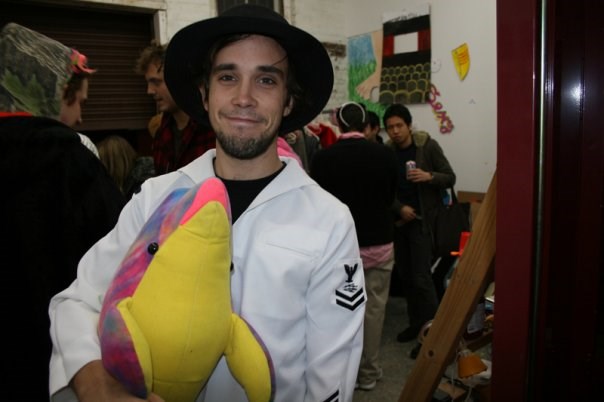 What's your background in film? Is this your first project?
I took Russian film classes with Brian Hendricks (Vancouver native and Hobo magazine editor) at UVIC during my undergrad which were sweet. I learned to use a camera and final cut pro while completing school projects for my MA in media studies at the New School.
This is my first project on this scale, where I fully committed, I feel, where I could actually sit through watching it with someone else in the room and not want to run away.
What prompted you, a guy from Brooklyn, to tackle the subject of tree planting?
I am originally from West Vancouver. I moved to New York to do a Masters Degree and got a girlfriend here. When my work VISA ran out and I still wanted to be with her I was faced with either leaving her indefinitely, getting married, or finding a way of earning a bunch of money in a small amount of time in Canada and returning to live with her as an illegal alien. Tree Planting was a job I did in my early twenties, and the only way I've really earned any money, so I went back.
That summer I kept a blog for friends from New York to read. I had a terribly difficult and long season during which I was fired and involved in a stashing witch hunt. I promoted the blog to planters. My New York friends really liked the videos on the blog, the sense of place, of remoteness.
The next year I had some extra money from working in a fashion store, so I bought a camera and went back intending to make a feature film.
Tree planting seems hugely physically demanding. Who are the types of people that make a lengthy career out of it?
There are all different types of people, from all kinds of places. I would say the average 'lifer' is like, a bro from Prince George. Then there are many middle class 'seeker' types who get into it as a way of paying for college. Most leave afterwards, as the work is too hard and shitty.
I would say some characteristics of people that for some reason can not let it go would be: 1) seriously consuming hobbies (climbers, snowboarders, skiiers, karate black belts, musicians, filmmakers, lonely planet guidebook writers) 2) a nearly absurd love for the outdoors 3) a disdain for or refusal to engage with mainstream society (this would include everyone from drug addicts to political radicals) 4) prolongued career indecision
So, what was it about the legend of Franz that appealed to you as a filmmaker?
I am a highballer, which means I plant more trees than anyone else in camp. Highballers get a special social status in planting camps - they are like the studs. The star players, I liked to believe.
This competitive aspect and my success at it was the main thing I missed while not planting. I liked the feeling of accomplishment, of achievement and dominance - I could not find this feeling in New York City, though I expect it is a feeling associated with success.
The tragedy of planting is that the successes are non-transferable ie. people who do not plant do not have the context to understand your status. The tree planter hall of fame is the closest thing to formal recognition a planter can get.
Franz Otto strikes me as the marquee name in the hall of fame not only for the tone of his nominations, some of which expressed a disbelief in his actual existence, but also for the epic quality of his only known picture.
I imagined him as the embodiment of planting values - an ultimate, self-actualized, badass.
What were the biggest challenges in telling this story?
When I met Franz Otto I wanted the film to be a biopic about him as a great figure. I was surprised to find Franz Otto was ambivalent towards his reputation, his legacy. I sensed he thought I wanted for him to be a big super-hero figure, and he half wanted to be that super-hero for me.
After meeting him I had to confront my reasons for wanting a "Franz Otto" to exist. I think, in a sense, I wanted to live in the world of his picture and not the day-to-day world of planting trees. During the next few months, editing, I focused on this. Eventually I changed the film from exposing and dramatizing a 'heroic life' (who was reluctant to be portrayed as one) to exposing a context for the audience to understand "Franz Otto" both as an abstraction, in my mind, and as a human figure, out there in the world, planting trees.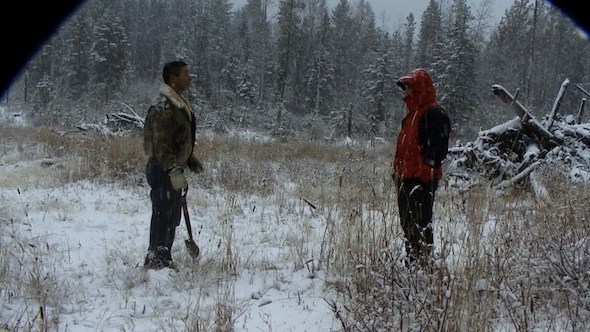 You describe yourself as a DIY filmmaker. What does this mean to you?
I really like this guy Lars Zergun. He makes planting videos with a near insane exuberance. That this comes from a serious need to communicate himself and his world adds to my appreciation of them. I would consider him DIY in the sense he does it himself.
I shot my film alone mostly and with the help of only one other person. I edited the film. I funded the film through money I earned planting trees. I am distributing the film and handling all the press. I am not a DIY filmmaker by choice, more of just an amateur. I want to find collaborators and people with interesting projects that I can help with too.
So, what's happening with the film now? Have you had a lot of feedback from the tree planting community?
The film screens in Victoria on Thursday. There are 79 confirmed guests on Facebook, most of whom I assume will be planters. Planters have contacted me to organize screenings in Halifax, Winnipeg, Saskatoon, Montreal, Quebec City, Castlegar, Edmonton and Prince George. These screenings would also serve as get togethers for planters. I am not sure if planters will like the film, but I love the idea that they are hanging out in the off-season.
My wife thinks they might feel ripped off, might want it to be more of a glorification of their lifestyle.
What are you working on next?
The film will screen at an art gallery in New York in December, which I am looking forward to. I am trying to get (award-winning) artist Sarah Anne Johnson's planting photos for the space. They are beautiful. I think she is the most notorious, most successful planter turned artist.
I've also taken steps towards another film which will focus on depression. It will include author Zachary German's online radio show "Shitty Youth." I find the show very funny. Only 15 people or so listen, I think. I want to somehow include the story of the Siuox tribe and its Chief Plenty Coups (as told through the book "Radical Hope" by Jonathan Lear), and travel to Baffin Island in order to investigate and riff on absurdly high rates of marijuana use among the Inuit.
Catch Franz Otto Ultimate Highballer on two dates: 11/09/2010 – 8:00 pm The Red Gate, 156 Hastings and 11/18/2010 – 8:00 pm Cineworks Annex, 235 Alexander St. (Ironworks Building).