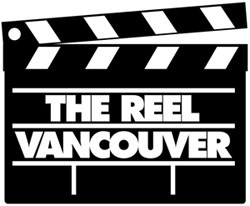 It's pretty rare that the site you've come to know and hopefully love would devote space to a movie titled Dead Hooker in a Trunk. But, the remarkable story behind this locally-made flick is just too awesome to pass up.
Trunk is a DIY labour of love, written, starring, and directed by 27-year-old identical twins Jen and Sylvia Soska. Born and raised in North Vancouver, the women were young actresses tired of getting cast as the "hot twins." Inspired by their love of horror and Roberto Rogriguez's self-made film El Mariachi, the Soska's set about making their own grindhouse homage. The award-winning, Eli Roth-endorsed (Hostel) flick gets a special screening at the Rio this Friday, Aug. 13, at 9pm. Tickets available at RioTheatre.ca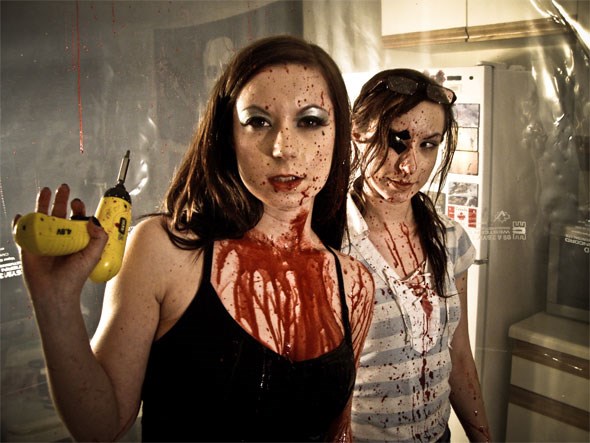 How'd you come up with the concept for Dead Hooker in a Trunk? What were some of your inspirations?
S: Jen came up with the title before we had anything else. We were in film school at the time and Rodriguez's and Quentin Tarantino's Grindhouse was in the theaters - those two directors have always been a huge inspiration for us. We had a final project coming up, but it was a new and highly disorganized school so they cut the funding for our final project. Not backing down from a challenge or wanting to have no creative last say, we decided to create our own fake trailer with everything we would want to see in a film. We would call it Dead Hooker in a Trunk and we would put everything (and then some) that the school deemed too inappropriate for students' projects because we would be paying for and creating the project through our own means. When we showed it at graduation the reaction was insane. Half the audience walked out and the other half was cheering so loud that you could barely hear the offensive dialogue. The team we got together was so excited, they asked when we are shooting the feature and things just grew from there.
J: Robert Rodriguez's first film, El Mariachi, was a big inspiration. He made a full feature film using all his resources and managed to make it all for only $7000, something completely unthinkable these days and even unheard of when he made the film. He kept a journal while making the film and later released it under the name Rebel Without A Crew. It's amazing and a definite must read for film makers. It tells of all the highs and lows, challenges and resolutions, wins and losses of the entire experience, from donating his body as a test subject to raise funds for the film to getting the film released. It's just great.
Do you remember a moment during filming where you thought, 'This is freaking surreal'? Can you tell us about it?
S: We wore a lot of hats during the filming. We wrote, directed, produced, and starred in the film as well as being the first to set to set decorate, then the last to leave after cleaning up the bloody messes we made. So, a lot of the time we were busy thinking about too many things to really take in what we were doing. It was also really important to have the cast do as much of their own stunt work as possible because we feel that there is increasingly less and less actor involvement in their roles today. Heck, they even have doubles to run for them. One one day, the character I portray in the film, Badass, has to get dragged down the road by a lasso around the wrist. To do this, we threw a couple of pads on me and tied me to the back of a pickup truck (we had an incredible stunt team to ensure safety and make really realistic sequences). I remember lying on my stomach behind the truck as they got ready to shoot the scene and thinking that this was crazy, I could get seriously hurt (I lost a few inches of skin already from doing this sequence in the fake trailer) and getting stoked about how killer it was going to look. It still feels surreal to this day. I look at our poster signed by 'El Mariachi's' Carlos Gallardo (who worked with Robert Rodriguez on their first film together and also appeared in a cameo role in the film) and feel very lucky to have had this experience.
J: We did a lot during the production that we really didn't get a chance to sit back and let it all sink in. When we screened it for the first time for a theatre full of people it sank in. It was an incredibly exciting and terrifying feeling, like nothing else in the world. I just kept thinking when it started, "Oh my gawd, this is it."
What are some of the challenges in getting your first film off the ground?
S: Jen and I have always been incredibly ambitious. Some of our ideas seem too grand to become a reality, but we're too stubborn and driven to let that keep us from doing something that we want to do. When we said that we were going to make our own feature and pay it out of our pockets, people thought we were insane. I kept getting 'advice' from industry people that we had to save our money, get a production company to do things 'properly.' Funny thing is, now we get emails from those people who say 'that they always believed in the project.'
We have a dark sense of humor and have been horror enthusiasts since we were little girls. We had a lot of people interested in being a part of a film, just not ours. It was 'too offensive' at parts and they didn't get the humor behind it. I think if you are going to have extreme situations in a film, you have to have humor. It makes or breaks a project.
J: Also with a name like Dead Hooker In A Trunk we obviously get a mixed reaction. Some people won't even watch our film because of the title. When we were first trying to get the film out there and seen by reviewers and festivals, we had a bit of a hard time. We contacted Eli Roth and the film and sent him the trailer along with anyone we could get into contact with. He replied and asked for the film and loved it. He's become a great friend. Having someone like Eli Roth stand behind your film really means a lot.
What are your favourite films?
S: American Psycho directed by our hero, Mary Harron, is my all time favorite. It's so dark and beautifully shot, but it's also a very clever satire. Other favorites are The Mariachi Trilogy, The Classic, Suicide Club, Twins, Dancer in the Dark, and The People vs Larry Flynt.
J: Who Framed Roger Rabbit?, Batman Returns, Twins, American Psycho, The Good, The Bad, And The Ugly, and Memoirs Of A Geisha. I don't just love horror movies, I like all kinds.
Why should people go see your movie?
S: I hope people come to see our film because it is a true grindhouse indie. It's a bit of a valentine to Vancouver as well. We used local talent (and this city is full of it), we used the city as Vancouver (not pretending its another town like films and shows tend to when they film here) to promote it, we had the best of indie bands (Fake Shark-Real Zombie!, Incura, The Awkward Stage, The Stalls, CJ Wallis, Adam Nanji, The Belle Game, The Titan Go-Kings) to give it a great soundtrack, and it really is a fun film with lots of insanity to keep you happy.
What's the next project on the horizon for you two?
S: We are just finishing up on the script for a new film called 'Dogfight' starring scream queens, Tara Cardinal and Devanny Pinn, and it going to be a crazy little film. They start shooting it in the next couple of weeks and there is already an amazing team coming together to make this flick something special. After that we have a few scripts that we are deciding on tackling next.