If you're looking for an excuse to go see a fun romantic comedy this weekend I would suggest checking out Canadian indie-flickTextuality, opening across our home and native land today and directed by my lovely friend Warren Sonoda. If that's not reason enough, then go to see Vancouver's Most Awesome alum actress Carly Pope (Popular, Californication), who is starring alongside fellow Vancouverites Eric McCormack and Holly Dignard.
I had a chance to chat with Carly about Textuality, the pros and cons of virtual relationships, her fondness for Vancouver and why getting your Blackberry hacked and being forced to go through the pains of re-programming your digital life can actually be a good thing.
(And if you haven't already entered V.I.A.'s giveaway for a brand new Blackberry of your own, you may want to GO HERE and do so.)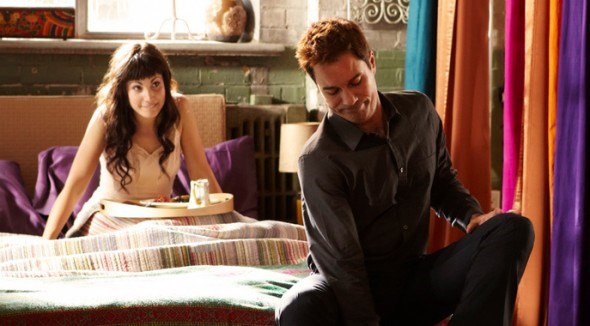 Carly Pope, Eric McCormack.
Let's talk about Textuality. Who do you play in the film?
I play Simone, who is a modern-day woman, blogger and artist. She is in the midst of multiple relationships that really are distractions because she is not able to access the one relationship she does want to be in – with a married man (Eric McCormack). She is open and honest with everyone about where she is and what her boundaries are but is unsatisfied and, I think, a hopeless romantic looking for a connection that she is not able to find. Then she bumps into Breslin (played by Sex and the City's Jason Lewis) and they go back to a simpler way of interacting …
And culling all those ephemeral relationships.
Certainly, and having time that is more productive. I think that comes from a place of fear, not having the courage or the impetus to take that leap or that step. If you just keep yourself feeling like you're not isolated or alone, you can keep yourself safe from having to make a grand gesture before you are ready to. They (Simone and Breslin) just get back to basics. They take that step forward.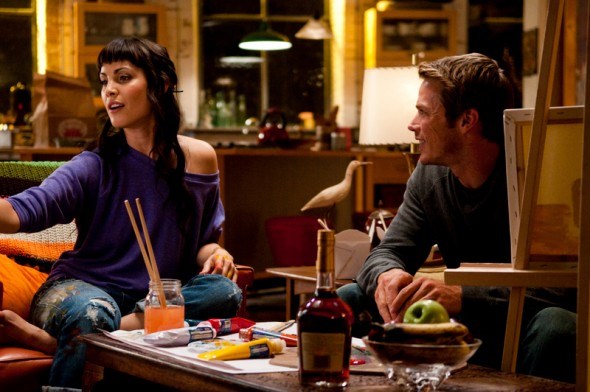 Carly Pope brushes up with Jason Lewis. Sans phone.
When we connect virtually – online, or through text – tone is missing. We project so much.
I think that is such a dangerous line to walk along.
We do project so much and misinterpret; you just don't have that human quality of intimacy anymore if you can't actually hear what someone is saying or look at their face when they are talking to you. I feel like we miss so much by having everything be digital. I see the value in having technology be a buffer or a pipeline to somebody, like if you're in a long-distance relationship. It's also super-fun to be flirtatious and creative with your text messages or your picture messages. (Laughs.) Those things are all great supplements, but if they are being used as the primary mode of communication you miss out on a lot.
Social media is pretty booming here in Vancity and we have quite an active Twitter community. Are you into social media?
I don't feel like Twitter is really for me. I see the benefit of having a Twitter account but for me, it's too much obligation and I kinda feel like no one would care! (Laughs.)
I am teasing my way into a bit of a blog right now, which is mainly just an outlet for me to write down my thoughts. A friend of mine said, "Just think of it as a diary and publish the posts that you want." So I am taking the low-impact approach. I am technologically so unsavvy – my computer looks like it's had a bender. It's so busted. I have a Blackberry that I barely know how to use…
I can relate. I call my computer Frankenpooter because it's made up of the parts of other people's computers that they no longer needed.
I call mine Mickey Rourke.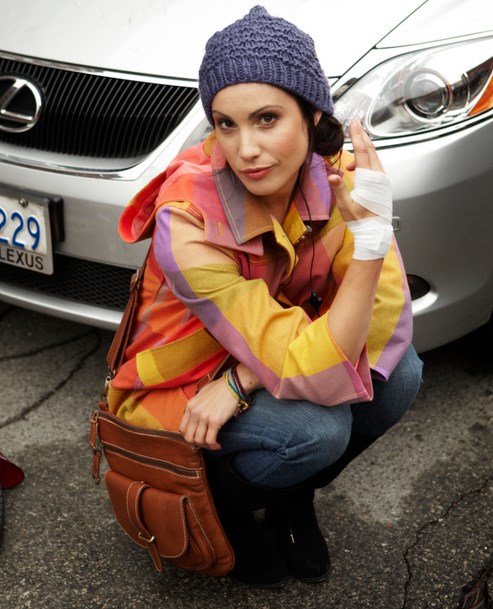 Carly suffering for her art on day three of shooting.
When you do come back to Vancouver, what neighbourhood do you call home?
Well, that's a little tricky. I mainly reside in Los Angeles but I go back-and-forth quite frequently. I grew up on the West Side and currently rent out my apartment in Yaletown and I recently sold a place in Gastown, so am currently homeless in Vancouver but I am looking to reclaim some of the East Side. I like things East – I'm strange that way. I grew up in Point Grey but there's something about the East Side... it's a little more dynamic. We always spent a lot of time out there when I was growing up, too. My mom is Italian so we had that connection. My heart is in East Vancouver.
What is it about this city that makes you exhale and go, "Ah… I'm back in Vancouver!"?
I've said it before and I'll say it again – it's the quality of the air. It's so different than Los Angeles. It's refreshing. I feel like I am rejuvenated and revitalized.
Lately I really like Raw Canvas, it's a really cool spot. I like to hang out there and see what's going on. I think it's unique and innovative. Bao-Bei is such a killer restaurant and I am so happy that it exists. I love going along the Seawall – that's my heart, really. Going through the park and taking in the beauty of Vancouver is another surefire way to get me beaming and grinning ear-to-ear.
For me, now, it's really about coming back and connecting with my friends who I don't get to see on a day-to-day-basis. Having physical access to people, you just miss those little things…
Sounds like that's what Textuality is about.
Absolutely. I think it is art imitating life in that sense. You've got to brush up against people in order to really know what's going on with them.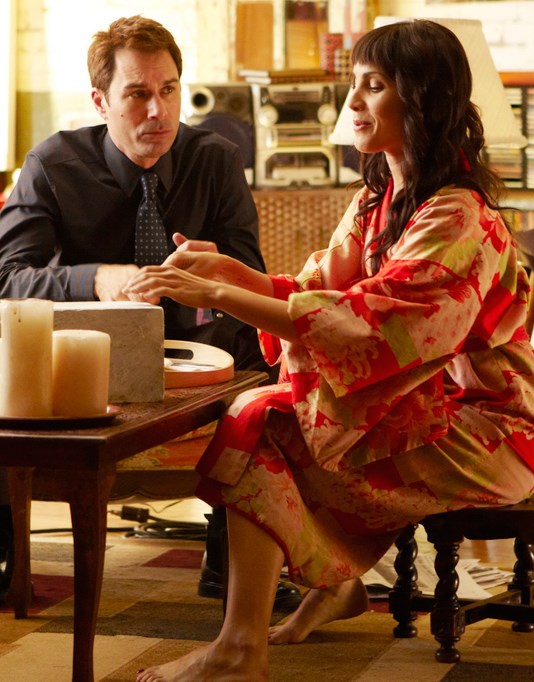 Carly Pope, Eric McCormack, and that gorgeous red robe - all distinctly awesome.
As you know you are featured as one of our Most Awesome…
Thank-you so much! I love your blog and am honoured to be a part of it.
You are starring in Textuality alongside Eric McCormack – another Vancouverite.
Yes! He is so lovely. He is such a fantastic person. He is an awesome Vancouverite, that's for sure.
He may be awesome, but he's not one of the Most Awesome.... yet. Is there anything you could do, as a Most Awesome Vancouverite, to engage and encourage him to join the ranks?
If he was here right now I would be giving him an earful to grease those wheels.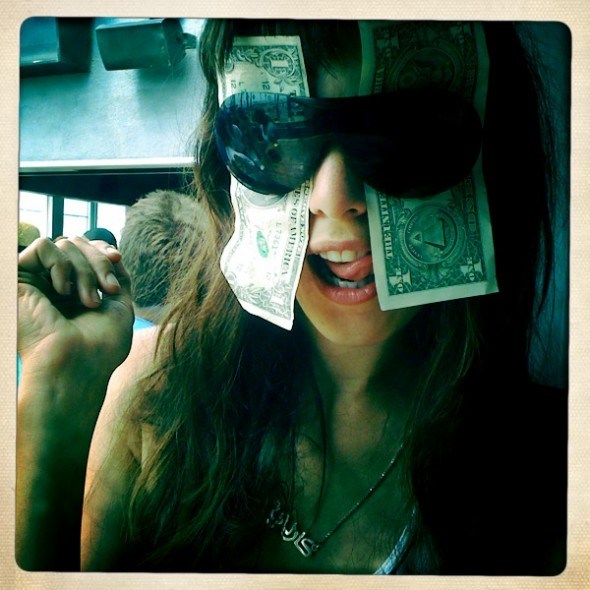 Those definitely aren't Benjamins. This is one of the only photos Carly salvaged from her phone. And she's sharing it with V.I.A. Total sweetheart!
So, V.I.A. is currently running a giveaway for a brand new Blackberry (which if you haven't yet entered, you probably should GO HERE and leave a comment.) If you were presented with a brand new Blackberry right now, who would be the first person you'd call or text and what would you say?
Oh… goodness gracious! (Long pause.) That's a good call. My phone just got hacked and I lost absolutely everything so this similar to what is actually happening in my life right now! (Laughs.) I sent out a mass email asking people to send me their numbers…
I only know one person's number and I think that says a lot about how I feel about them.
Exactly! That's the same with me. I literally have a handful – one hand – of friends whose numbers I know. Oh, and my family. Everything else I took for granted. What's nice though is that when you are presented with a new "rig," it's sort of like spring cleaning. You get to re-invent your contact list.
A friend of mine has a nice expression for that – "social pruning."
Social pruning – that's great! And it's true, because we do just blindly acquire contacts and they might be people you've met one time and you never call them… it's like letting go of baggage. Makes you feel more free-wheeling. I have my top ten that I need to stay connected with and then everybody else. Slowly but surely they are getting put back in there.
Let them find you.
I've kept my phone on silent for a year and a half. I'm not kidding! I just want to quiet down the noise. We have so much opportunity to stay so busy and obligated and attached to these things, these mechanisms. I look at my phone every so often, and if I have missed a call I'll call that person back. If I need to email someone, I will. But I don't want to have to feel that I am required, as soon as something happens, to respond.
Preaching to the choir, sister. Leave me a message and I'll figure it out.
Exactly! I'll figure it out on my own time.
Textuality is premiering in Vancouver tonight and will be followed by a Q&A with co-star (and Vancouverite!) Holly Dignard. For more information go HERE.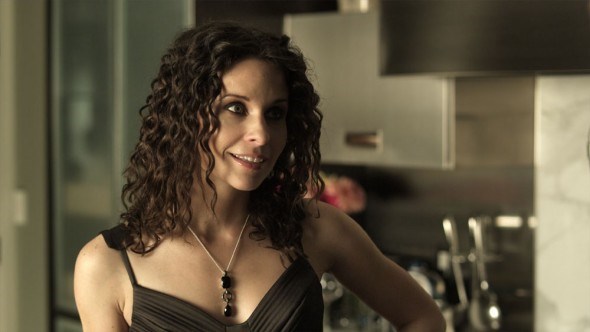 Holly Dignard.