Actor Will Sasso sprung forth from Ladner but was Los Angeles bound while still a young lad. Cutting his baby teeth on Canadian TV in shows like Madison and Neon Rider led to bigger parts in films like Beverly Hills Ninja, Happy Gilmore and Best in Show. Will is probably best known as "that big Canadian guy" on MADtv, where he spent five years portraying the likes of Bill Clinton, Arnold Schwarzenegger and the gangster who doesn't get to eat any gabagoo.
While promoting the Maple-Ridge lensed filmYear of the Carnivore, in which he plays a punch-happy supermarket manager, Will took some time out to chat with me in the food court at Tinseltown. Our stunning surroundings proved a surprisingly fertile background for conversation as Will opened up about growing up in the GVRD, how to safely root for the Canucks at playoffs games against the L.A. Kings, being the TV son of William Shatner in the upcoming series Sh*t My Dad Says and succeeding in the "business of show" using sensibilities gleaned from his home and native land.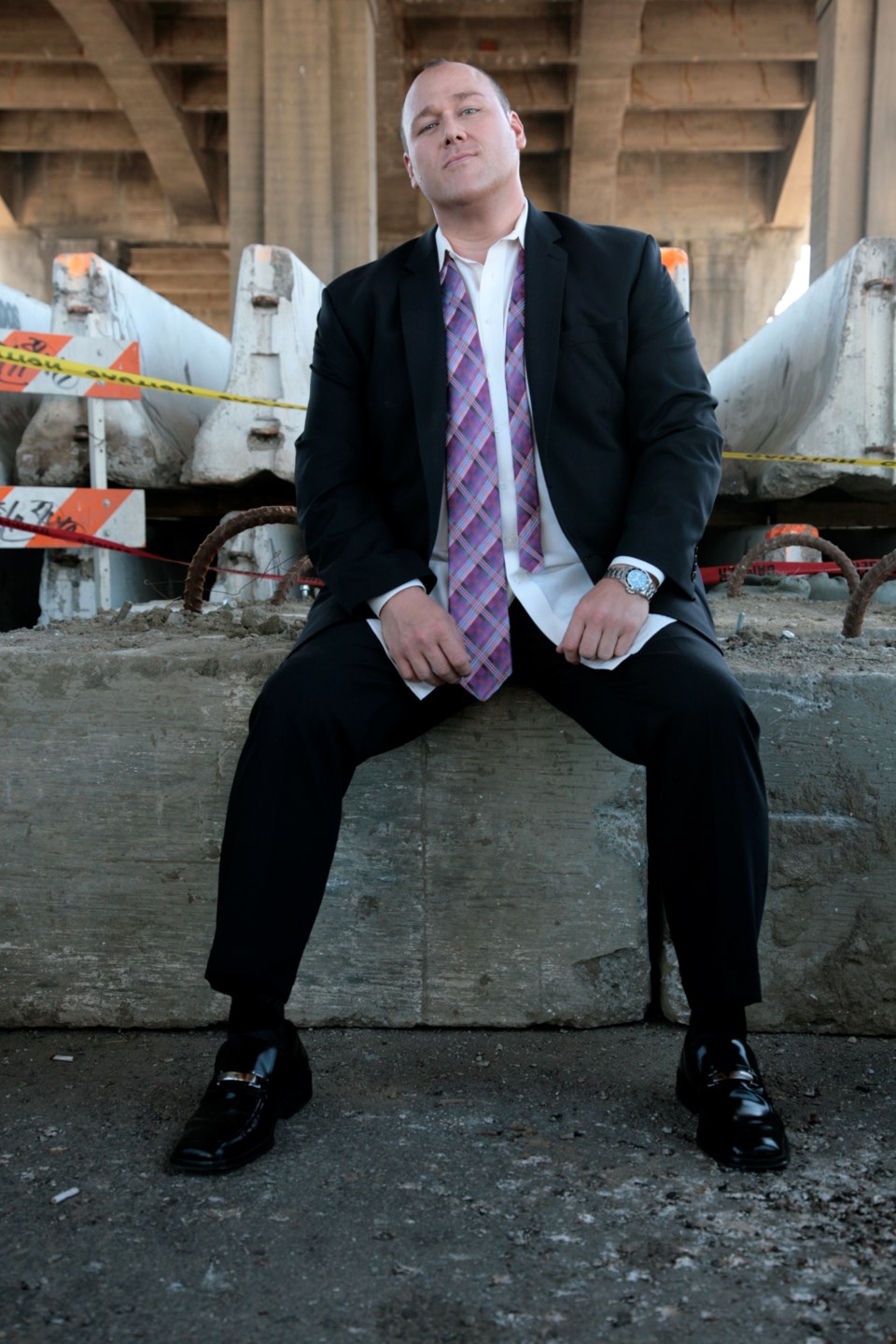 Sammy Primero photo.
So you're from Ladner originally. What was it like growing up there?
Ladner was a very mellow childhood for me. A pretty normal, all-Canadian or Western-Canadian suburban experience... sports and lots of riding your bike here and there. Hunting for tadpoles and frogs. It was pretty idyllic. When I look back I think that when I have kids I want to make sure they have some sort of surrounding like that, where you can stay out late with your friends and nobody is going to get you.
Did you used to make the trek into the city a lot, when you were a teenager?
Yeah. Once I became a teenager I started coming into town to hang out. Soon enough for me it became trying to hustle an agent, seeing what would happen from there.
You were on the TV show Madison and also went to the same high school as Jason Priestley.
We both went to DSS in Ladner. He's a bit older than me and we weren't there at the same time.
Was Madison Canada's answer to Beverly Hills, 90210?
I always describe it as a Canadian My So-Called Life. I think it was a little more gritty than 90210. Or even Degrassi. There was a license to push the envelope … I think the first lesbian kiss on Canadian television was on Madison.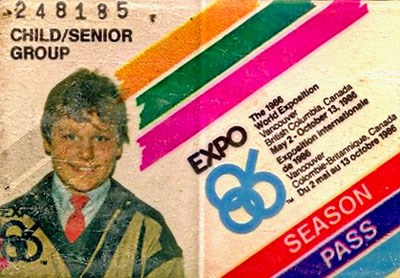 A very well-worn Expo 86 pass.
How long have you been away from Vancouver?
I moved about 14 years ago. My folks are here, my brother and sister are both married with kids. I come back a lot to hang out and see my friends and family.
When you come back what sort of things do you do here?
My family is spread out in the suburbs, but when I see the folks it's pretty mellow. When I come downtown I hang out with some of the guys I grew up with.
Me and my friends … you know, it's weird. When I was younger we would do the bars, but I do feel like an idiot there sometimes and think, "Where's the bar for people in their mid-30s?" I kinda go where my friends point me to go.
I took my mom and dad to Joe Fortes, back around Christmastime. They really liked it. I like any joint like that, where you can take the folks and it's super old school.
Have you ever lived in any other neighbourhoods here?
No. I moved from Ladner to Los Angeles when I was 20.
Are you a Canucks fan?
Absolutely, yeah. I went to all three of the games in L.A. for the playoffs.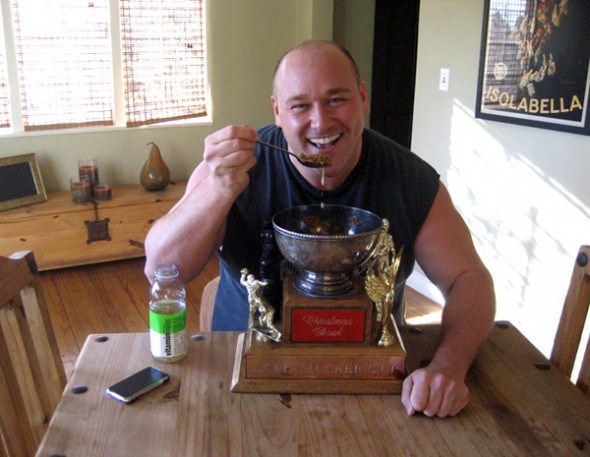 Were you openly rooting for the Canucks?
The first game I was openly rooting for the Canucks. It was a very weird experience … I was there with another buddy of mine who is Canadian, from Kelowna. He's been in L.A. for 15 years. We're both in our orange, yellow and black . I'm wearing a Tiger Williams Flying V, he's wearing the skate - you know, the disgusting colours. We were getting worked. People were not too happy about us being there in those colours.
Getting back to the car was hilarious, people jawing at us. I was like, "Wait a minute, I'm a Los Angelino! I live here! I love it here! I don't like this hockey team, but that's only compared to the Canucks." It was a very weird experience to me, because I was thinking, "I'm home right now, and I'm getting jawed at." I told my buddy, "I'm not doing this again. Next time, we're going in street clothes," and he agreed. We are both Canucks fans and we run into other Vancouver guys that live in L.A., like Ian Bagg, who is a comedian. We ran into him at the next game and he was wearing a coat. Under it was the jersey, the "C" with the whale. His buddy Cyrus had the Johnny Canucks shirt on … it was gnarly! It was actually more fun to be there incognito. The Canucks would score and we would go, "Awwww, shucks. Better luck next time. Good goal, though. Good goal." People were just losing it around us. Sports are fun.
Did you take in any of the Olympics?
No, I was busy down south and I couldn't make it out. I happened to be out here one weekend for some family stuff so I didn't get to really do anything, but I did meet up with a buddy downtown and walked around for a minute, went, "This is crazy!" and then drove back to my folks' place.
Other than your idyllic childhood in the grove of Ladner, what are some of your fondest memories of Vancouver? What sorts of changes have you noticed?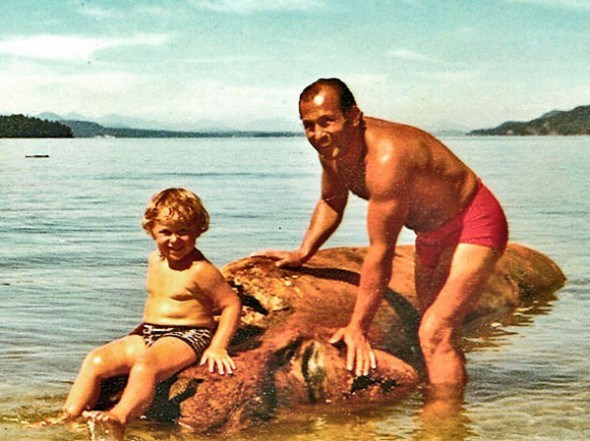 Will's idyllic childhood in the grove of Ladner included ocean time with his Dad, 1979.
A lot of changes are good and a lot are the kinds of growing changes that happen when something that you could describe as a mid-large size city becomes a real metropolitan city. Vancouver really is, it's a big city. Some of the positive changes are the architecture, which is really beautiful –
Douglas Coupland, City of Glass. It's all about the city and how it looks the way that it does. Have you seen that book?
No, I haven't... but it's really beautiful here. I know a lot of people at home that have never been to Vancouver and go, "Oh, I have to go up to work in Vancouver and be stuck up there for like four months on set..."
Like David Duchovny?
(Laughs) Hey, come on. Anyways, I'm always like, "No way, you're not gonna be stuck you're gonna be set free! You're gonna love it." I wish I could be on a flick that's shooting up here but it's just luck of the draw. I don't really end up working here but I literally plan an itinerary when I come here. That drive, coming over the Granville St. bridge … it's the city, and it's framed by the mountains and it's like, "What, really?!" Or if you're over on Kits Beach or Jericho and you're looking over the city, across the water at this beautiful city, Stanley Park, the mountains … that sort of stuff never gets old. That's what makes me go, "I need a place here, something that's more of an experience here." I love heading up to Whistler or Lighthouse Park, hiking, finding new trails … stuff like that.
I like the arts and media scene, it's in an interesting place, all positive filled with really creative and talented people. Part of the reason I liked the whole idea of Year of the Carnivore …a Canadian movie, shooting in Vancouver? Yup, sign me up.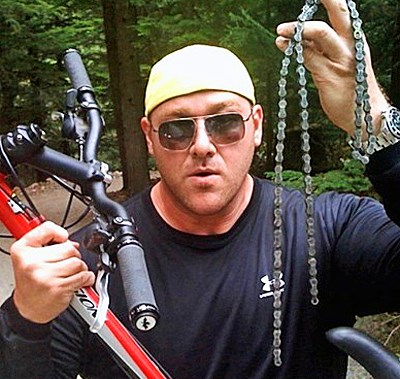 The great outdoors.
Stargate shoots here, and it is huge. If you did want to move here you could be an alien and start a new race.
Wouldn't that be something?
You're going to be on the Sh*t My Dad Says show and William Shatner is going to play your dad. What is it actually going to be called?
I think it's going to be called, Bleep My Dad Says. And it's going to be written $#*! My Dad Says. So it kinda actually looks like "sh*t."
What's it like playing the son of Captain James Tiberius Kirk?
I don't think I've quite wrapped my head around it.
The guy's been in the business for 50 years. He's such a pro, he's an icon. He just turned 80 years old and is very spry, very young. He wears the years in a great way; really confident but very open as an actor. He's never been on a regular multi-camera sitcom, so this is a fairly new thing for him. To see Shatner in the presence of someone like James Burrows, the greatest TV director of all time … really open to all these interactive things, this different rhythm … that's where I pinch myself and go, "You are really f*cking fortunate to be a part of this at all." It's pretty cool.
The business in L.A. is kinda what you make it. If you're fortunate enough to be in a position to be making anything, what you are doing is what you make it. If the business isn't busy pounding you in the ass into submission, and making you get the f*ck out of there and you're fortunate enough to be working in any sort of way, it is what you make it. When you see a guy like that [Shatner] who is that cool, and that kind, that sweet … there's no reason that this weird, man-made business of show can't be done the way he does it. That's the stuff that I say, "I haven't really thought about it [working with Shatner] yet."
It's a grind out there; I've been out there for a long time. It is 99 ½ defeats to victory. You just do nothing but eat sh*t out there. (Pause) I do not mean that literally. But it's just failure, after failure, after failure …and you better get used to it and you better love it and you better love what's at the very core of this business. I tell this to young actors all the time, and I wait to hear [them say] "I want to be a famous actor." When I hear that, forget it … there's lots of things you can do to become famous, that has nothing to do with it. To get to work with guys like Shatner, Burrows – is good enough. I could show up and everyone could be a prick and I'd still be on cloud nine because I know who I am and I know what I'm doing when I go home at night. I don't care. I'll go home and play Red Redemption and drink scotch… literally. (Laughs) But to have them all be super sweet, and nice? Pfft, I could die tomorrow …
(Our glamorous interview in the Tinseltown food court is paused as Will is reunited with former Madison cast mate and recent Leo-award winning actor, Chad Willett.)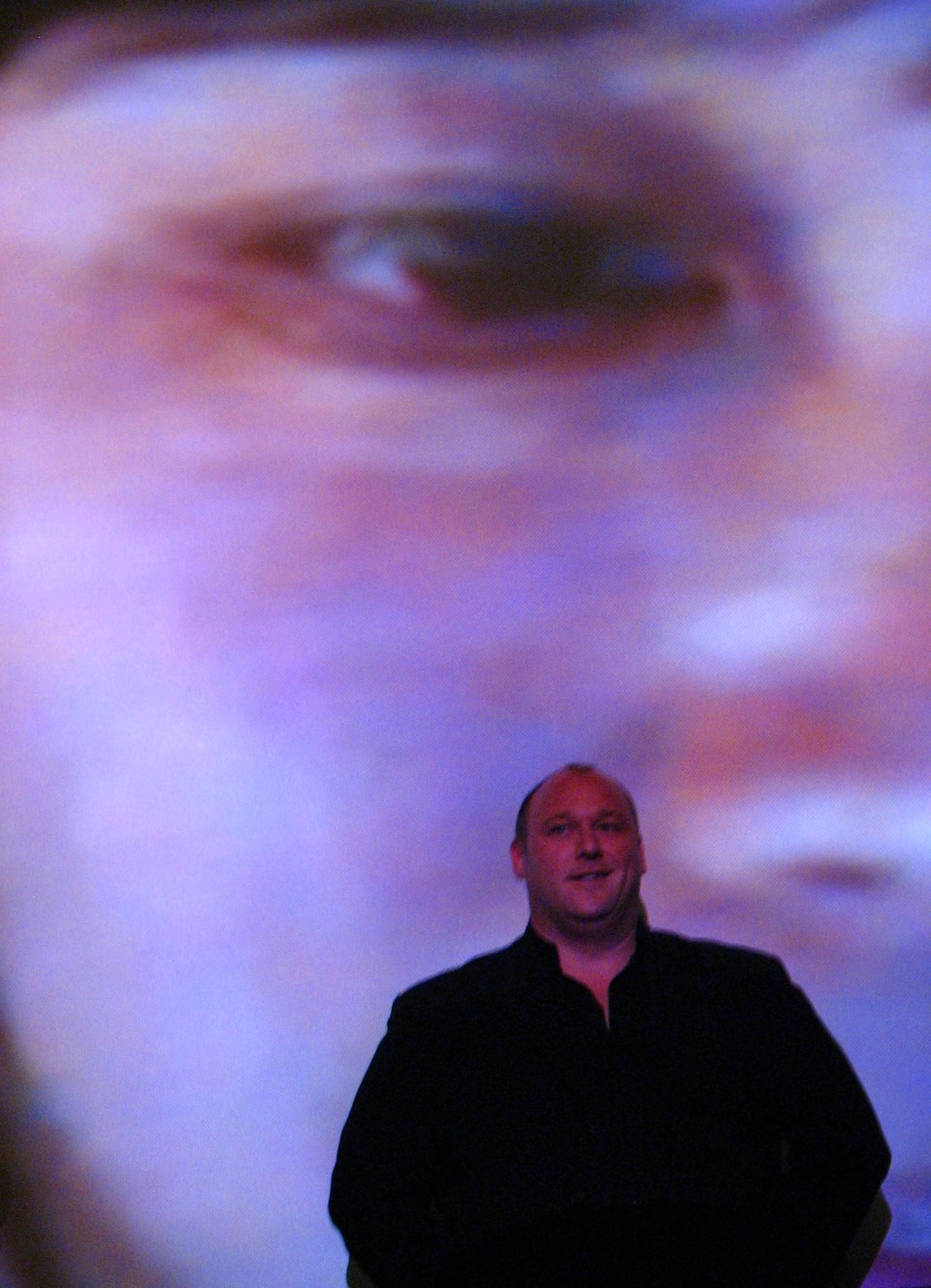 Will under the all-knowing gaze of director Sook-Yin Lee at the Year of the Carnivore Q&A at District 519.
Who is your favourite Vancouverite?
Oh … I should know this. I should have one. Michael J. Fox is everybody's favourite Vancouverite in a way, right? Isn't he? So that's the default answer obviously, but it's a well-earned default answer.
That guy is pretty cool, when you look at his story... I remember going down there [Los Angeles] when I was a kid and doing the Disneyland trip with my folks. We went on one of those star bus tours in L.A., and the only part I remember is that they said, "this is Michael J. Fox's first apartment and this was the payphone that was his office." It was some piece of sh*t, week-to-week apartment. I didn't really know if it was true or not. When I moved to L.A., I didn't really have a cell phone or anything like that. I had a pager and my phone wasn't hooked up -
That just dated you.
(Laughs) And I am not a doctor or a real estate agent. Anyways, I remember I couldn't get an apartment for a while because I wasn't quite of age and also I had no relative to cosign… there was a 76 gas station on Ventura and Vineland in Studio City, and there was a payphone there. And that was like, my phone.
Who else? Oh my God - I love Sarah MacLachlan, she's great. I sat behind her on a plane about a month ago, but …I couldn't say anything. Speaking of William Shatner, he has a horse charity that does a lot of great stuff, like sending kids to camp. Sarah McLachlan played the last event about a month ago down in L.A. She was awesome. Those things can be really hard because you never know who the audience will be, and she was doing it literally because it was a good cause. It was actually really cool because a lot of the people there were "horse people" and didn't know who she was –
Horse nerds.
A weird mix of people. She really brought the house down, got a standing ovation. She blew everyone away.
But you know, it's easy to say, "Michael J Fox and Sarah MacLachlan are great," but I kinda get off on anybody that has talent and is using it. I've always respected that. More recently I have realized that's what's turning my crank. Anyone from Vancouver that's done something here or done something globally, I really dig that.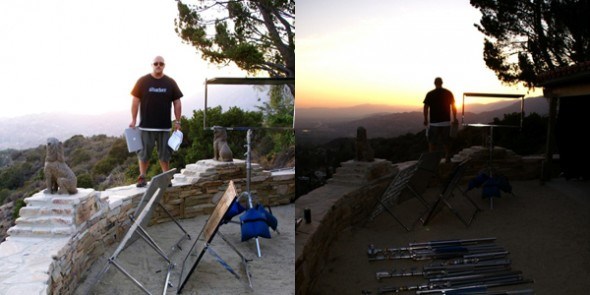 Will pulling overtime on the set of the upcoming feature For Christ's Sake.
I'm always really pleased when I see successful Canadian actors coming back and paying it forward by being in Canadian productions. It's important, giving something back into the Canadian film industry. Having somebody like you in Year of the Carnivore helps sell it. It's important to keep it going and feed the talent.
That's really well said, that's exactly right. I don't get asked to do this sort of thing - it's not like I'd turn this sh*t down. You know what I mean? I never get asked.
Is this a call for people in Vancouver to send scripts your way?
Oooh, not necessarily. (Laughs) But it is the truth. People say, "Oh, how'd you get hooked up with Year of the Carnivore?" Well, they hit me up. They f*cking called my agent, my manager, and I read the script and it was really good. It was really cool … what a weird thing. I was just tripped out by the script. Dirk, my character, is a facilitative character and it was easy; four or five days, Thanksgiving break, fine. I really like Sook-Yin [Sook-Yin Lee, the director] and I was like, "She's gonna make a feature? Cool!"
But also one of the things I was really conscious of is, "Hey man, you should do this because... no one ever asks you to do this!" Obviously, I would be nowhere if I happened to be born in Thunder Bay or something. I was born a 30 minute drive from here. I could come on the bus when I was 15 years old and hustle business and become and actor. And I actually did it – there was enough work for me. I was doing American film and TV, I was doing Madison … then by the time I was 19 or 20 I had amassed a pretty nice little resumé. I did Happy Gilmore out here in 1995, then the same director the next year did Beverly Hills Ninja and they brought me down to L.A. which was my fist time working there …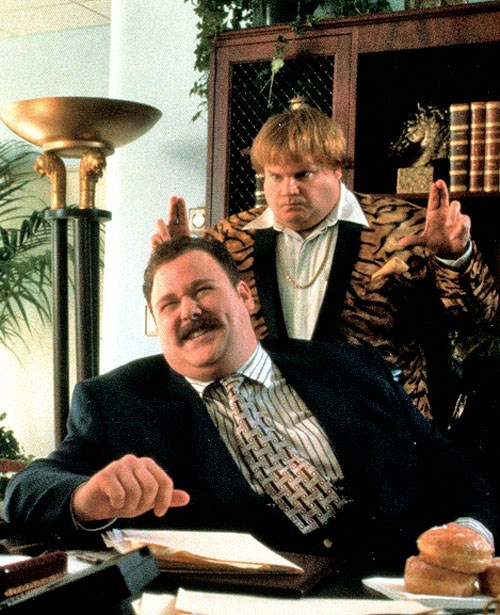 Will and Chris Farley in Beverly Hills Ninja.
You're like the original Seth Rogen. Seth Rogen, 1.0.
(Laughs) Now that's funny!
I couldn't have just shown up there without a resumé. Anyways, the producers didn't need me to make Year of the Carnivore. But if I can help shine a little bit of light on it, or someone who's more my audience who wouldn't want to see some little independent movie about a girl goes to see it but because I'm in it, Kevin McDonald is in it … well, cool.
If I gave you $100 to spend right now, how would you spend it?
100 bucks? On myself?
However you'd like. It's 100 bucks and it's yours.
I would go to Salmon Village and I'd buy a bunch of smoked lox, the little packages with the ice, and I would send it to a bunch of friends that have never had Canadian smoked sockeye salmon. For $100 I'd probably be able to send ½ lb to one person, so that $100 would not go very far. But that's what I would do.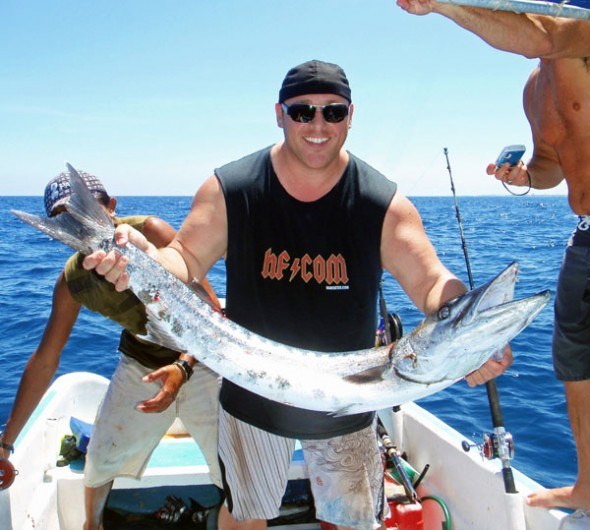 It takes a magic man to catch a barracuda. And no, they are not available at Salmon Village.
Visit Will Sasso's official site or follow his eyes on Twitter.