At a time when all of Vancouver seems to be celebrating the 125th year of our city's incorporation, talking about what this city and it's history means to us, I really don't think the latest project (Welcome to Pine Point) from Vancouver's Paul Shoebridge and Michael Simons could have dropped at a better time. Not knowing what to expect when I first clicked into this new interactive documentary created by The Goggles (Paul and Michael) and the National Film Board of Canada, I was whisked quite far away from the regular variety of time spent at my computer, quickly engaged by a powerful story about community and what happens when the very physical structure containing it - an actual town - simply ceases to exist. I really didn't expect that it would affect me so much, in fact I didn't expect to be affected by it at all, but the 45 minutes I spent clicking around this Choose-Your-Own-Adventure-meets-the-best-doc-you've-ever-seen-meets-the-future-of-the-internet not only had me feeling emotion but left me with something really incredible. You know how you'll spend time clicking around from web site to web site, ducking in to your Facebook or your Twitter, checking your email, the news, other stuff you're interested in, but not really feeling like you're getting much out of it? The end result of going through Welcome to Pine Point is pretty much the exact opposite of that.
This project is incredible. I urge each and every one of you to put aside some time to experience it. Oh, and did I mention it's free?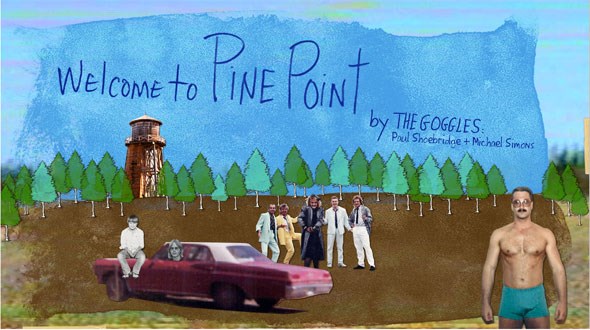 The official word from the NFB:
Imagine your hometown never changed. That no one ever grew old or moved on. Part book, part film, part family photo album, Welcome to Pine Point unearths a place frozen in time and discovers what happens when an entire community is erased from the map.
Welcome to Pine Point is the first online interactive documentary from internationally renowned Vancouver-based creative team The Goggles (Paul Shoebridge and Michael Simons), produced in collaboration with the NFB's director of digital content and strategy, Rob McLaughlin. Inspired by Simons' childhood visit to a mining town in the Northwest Territories, Welcome to Pine Point is accessible through NFB Interactive, the NFB's online portal, which showcases an evolving collection of innovative, interactive stories exploring the world—and our place in it—from uniquely Canadian points of view.
About The Goggles
Paul Shoebridge and Michael Simons are award-winning authors, artists and creative directors. They have spent most of their professional lives telling stories in compelling new ways, creating unique books, magazines and television spots. They are most known for their award-winning work with Adbusters Magazine.
They were creative collaborators on the book Design Anarchy, with Kalle Lasn, and in 2008 they co-authored the groundbreaking book I Live Here with Mia Kirshner and J.B. MacKinnon.
The Goggles have also produced major international advocacy campaigns for TV Turnoff Week, Buy Nothing Day and the Blackspot Sneaker, which was listed as one of the New York Times' "Best Ideas" of 2004. Their work has been featured in more than 60 publications, on CNN and MTV, as well as in documentaries for the BBC and PBS.
Creators: Michael Simons and Paul Shoebridge
Design: Mike Simons and Paul Shoebridge
Original music by The Besnard Lakes
Flash development: mod7, Vince McCurley
Producer: Rob McLaughlin
About the NFB
Canada's public film producer and distributor, the National Film Board of Canada creates social-issue documentaries, auteur animation, alternative drama and digital content that provide the world with a unique Canadian perspective. The NFB is expanding the vocabulary of 21st-century cinema and breaking new ground in form and content through community filmmaking projects, cross-platform media, programs for emerging filmmakers, stereoscopic animation – and more. It works in collaboration with creative filmmakers, digital media creators and co-producers in every region of Canada, with Aboriginal and culturally diverse communities, as well as partners around the world. Since the NFB's founding in 1939, it has created over 13,000 productions and won over 5,000 awards, including 12 Oscars and more than 90 Genies. The NFB's new website features almost 2,000 productions online, and its iPhone and iPad apps are among the most popular and talked-about downloads. Visit today and start watching.