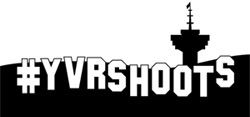 In the third year of this series, expect me to photograph and write about more of the film and TV productions which showcase our city and sometimes put a celebrity actor or two in the frame. 2013 brings Man of Steel and Elysium to theatres and filming of Godzilla, Once Upon a Time, Supernatural, Arrow, The Killing and Continuum. You can find more on my daily blog yvrshoots.com.
The fifteenth anniversary of the Leo Awards, celebrating the best of B.C.-made television and film, couldn't have been more homegrown from start to finish. Vancouver-cop-from-the-future television series Continuum and darkly comedic film Camera Shy, about a corrupt Vancouver city politician,won the big awards. Both sprung from the creative minds of University of British Columbia film grads --Continuum creator and showruuner Simon Barry and Camera Shy director and writer Mark Sawers.
Inside the Westin Bayshore Hotel gala, hometown comedy couple Brent Butt and Nancy Robertson entertained the BC Film crowd with non-stop jokes, as well as pitching projects and making mild jabs about the BC election and resulting loss of promised tax incentives  Jackson Davies took the stage at around 11 p.m. for the 40th anniversary tribute to The Beachcombers, which filmed 19 seasons of 357 episodes in Gibsons on the Sunshine Coast. Remember Molly's Reach? It's still there. Then at 11:30 p.m., three hours-plus into the gala, Robertson changed from her pink frock and announced she was heading out because the show was just too effin' long. Funny.
Ahead of the gala, Victoria's Meghan Ory owned the almost block-long red carpet dotted with cameras and media outside the hotel. Ory is BC Film's breakout star this past year, going from a recurring role on American fairy tale series Once Upon a Time filmed here, to main cast on upcoming American series Intelligence, shooting in Los Angeles. She attended the Leos to support her husband John Reardon, nominated for his supporting performance on filmed-in-Vancouver-and-Yellowknife CBC adventure series Arctic Air, which came into the Leos with a whopping 14 nominations.
Only to be trumped in TV drama by Continuum, which arrived at the Leos with 16 nominations and the privilege of sauntering the red carpet in prime time (the last half-hour of the hour-and-a-half spectacle). Unfortunately the red carpet event had to be cut short so that the gala could wrap before midnight. It did, with Continuum winning  its Leo for Best Dramatic Series at around 11:40 p.m., the last award of the evening.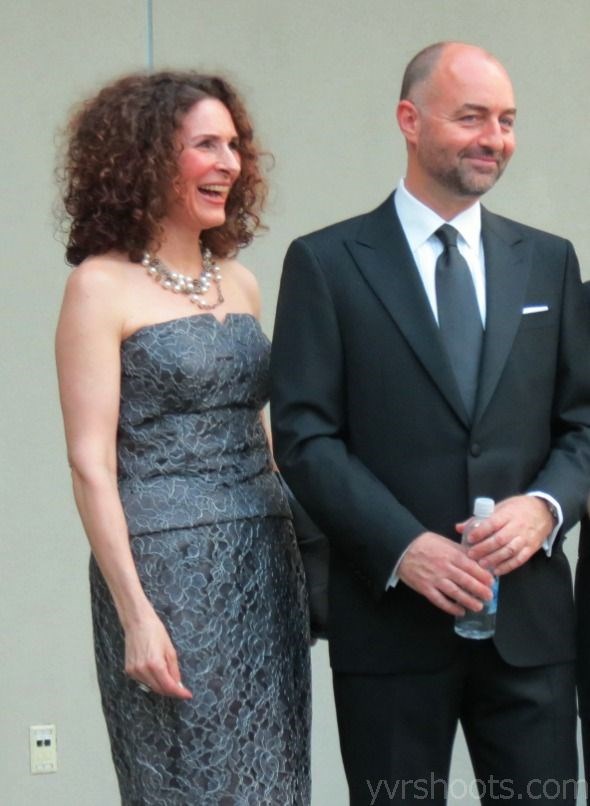 That capped an amazing week for the international sci-fi hit which wrapped its second season of filming ahead of the Leo Awards. On Friday night, showrunner Simon Barry (above) took home a Leo for his first season finale script End Times about Vancouver-cop-from-the-future Kiera Cameron (Rachel Nichols)'s failure to stop "terrorist" group Liber8 from blowing up a downtown Vancouver tower, a definitive moment in her corporations-rule-the-world of 2077.  Richard Harmon won a supporting performance Leo for his role in that finale as the young Liber8 apprentice Julian who provides a diversion for the attack and Ian Tracy, a guest performance Leo as the wacky time traveller who tries to help stop it. Continuum's other three awards: Best Direction for William Waring,  Best Picture Editing for Alison Grace (another UBC film grad) and Best Costume Design for Maya Mani for Kiera's high-tech suit and other Vancouver 2077 designs.
Arctic Air didn't get the Leos but it dominated the gala in sheer numbers with eight performance nominees. A group that got even larger inside when star Adam Beach flew in to join nominated co-stars Pascale Hutton from Creston and her TV father, the not-cranky-in-real-life Kevin McNulty, originally from Penticton.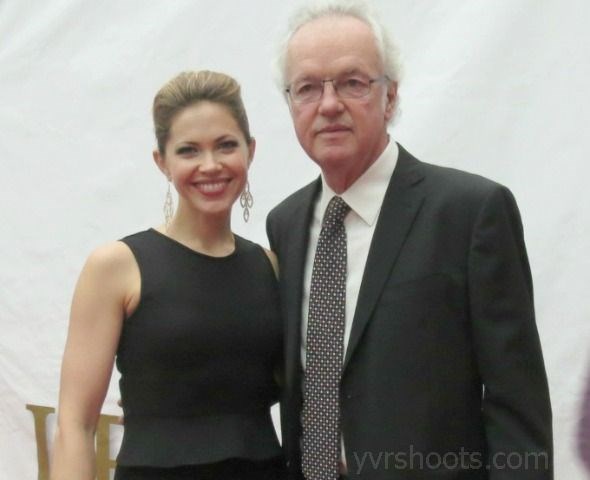 A good time was had by this fly-by-the-seat-of-your-pants airline, but only one award won -- a guest performance Leo for Michelle Thrush.
Dinosaurs-run-amok-in-Vancouver thriller Primeval: New World  captured no Leos on the weekend but was ably represented by Vancouver Film School grads Niall Matter (a lead performance nominee) and Sara Canning (his co-star) and by supporting performance nominee Miranda Frigon, the "Boss Lady" of the dino-hunting team. Co-showrunner Martin Wood slipped past us on the red carpet.
That's it for set-in-our-city series, but Vancouver whydunit hit Motive will be eligible for Leo nominations next year and likely to be a big player at the awards.
Toronto dramas scooped up the other performance Leos, with Michael Shanks (a UBC acting alumnus) winning as lead on Saving Hope and Meg Tilly as lead (a repeat winner)  and Ali Liebert as supporting actress on Bomb Girls.
Of the American shows which film in Vancouver, The CW's action hit Arrow proved to be the one packed with B.C. talent, winning four Leos. Two of the men behind the best stunts on TV were honoured on Saturday night. Not only did J.J.Makaro pick up a Leo for stunt coordination of the pilot, Arrow fight designer James "Bam Bam" Bamford won his own Leo for stunt co-ordination of Halo 4: Forward Unto Dawn.  Arrow's three other Leos:  Best Cinematography Best Production Design; and Best Visual Effects.
In the realm of feature film, dark satire Camera Shy pipped the most-nominated feature Becoming Redwood, taking home six of the awards, including Best Picture. Mark Sawers also won for his directing and for co-writing the screenplay with Doug Barber about a corrupt Vancouver politician who comes to believe he's being filmedin a movie. Gerard Plunkett picked up a best supporting performance Leo as the developer behind a new casino. Sound familiar? Add cinematography and musical score Leos and that makes six.
Becoming Redwood which came in with 14 nominations for its popular 1970s-era coming-of-age story won a Leo for Jennifer Copping's lead performance as young  golf-obssessed Redwood (Ryan Grantham)'s mother. Vancouver-born-and-bred writer and director Jesse James Miller, Copping  (Miller's wife) and Grantham (shorn of his long hair) walked the red carpet together.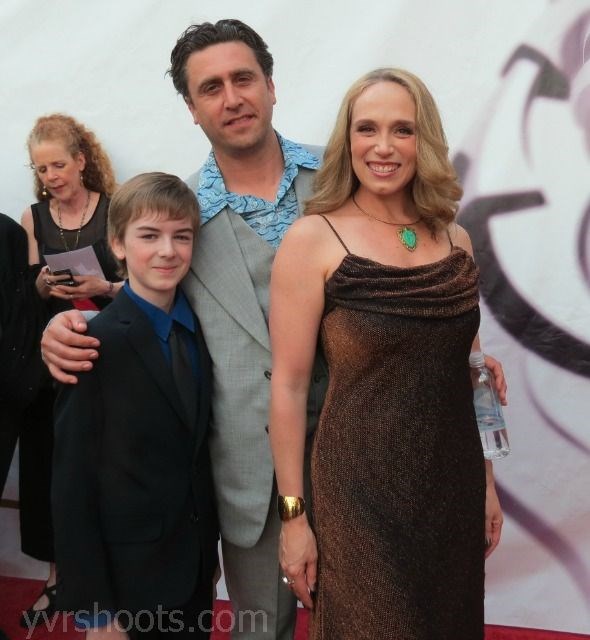 In other female performances, Agam Darshi (below) won the Leo for supporting actress as a pampered wife in the Bruce Sweeney film Crimes of Mike Recket. Look for Darshi next on CTV this fall as tech expert Khali Bhatt in the new Toronto drama Played.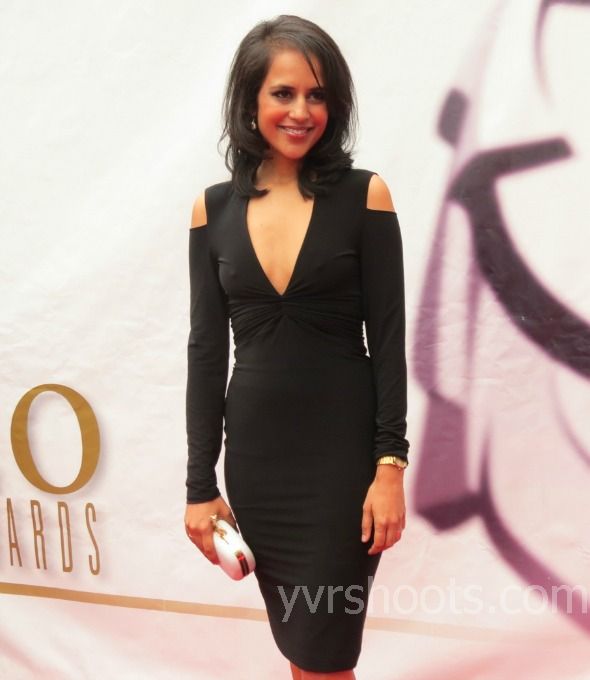 But the Leos are not all about winning awards. BC Film's community not only know one another, they help each other out with projects. Here's Random Acts of Romance director Katrin Bowen and her star Amanda Tapping walking the red carpet. The tall pair became fast friends years ago when Bowen worked as Tapping's photo double/standin on the first Stargate TV series, SG-1.
Not a bad year for BC film and television, considering.