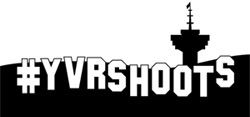 This series had its genesis when I began photographing Vancouver area location shoots in the summer of 2010 to get over a long post-Olympics funk. Film and TV productions like Mission Impossible: Ghost Protocol, Supernatural, Fringe, Once Upon a Time and our own Continuum and Primeval:New World showcase our city in similar fashion and sometimes put a celebrity actor or two in the frame. find more on my daily blog yvrshoots.com.
Live-tweets turned out to be the best thing about last weekend's Leo Awards celebrating the best of B.C.-made film and television. Tweets from @LeoAwards gave an award-by-award account plus details of all the hijinks in between at both the Celebration and Gala Awards: hijinks that ranged from Property Brothers Drew and Jonathan Scott mock-fighting over their award to Gala co-hosts Amanda Tapping and Robin Dunne calling each other evil twin and English MILF to Nancy Robertson and Ryan Robbins pitching a new comedy series to Emilie Ullerup re-enacting Angelina Jolie's notorious one-leg Oscars pose to acting legend Gabrille Rose swearing on stage while presenting the final award to Sisters & Brothers for Best Feature Film.
It was a great way to let the public share in this celebration of artistic talent after a tough week, which had started with the official cancellation of homegrown sci-fi series Sanctuary, the most-recognized B.C. production by far with 18 Leo nominations going in. Sanctuary ended up winning four Leos for its fourth and final season, but only one on the night of the gala for a guest performance by Arctic Air's Pascale Hutton, who sang beautifully and turned her head right around in the Glee-meets-The-Exorcist episode Fuge.
I'd hoped for a repeat of last year's wild times on the red carpet outside the Hotel Vancouver on West Georgia Street, but organizers moved the red carpet inside the hotel this year to the conference floor and restricted access. Most of the nominees kept the party going after the red carpet to take a turn at the new Media Wall by the bar where I had a spot, but it was so dimly-lit I had to jack some light from the pro-photographers' flashes. Here's The Express's Johanna Ward interviewing nominee and eventual winner Johannah Newmarch on the red carpet about her supporting performance in mockumentary Sunflower Hour. Ward later dropped by the Media Wall to wrangle nominees Ali Liebert from Bomb Girls and Emilie Ullerup from Arctic Air as a backdrop to her standup.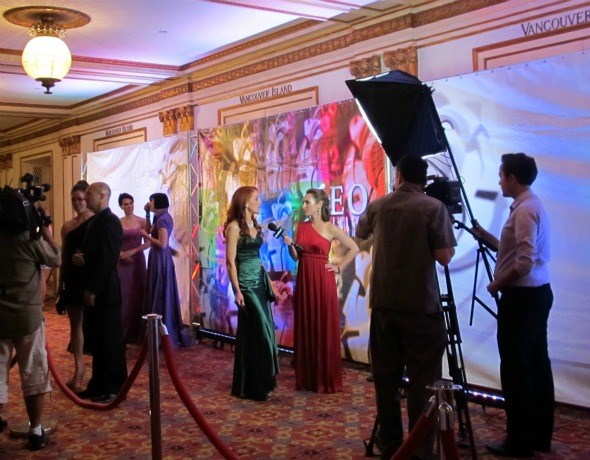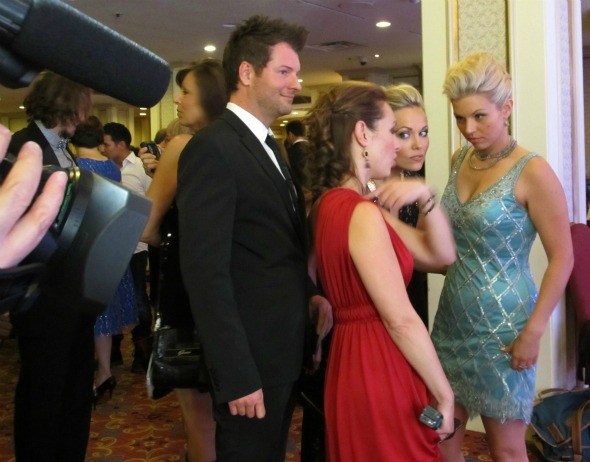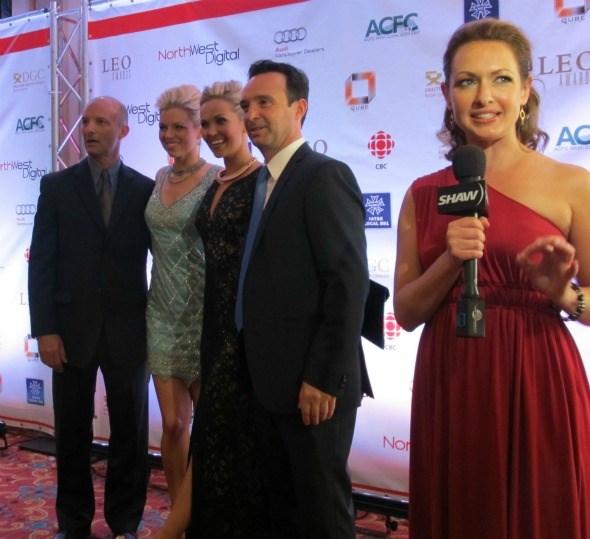 You can see the start of Emilie Ullerup's one-leg Angelina homage and note how the popular Cassini brothers photo-bombed the arrangement. That's Frank on the left and John on the right. Frank Cassini later won a roar from the crowd and a Leo for his supporting performance on The Aboriginal People's Television Network's Blackstone, a big winner all round at the Leos, including Best Dramatic Series.
Busy Gala co-hosts Amanda Tapping and Robin Dunne from Sanctuary also graced the Media Wall (on learning that the Vancouver Sun photographer had left) giving us the opportunity to see this madcap duo in action, although Dunne kept his pants on this year, much to my disappointment. Here's a photo of them behaving for the cameras.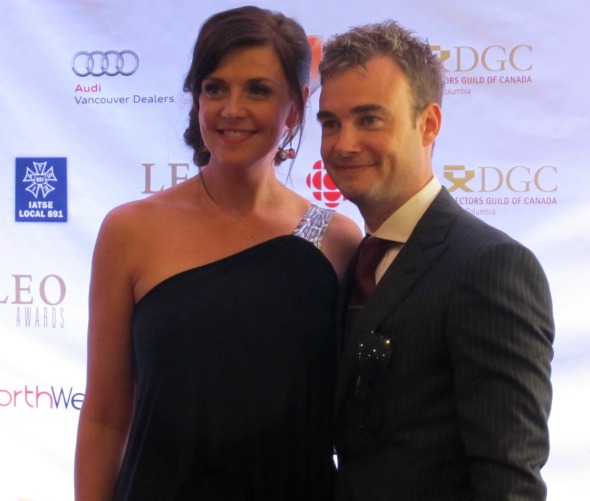 And misbehaving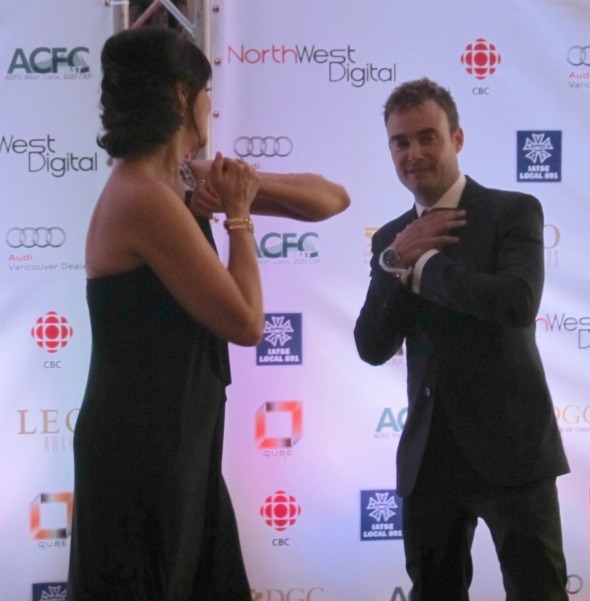 Fans around the world later tweeted @LeoAwards begging for a photo on reports that Amanda Tapping changed partway through the ceremony to a red floor-length gown. And got one. [Update: the witty woman behind @LeoAwards is @AlisaLuke. Follow her.]
Sanctuary cast and creators seemed to be everywhere at the gala, with last year's supporting performance winner Ryan Robbins (lycan Henry on the abnormal-friendly series) up for so many awards that I dubbed him the Vancouver equivalent of Meryl Streep on Twitter. Sporting his Hell-on-Wheels beard and fresh off a recurring role on Falling Skies, Robbins was nominated for his lead performance in Everything & Everyone as a failed actor (Ha!); his performance in short drama Suffer; and his lead performance as a bank robber on Marilyn -- the one he won the Leo for. Here's Robbins talking to fellow short drama nominee Ben Cotton as they wait to walk the red carpet and one of Robbins at the Media Wall with girlfriend Karyn Baltzer. Plus a link to a photo of him taking a big bite out of his Leo.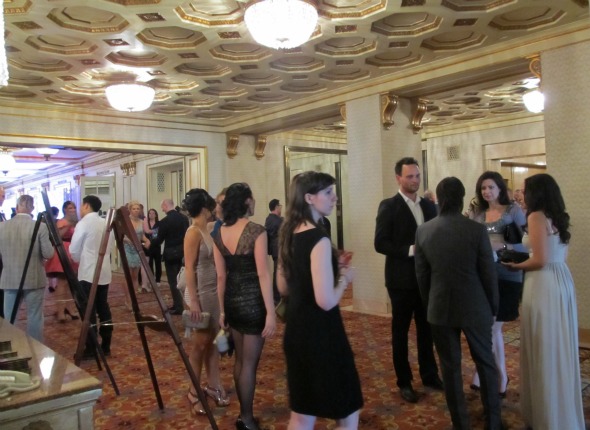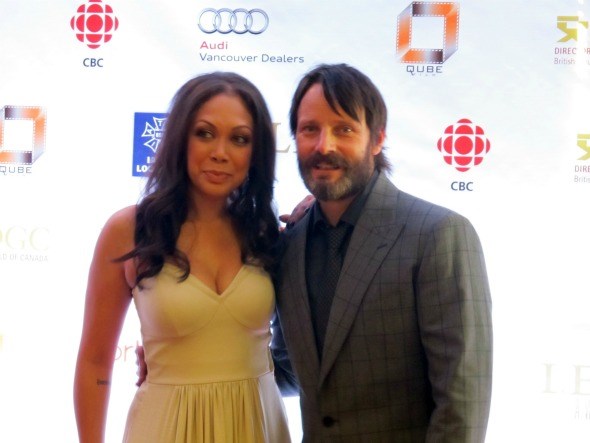 The very tall Christopher Heyerdahl, aka Sanctuary's sasquatch Biggie who dies so heroically in the finale, also garnered and won for his  performance on another show, R.L. Stine's The Haunting Hour. Here's a photo of him with fellow nominee Sara Canning.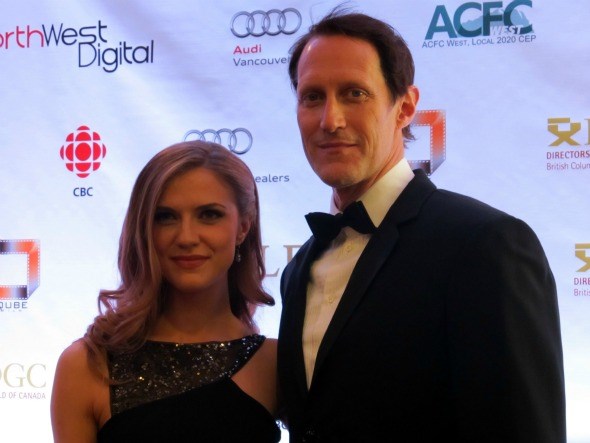 Sara Canning, who co-stars in the upcoming Vancouver-set Primeval: New World, may have been the most photographed woman at the Leos, with three of seventeen photographs on the Vancouver Sun website featuring her.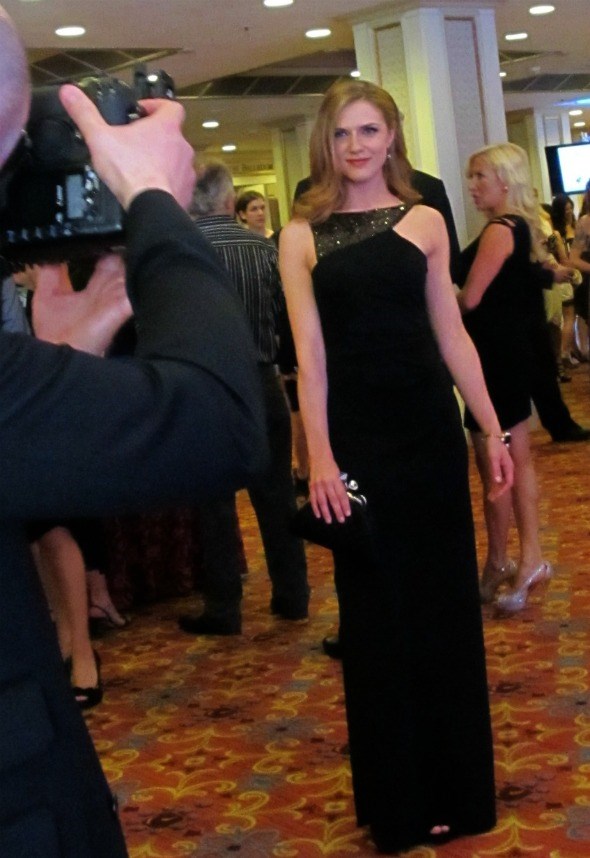 CBC's Arctic Air had a big showing at the gala too. despite the absence of its main trio and showrunner. Bradley Stryker, nominated for his guest performance hijacking a plane, presented the first award of the evening. And Emilie Ullerup of one-leg-Angie-pose fame and fellow pilot Stephen Lobo had supporting performance nominations for their back-in-Yellowknife roommate hookup on the wonderfully-titled episode Vancouver is Such a Screwed-Up City. (See the photo below of Lobo chatting with his Continuum castmate Jennifer Spence and her husband/perennial Leo nominee and winner Benjamin Ratner, who won this year for his guest performance on Toronto series Flashpoint.)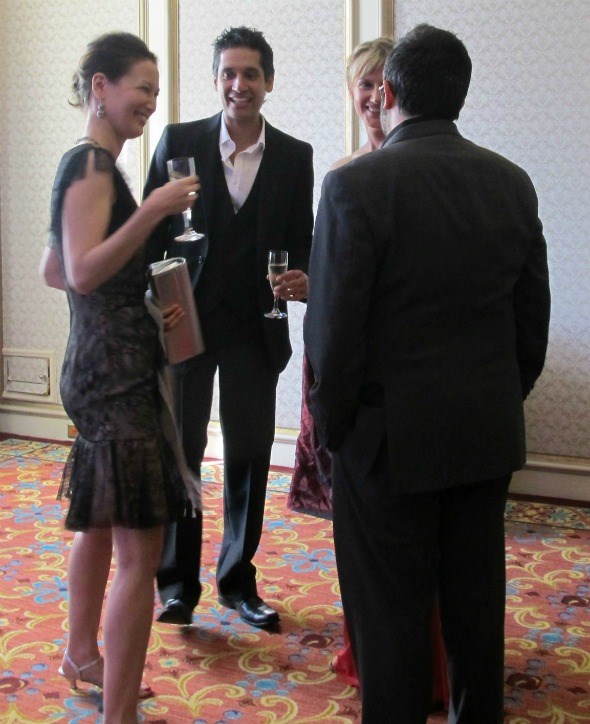 Timothy Webber (in kilt below) and Carmen Moore garnered supporting perfromance nominations for a different Artic Air episode, CTVAC.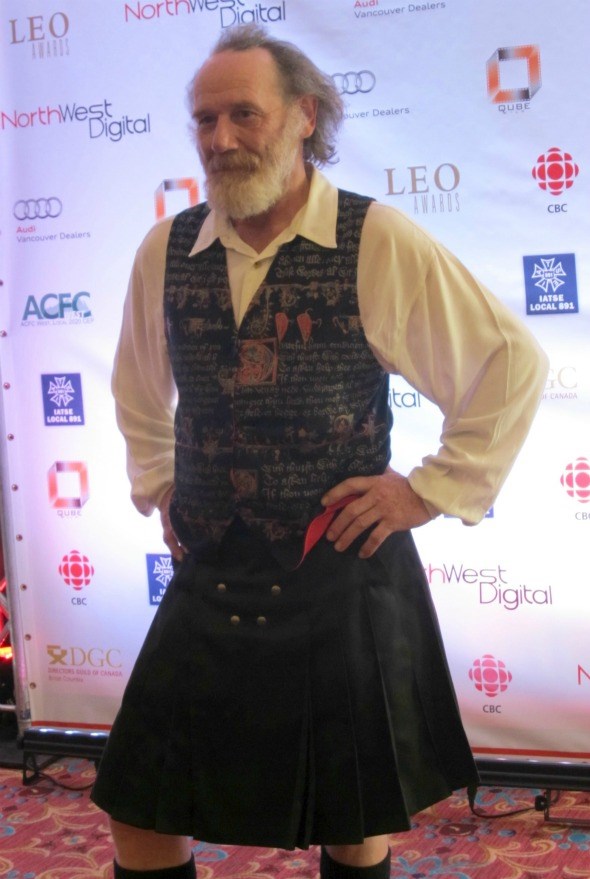 Here's Carmen Moore (centre) posing with castmates from her other show Blackstone and then in a two-shot with Justin Rain.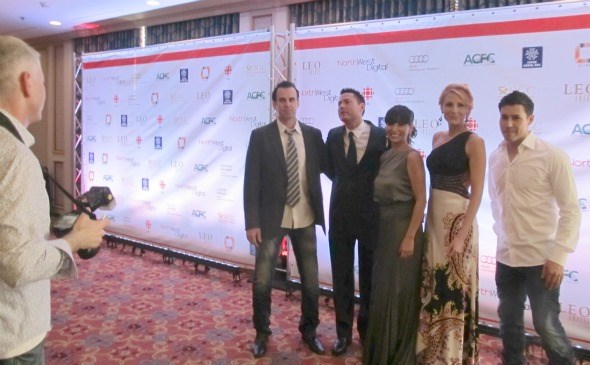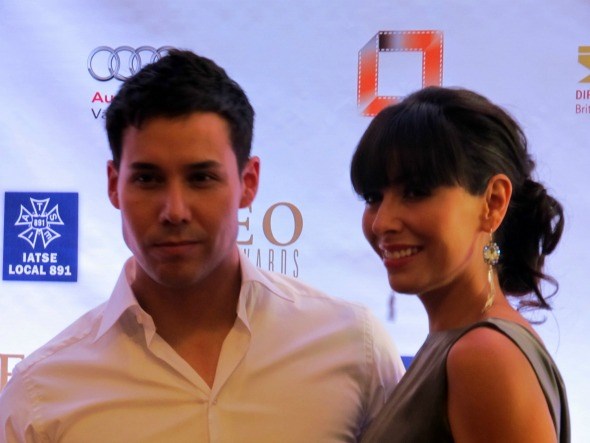 Moore didn't win for either her lead performance on Blackstone or her supporting performance on Arctic Air.  Bomb Girls' Meg Tilly pipped her for lead performance and Blackstone castmate Tantoo Cardinal took home the trophy for supporting performance. With Blackstone's Steven Cree Molison winning for his lead performance that gave the Calgary-filmed series four big awards.
Comedy is a bit less incestuous than drama if only because there are far fewer shows filmed here, with a huge vacuum left by CTV's cancellation of Hiccups. Maybe that new comedy series pitched by Hiccups star Nancy Robertson and Ryan Robbins could fill the gap? Brent Butt and wife Robertson both attended the gala where Hiccups won Best Comedic Series for its second and final season. Graphers chatted with the hometown comedy duo on their way in but they avoided the media hoopla, skipping the red carpet and the Media Wall entirely.
At least we still have teen sitcom Mr. Young to bring the funny. The entire cast was in attendance and thrilled to be at the Leos, especially Gig Morton (below) and Milo Shandel (one of the many I failed to photograph properly) both nominated for their performances. Even though R. L. Stine's The Haunting Hour took home Best Youth/Children's Series and Christopher Heyerdahl the only performance award, there's always next year for Mr. Young.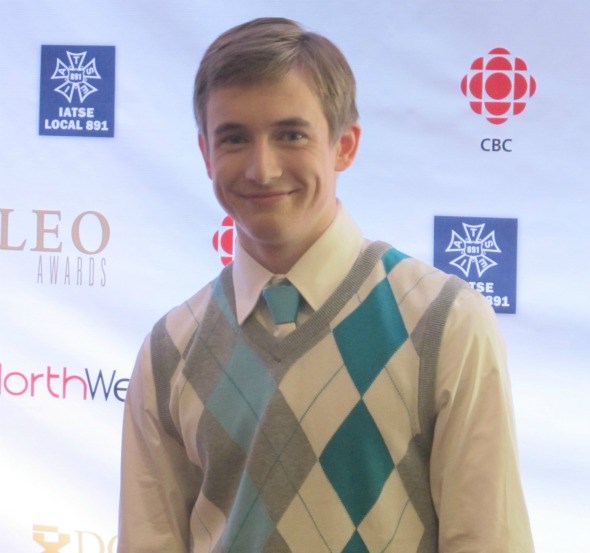 In the realm of film, Sisters & Brothers won six of the awards, but who had more fun than the cast of puppets and porn mockumentary Sunflower Hour? Lead performance nominee Patrick Gilmore (centre) entertained Twitter with his hilarious and debauched twist on a celeb's getting-ready diary, which incuded a photo taken by Ben Cotton (left) of Gilmore drinking champagne and signing grapher Justin's chest on arrival at the Leos. Supporting performance nominee Peter Dew the pornmeister rounds out the trio on the right.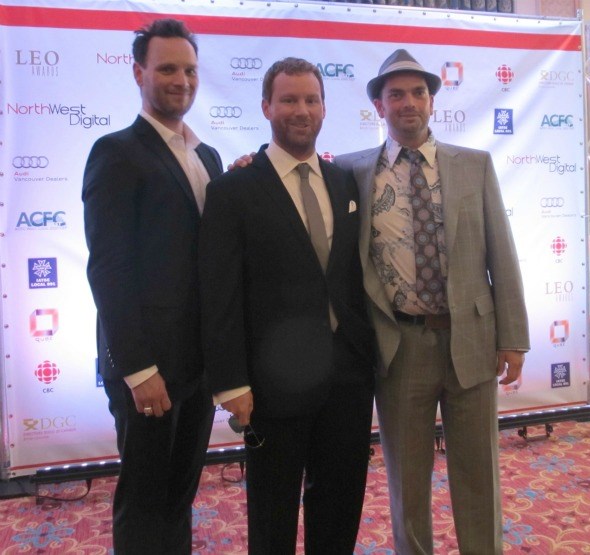 And here's fellow puppeteer Kacey Rohl below.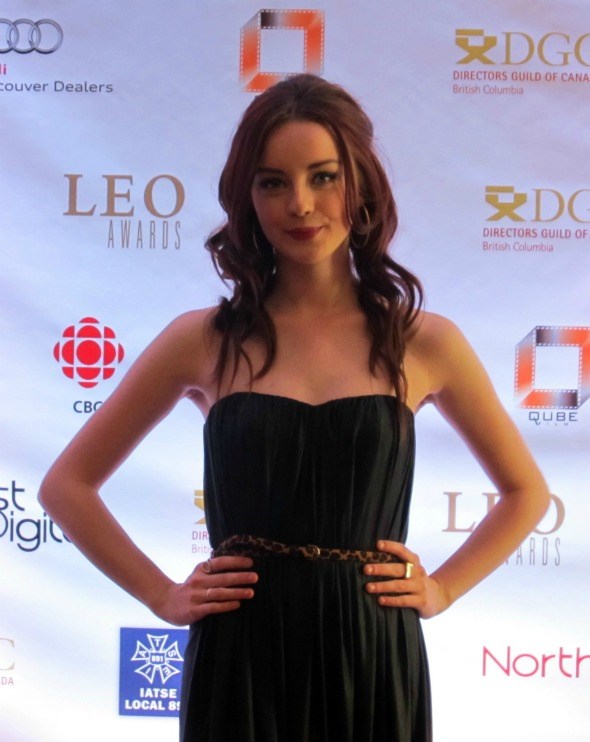 Rohl also played a bratty teen to nominated film Mom Gabrielle Rose (below) in Sisters & Brothers. But only Rose has appeared  in each of Carl Bessai's trilogy of films about dysfunctional Vancouver families, along with nominated Benjamin Ratner, so it's fitting that they presented the last award of the evening to the film they both collaborated on. Amanda Crew ended up winning for best lead performance and Tom Scholte best supporting performance of the eight leading and supporting performance nominations racked up by the cast. Essentially they were competing against themselves. No wonder Bessai dedicated his Best Directing award to his actors.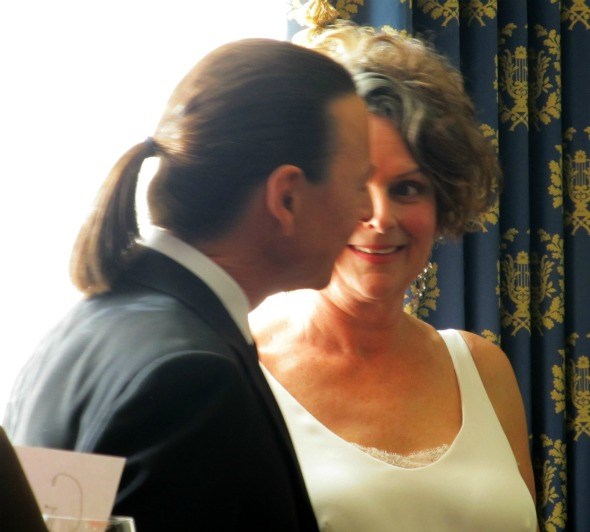 It turned out to be a great year for Vancouver playing itself despite cancellations and other setbacks.
**************
Follow Susan on Twitter at Twitter.com/SusanGittins, check out her daily blog at yvrshoots.com, watch her photo stream on her Flickr for daily updates and watch V.I.A. for more from her #YVRShoots series!