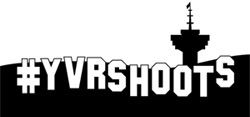 This series had its genesis when I began photographing Vancouver area location shoots in the summer of 2010 to get over a post-Olympics funk. Film and TV productions like Mission Impossible: Ghost Protocol, Fringe, Supernatural and The Killing showcase our city in similar fashion and sometimes put a celebrity actor or two in the frame.
Director Zach Snyder is so secretive about his new Superman movie that crew must check their cell phones before entry into Mammoth Studios in Burnaby and paparazzi had to climb trees in Ucluelet last month to catch glimpses of the filming.
So it came as a shock last week to see the Man of Steel himself and shirtless to boot on a big green screen set on the North Shore. Henry Cavill, the first non-American to play the iconic role of Clark Kent/Superman, is best known to me for playing Charles Brandon on The Tudors. While Brandon is a handsome rake he didn't look buffed-up like this so kudos to Cavill and his trainer Gym Jones. These aren't CGIed muscles as some of the abs in Snyder's 300 are rumoured to have been.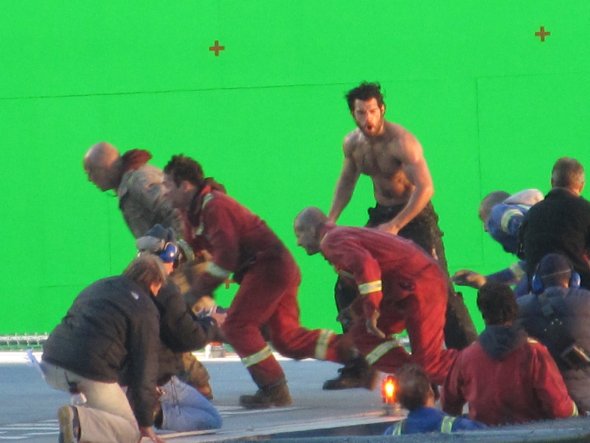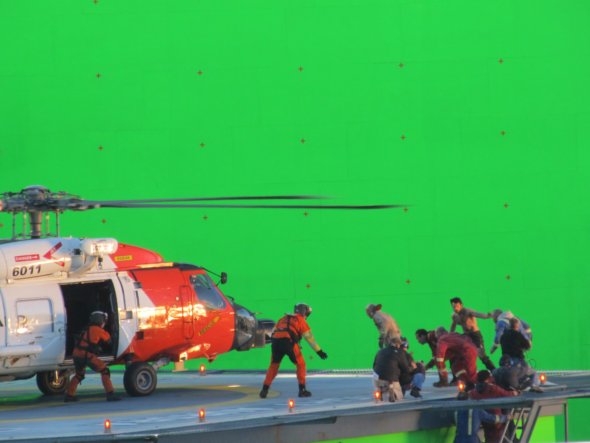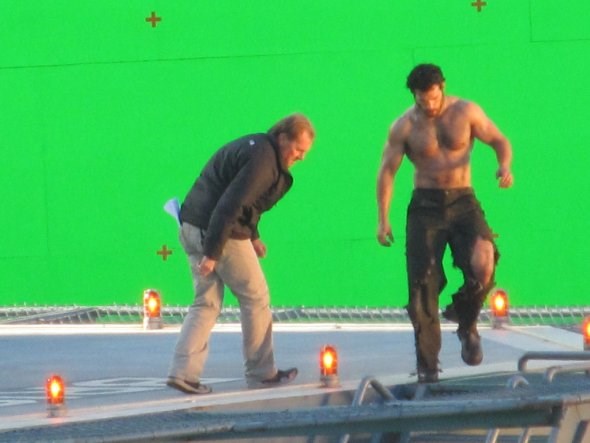 Man of Steel filmed in the small town of Plano and the big metropolis of Chicago, Illinois, this summer before heading to Vancouver for the autumn to film mainly in studio. Local paparazzi haunted Mammoth Studios in Burnaby in the early weeks but only Russell Crowe was spotted on a smoke break dressed in Kryptonian costume as Superman's father Jor-El. Crowe's presence in Vancouver is well-documented by his almost daily workout tweets, like this one on September 24th -- "24 km bike out to Horseshoe Bay. This place is beautiful" -- and by his surprise appearance on stage with his Aussie pal Keith Urban at the country star's Rogers Arena concert.
So where was Henry Cavill? August casting calls in Ucluelet and Nanaimo foreshadowed that the Vancouver Island west coast town would play an Alaskan fishing village and that a Nanaimo dive hotel would play an Alaskan loggers bar. In early October, Cavill and crew spent time battling the ocean swells off the coast of Ucluelet in boats. Two enterprising Vancouver paps snapped him on land as Clark Kent (no black glasses)  in a grey sweatshirt working on a fishing net. From Ucluelet, Man of Steel moved to Nanaimo on the east coast of Vancouver Island to film at the old, turquoise-roofed Cassidy Hotel, with four prop logging trucks parked outside. I know that hotel, having spent a summer during university working as a surveyor on the Island highway outside. And in another strange coincidence, I arrived on a ferry to Departure Bay for the Thanksgiving weekend just as Henry Cavill and Man of Steel crew wrapped filming there.
Man of Steel is said to have filmed at Whistler the following week but I haven't seen any photos or any confirmation of that yet. Meantime, someone tweeted that she'd spotted AF signs (Autumn Frost is the production codename for Man of Steel) on lower Lonsdale and that was the first indication of the green screen helicopter pad being built east of Vancouver Drydocks on Vancouver Ports private property. On October 19th, ace photographer John Biehler put up a photo of the under-construction set on his Flickr page. I checked it out two days later in the rain and put up the photo below on my Flickr page, later damaging my Blackberry by trying to force it in the downpour.
So I was without a working Blackberry on Tuesday morning when a friend told me that someone had tweeted about a U.S. Coast Guard helicopter flying at the Man of Steel green screen set. Filming had begun. I headed for the seabus not expecting to find more than the usual green screen stunts with no cast. When I got there late morning I spotted two paps below me on the Lower Level Road arguing with RCMP about their right to be there. Man of Steel had hoped they could keep photographers back up where I was by citing safety concerns, but the paps won because the roadway is public property.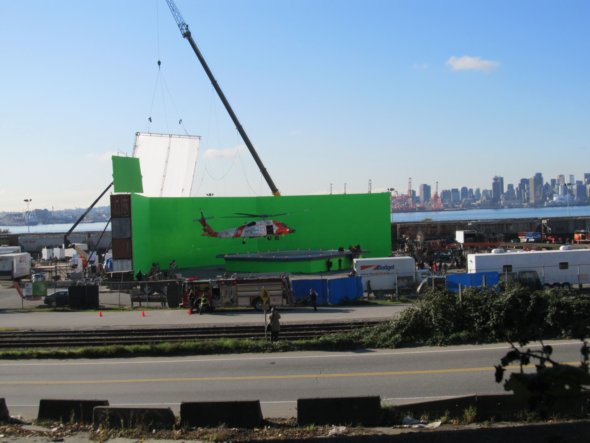 I soon understood why the paps had fought for that vantage when a shirtless man appeared on set. I  photographed the Henry Cavill rescue scene as best I could for about twenty minutes, maxing out at 48 x digital zoom on my Canon compact, until Cavill retreated to his trailer next to the railroad tracks (on the right of the photo above). The Man of Steel set photographer got the closeups of Cavill's amazing physique.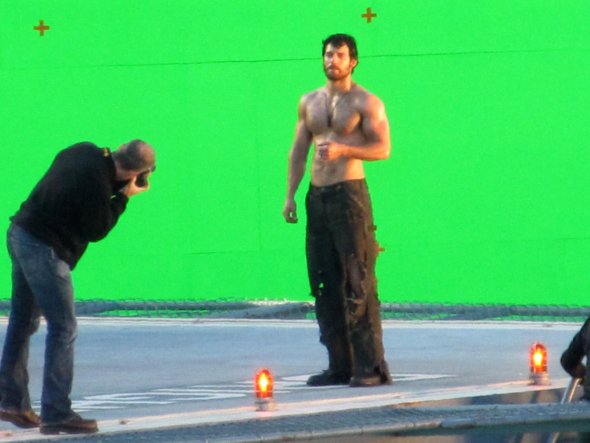 I haven't been able to confirm but the scene looked like a rescue from a floating Alaskan oil rig. Between takes, Cavill wrapped himself in a big black coat, hanging out below the stage with the extras.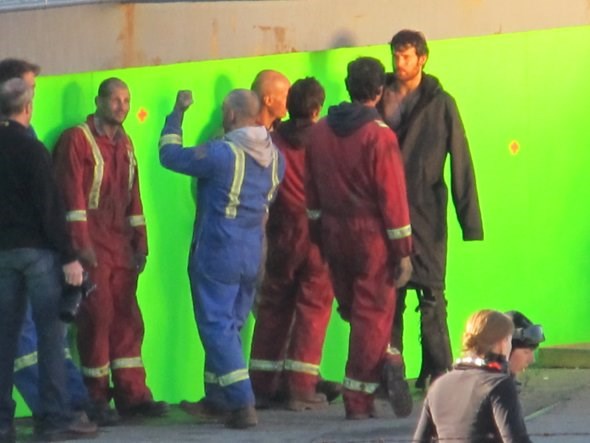 At lunchtime, the Coast Guard helicopter turned itself around and crew started laying out green screen cloth on the tarp for the next scene. I retreated to Lonsdale to find wifi and spotted a filming notice on the way. I checked #yvrshoots and discovered two tweets about the Man of Steel filming but nothing about a shirtless Henry Cavill so I uploaded two photos around 1 p.m. and then left the North Shore to see what was going on at the University of British Columbia with the Robert Redford film The Company You Keep.
I don't often scoop the paps with my compact camera on things that matter to them but I knew it wouldn't be long before they sold their photos and the feeding frenzy began (I have a policy of not selling my set photos). Paparazzi multiplied at the green screen set that afternoon as filming resumed with more shirtless Henry Cavill. I should have known it would. Director Zach Snyder is a noted perfectionist, said to have spent 18 to 19 hours here one day to film just a page and a half of script. Production is at least week behind already.
Now there are hundreds and hundreds of high-resolution photos of shirtless, scruffy Henry Cavill online. On the second day of filming at the green screen set, Cavill did more shirtless rescue scenes in the pouring rain and gloom. It must have been well lit because I've seen some beautifiul photos (and a video from Ken Redekop) of him pumping up by doing chinups before a scene where he lifts a cross of steel girders to get the men out.
On the third day of filming, Man of Steel moved to their burning building set at the same location. I dropped by to see it, expecting fireball explosions high in the air, but they kept the explosions inside set so I didn't stay. On the upper road I found half-a-dozen paps with their 300m to 500m lenses (and extenders) trained down on the west side of the burning  building where Henry Cavill entered and exited. John Biehler took a better photo of them from below which showed the lenses and tripods.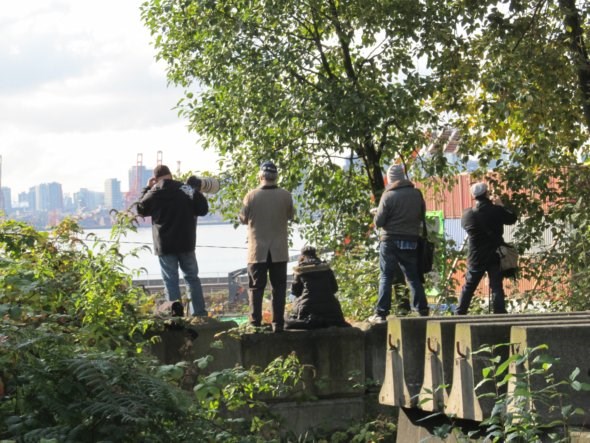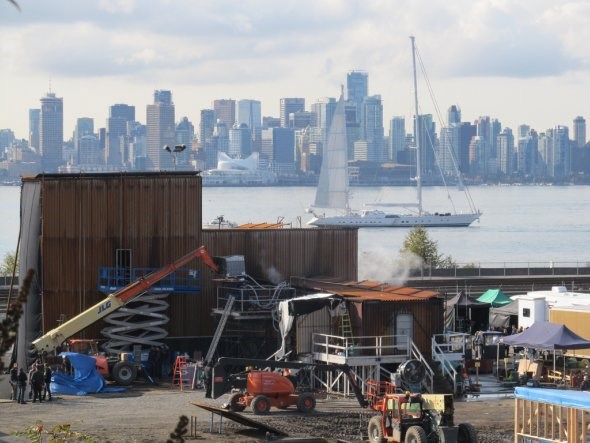 I do know and am on friendly terms with most of the local paps. It's hard not to know them if you go to location shoots regularly like I do, where I usuallly run into one or two at most not half a dozen lined up side by side.
The next day -- a week ago -- Man of Steel abandoned the green screen and burning build sets to film on Mount Seymour in the fog and the rain. Someone spotted them at a cabin, probably @Reel_Cabin, the log cabin regularly used for filming by local productions from Twilight to Fringe. On Halloween night, Man of Steel returned to Mount Seymour to film a stunt sequence with an overturned logging truck.
Man of Steel continues filming here until early 2012 so here's hoping there will be more Alaskan fishing, logging and oil rig scenes to see before it wraps. There can never be enough shirtless Henry Cavill photos in my opinion.
Man of Steel is expected in theatres in 2013.
**************