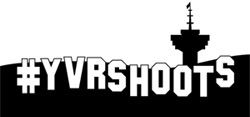 This series had its genesis when I began photographing Vancouver area location shoots in the summer of 2010 to get over a long post-Olympics funk. Film and TV productions like Mission Impossible: Ghost Protocol, Supernatural, Fringe, Once Upon a Time and our own Continuum and Primeval: New World showcase our city in similar fashion and sometimes put a celebrity actor or two in the frame. find more on my daily blog yvrshoots.com.
So Greek gods are running rampant in modern America, waging war and fathering children, like young Percy Jackson who discovers in the first film adaption, The Lightning Thief. that the father he never knew is the Greek god Poseidon. In the second of the Percy Jackson and the Olympians franchise, Percy and pals set out to retrieve the golden fleece in the Sea of Monsters to save their Camp Half-Blood, the summer camp where children of the gods are trained and protected.
It's been fun to watch some of the filming of the sequel these past two months, especially on the Camp Half-Blood sets in Robert Burnaby Park in Burnaby, built on the tennis courts and in the adjoining woods. Teen fans of Logan Lerman, who stars as Percy Jackson, tracked him all over the city on Twitter and flooded Tumblr with photos-with, taken mainly in that park  in May.
Joining Logan Lerman in this series of adventures based on Greek mythology are Brandon T. Jackson as his best pal and protector Grover Underwood, a satyr who hides his goat horns under toques and his goat legs with crutches; Alexandra Daddario as Annabeth Chase, daughter of the Greek god Athena; and Douglas Smith as his newly-discovered half-brother Tyson, a very tall, one-eyed cyclops.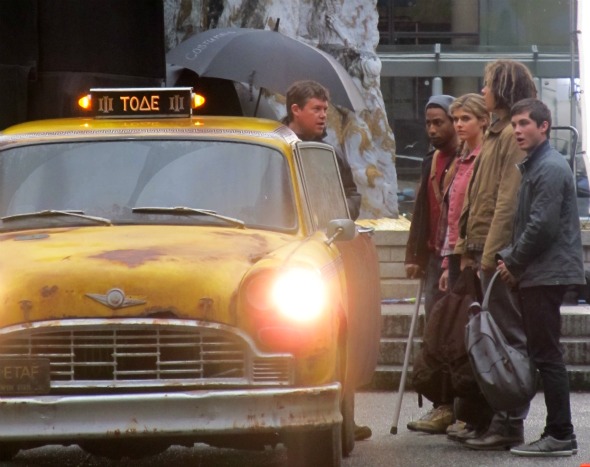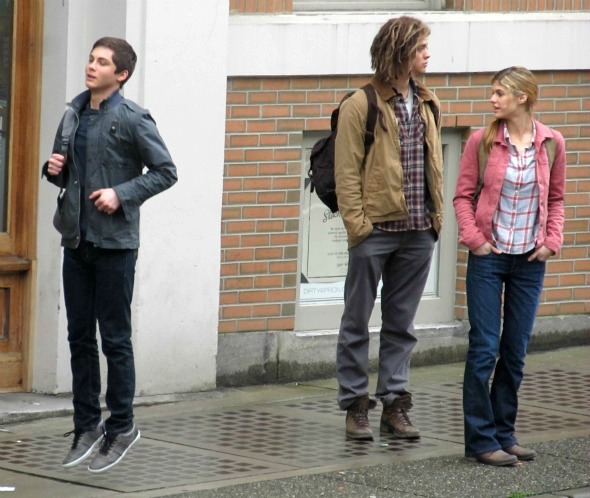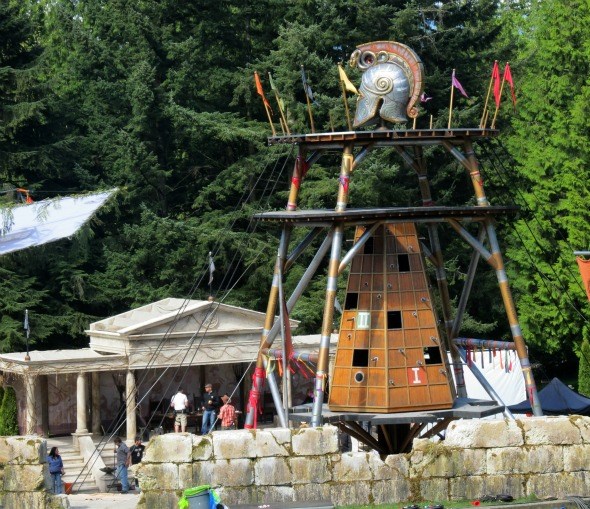 As in the first film, the fun for adults is the casting of the Greek god parents. Geek God Nathan Fillion plays Greek god Hermes, the god of thieves, travellers and messengers, dressed as a UPS courier in shorts. Here he is peeking out of the prop The UPS Store set they built in late April at the corner of Pender and Abbott in downtown Vancouver.  Percy Jackson and pals cross Pender (dressed as Monroe St NW in the District of Columbia), enter The UPS store and line up at the counter to pick up a package which apparently gives them what they need to head into the Sea of Monsters to find the golden fleece.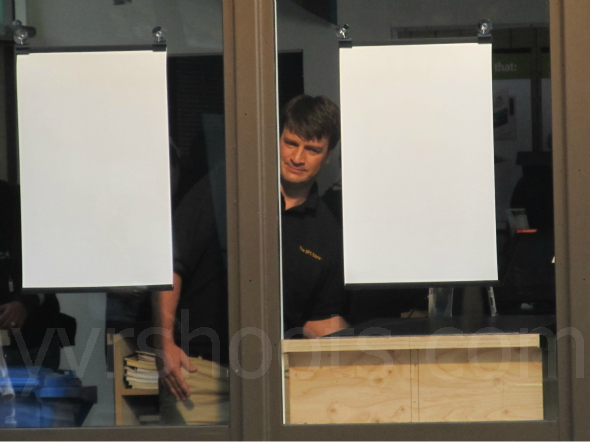 For once, the fans gathered near set weren't clamouring for Logan Lerman. They wanted "Captain Tightpants", as one Fillion fan yelled out. Another got her Firefly DVD signed as Fillion graciously took time to meet and sign for fans three times during that downtown shoot.
Also new to the sequel is Leven Rambin, last seen on the big screen as Glimmer in box office smash The Hunger Games. She plays Clarisse La Rue, the daughter of Ares, the god of war, who is given the quest to retrieve the golden fleece, I watched her show off some of her fighting skills in a scene with Logan Lerman, Brandon T. Jackson and Alexandra Daddario from above the wall of the ampitheatre set in Robert Burnaby Park, packed with parents keeping an eye on their teenage extras and vuvuzelas sitting on the steps.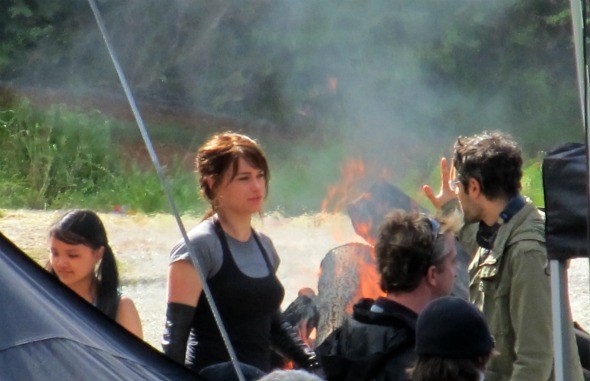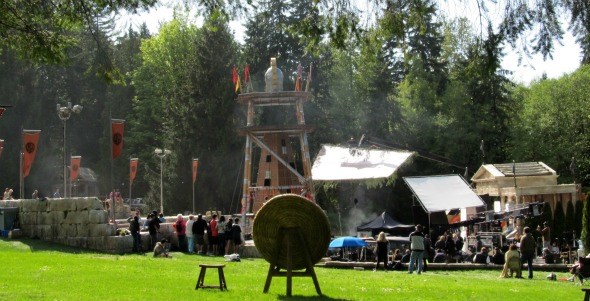 Percy Jackson: Sea of Monsters filmed on these Camp Half-Blood sets for two to three mainly sunny weeks in May. I regret not returning to Robert Burnaby Park after the start of filming there to see Logan Lerman, Brandon T. Jackson (goat horns showing), Alexandra Daddario, Leven Rambin and Douglas Smith training or fighting off colchis bulls. I also missed seeing  Luke Abel as the Percy Jackson nemesis Luke Castellan, the son of Hermes (Nathan Fillion) and  Stanley Tucci as the Greek god of wine Dionysus and director of Camp Half-Blood sitting down to dinner with the young demigods. I did come back for the main cast's last day of filming in the park on May 22nd, but torrential rain and several smoke machines obscured the scene of them eating supper together.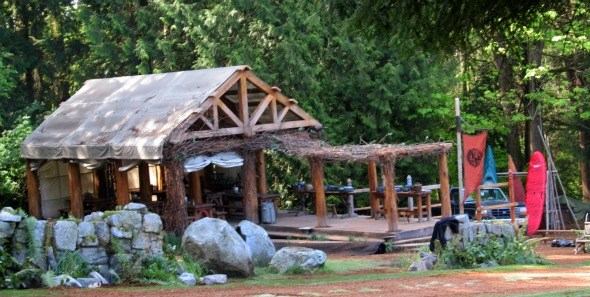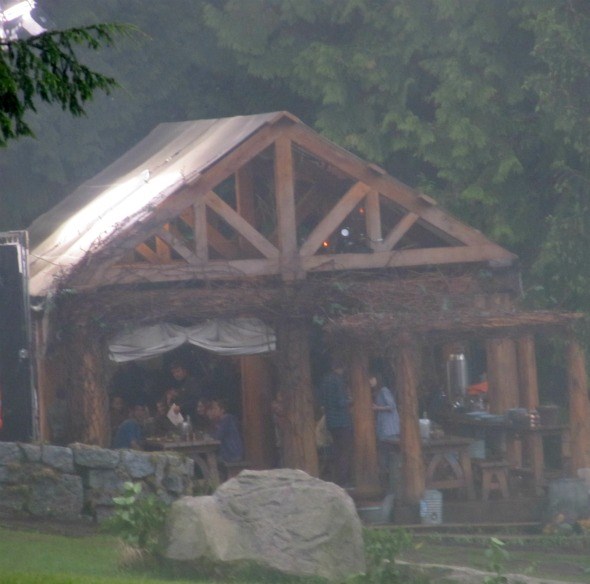 Earlier on, I did a quick photo walk of the cabins in the woods, which became a favourite weekend attraction for visitors to the park.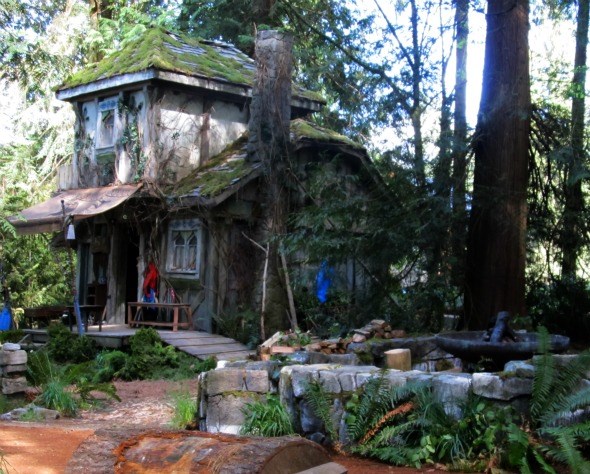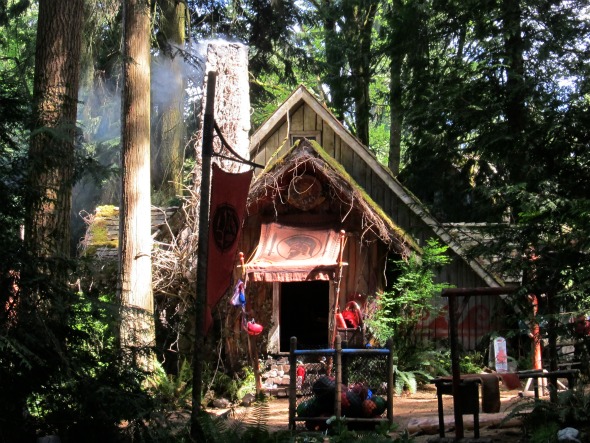 I'm glad the main cast got in some training before and after Robert Burnaby Park because it seemed that every scene they filmed in downtown Vancouver dressed as Washington, D.C., involved running. Here are Logan Lerman's Percy Jackson, Alexandra Daddario's Annabel and Douglas Smith's Tyson running to rescue Brandon T. Jackson's Grover from some young thugs in a smoke-machine-filled alley off Granville Street. Lerman got to carry a sword for this scene.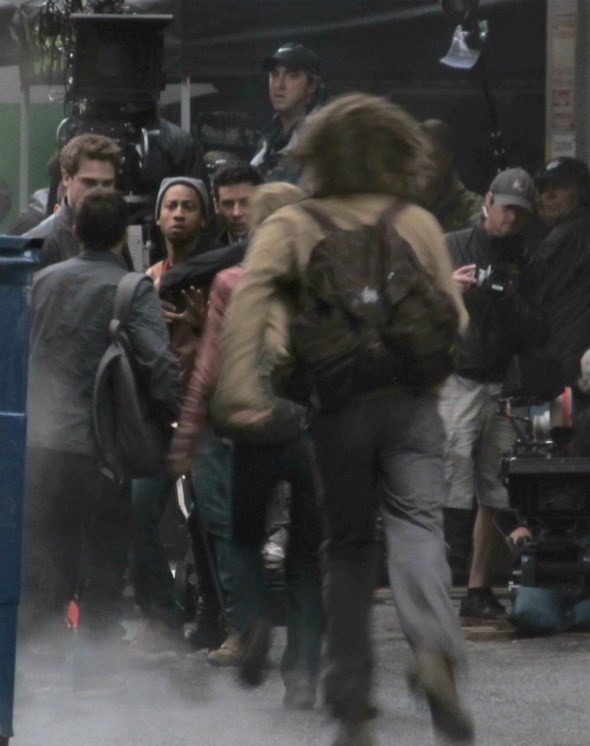 Percy Jackson: Sea of Mosnters is expected to wrap this Saturday in Vancouver, a month earlier than expected so that production can move south to New Orleans to film scenes aboard the cruise ship Princess Andromedia on the Sea of Monsters.
I did get to see some water scenes early on in filming here at Ambleside Pier in West Vancouver dressed as Chesapeake Beach. On a floating dock at the end of the pier Logan Lerman and Alexandra Daddario watch as Douglas Smith's Tyson rides a green-screened hippocamp with a removable head. Could this be Rainbow from the book?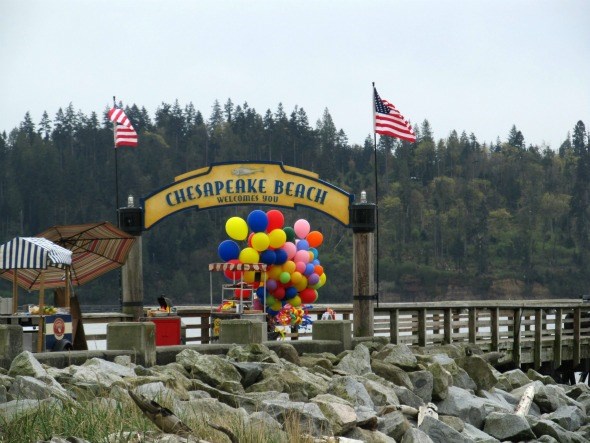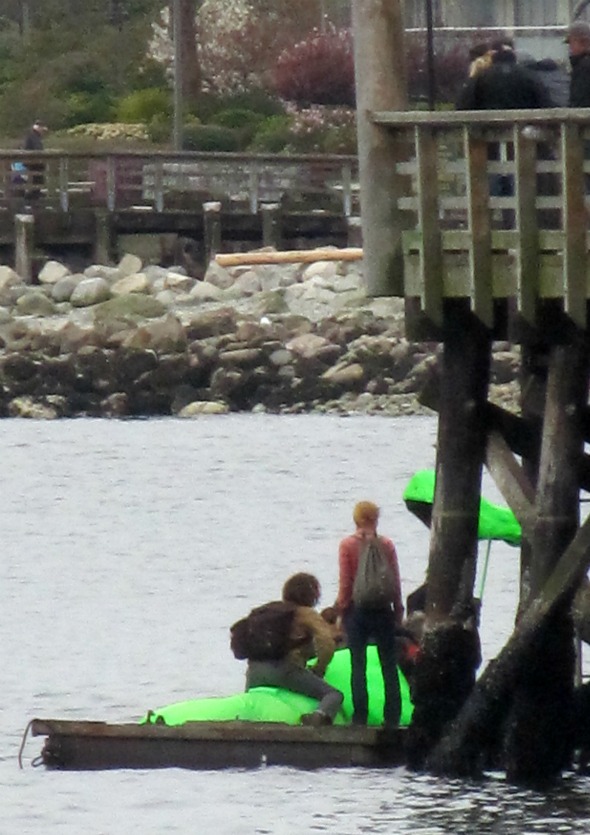 Percy Jackson: Sea of Monsters is expected to be in theatres next summer.